Apricot Sweet Cheese Danishes for a Delicious Break Fast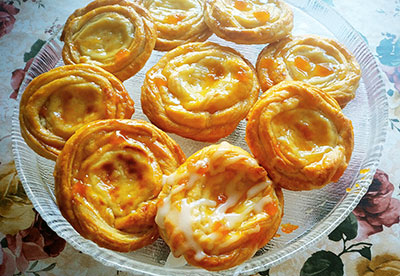 I've just baked up two batches of my no-fail sweet cheese and apricot danishes for my family's break fast. The scents wafting through my kitchen are divine: Let's face it, holiday baking is what many of us live for. The smell of honey cakes baking in the oven for Rosh Hashanah—and now these cheesy fruit treats—makes for a glorious, soul-igniting moment, no matter how many times we have prepared these mainstays over the years.
A note about baking for Yom Kippur break fast: There is absolutely nothing worse than dragging yourself to the kitchen to try and prep last minute food items when you are tired, cranky and hangry like no other day on the calendar. That's why these danishes are perfect for the occasion. They can either be baked in advanced and stored in the fridge (trust me, you won't have any complaints); or, if you really want to wow your crowd, you can assemble them in advance, freeze them—filling and all—and bake them up straight from the freezer. Regardless, they'll leave the oven as flaky, buttery specimens that will be worth the day-plus wait.
And remember, these are fool proof! I adore yeasted breads of all kinds, but like teenagers, shaped danishes can have a mind of their own. Things move and shift during rising and baking, and the disappointment of a failed pastry venture when you're looking to feed guests just isn't worth it. Here, ready-made puff pastry (one of the few essentials in my house that I opt to buy over making from scratch) moves in to save the day. For these danishes, all you have to do is cut strips and twist them up into a coiled shape. No rolling pin necessary!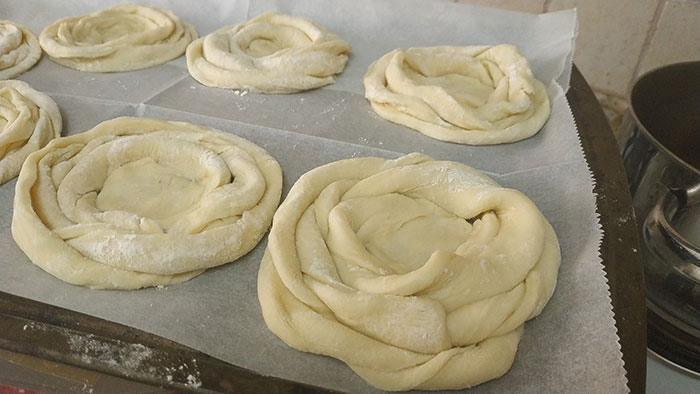 Which gives you extra time to concentrate on mixing up the delicious filling, the warm buttery apricot glaze and the pastry drizzle that tops the danishes. Truly, this is a sweet that warrants day dreaming during your long day of fasting and repentance.
Wishing you a sweet New Year and an easy and meaningful fast from Israel.


No-Fail Sweet Cheese and Apricot Flaky Danishes
Makes about 18 danishes
FILLING
1 cup cream full-fat cheese
1/3 cup sugar
1 teaspoon vanilla extract
1 egg yolk
DOUGH
2, 21-ounce packages of frozen puff pastry dough, thawed as per the package instructions
Egg wash: 1 egg, plus 1 tablespoon water
GLAZE
1/2 cup butter
1/2 cup apricot preserves
PASTRY DRIZZLE
1 cup powdered sugar
Splash of vanilla extract
3 to 4 tablespoons water
Make the filling: In a medium bowl, Combine the cream cheese, sugar, vanilla extract and egg yolk. Mix until smooth and set aside.
Assemble the pastries: Unroll the thawed dough. Remove from its paper and place on a lightly floured work surface. Using a pizza cutter, cut into 1-inch wide strips. Attach two of the strips by pressing them together to create one long strip, then twist it into a loose ribbon-like curl. Roll up the twisted strip like a snail, pressing down in the center to create a 1.5 inch well to place your filling. Place on a parchment paper-lined baking tray and repeat the process until you have formed all the danish bases.
Spoon 1 tablespoon of filling into the center of each danish. (If you would like to freeze the danishes at this stage, you can. Store them by freezing uncovered until solid, then transferring to an airtight container. Bake them up the exact same way as written below.) Transfer the baking trays to the fridge.
Preheat the oven to 350° while your pastries chill in the fridge.
When the oven is ready, remove the trays from the fridge and brush the dough's edges with egg wash. Bake for 25 to 30 minutes, until the dough if fully cooked and golden, and the filling set.
Make the glaze: While the danishes are baking, in a small saucepan, combine the apricot preserves and butter and cook until butter has melted. Brush the hot glaze over the hot pastries just as they come out of the oven.
Make the pastry drizzle: Place powdered sugar in a medium bowl. Add vanilla extract then the water a little at a time, mixing until you reach a thick, yet smooth, consistency. Drizzle over the pastries once they have cooled.