Majadra-Stuffed Peppers for Sukkot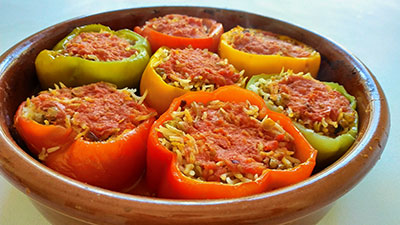 Sukkot in Israel makes for a serene evening landscape: dining al fresco under an autumn moon accompanied by the muted din of silverware clinking on plates, the soft lights of neighbors' sukkahs twinkling in the distance. Everyone spends the nights outside to soak up the last lingering breath of summer. It's traditional to invite friends and strangers alike to dine in the sukkah during this, the tail end of the high holiday season, to eat stuffed foods that denote the overabundance of a successful harvest.
Having moved to Israel's wheat belt, my family and I will now be surrounded by fields of bright yellow sunflowers in early summer, orchards of blossoming almond trees in the spring, and ones of oil-rich olives in the late fall. This rural Galilean existence means that I am feeling more connected to the agricultural meaning of this holiday than I have in the past, and I am counting my blessings.
A lifesaver during the hectic holiday season is being able to freeze and repurpose leftovers. My family loves majadra (also spelled mujadra or mujadara)—rice with brown lentils, dark fried onions and spices such as cumin, garlic and cinnamon. It is a filling side dish rich in protein, and one that vegetarians can enjoy as a main meal.
Majadra itself takes a bit of time and effort to make, so you won't find me throwing away any leftovers—especially not when the rice-and-lentil mix stuffs a bell pepper so well.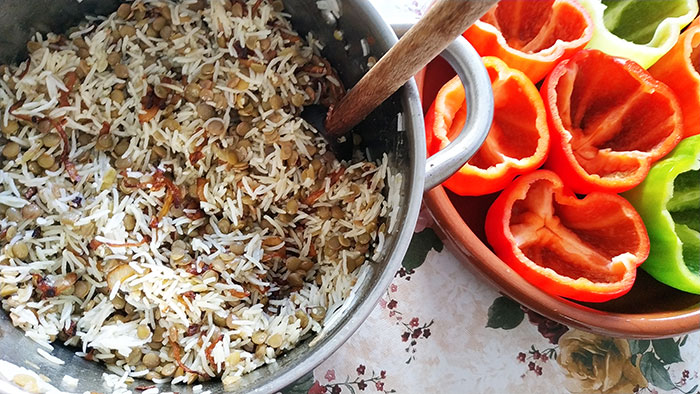 I grew up eating Italian-style peppers stuffed with white rice, ground meat and tomato sauce. (It was quite popular in my parents' house and remains my older brother's favorite dish!). My version of stuffed peppers, while vegetarian, gives me a warm homey feeling. And with a pre-cooked filling and a no-cook sauce, mine are easy enough to assemble quickly and send off to the oven, where they braise in tomato sauce to get a slow-cooked vibe. You can also make this dish all at once, but it is a much lighter load to do it in two parts, and the rice does better here when it is at least a day old.
These majadra-stuffed peppers are a wise choice for a holiday that encourages us to remember life's blessings and the harvests that keep us fed and thriving.
Majadra Rice
Makes enough to stuff 7 peppers
FOR THE RICE
2 tablespoons olive oil
1 cup basmati or other long grain rice
1 1/4 cup boiling or hot water
1, 1-inch piece of cinnamon stick or 1/4 teaspoon ground cinnamon
1/4 teaspoon cumin
1/4 teaspoon garlic powder
1/2 teaspoon salt
Pinch of freshly ground black pepper
FOR THE LENTILS
3/4 cup uncooked brown lentils
1/4 teaspoon cumin
1/4teaspoon ground cinnamon
Salt to taste (for the cooked lentils)
FOR THE FRIED ONIONS
2 medium-size yellow onions
2 1/2 tablespoons olive oil
Pinch of salt
1/2 cup water
Make the rice: Boil water in an electric tea kettle or microwave and set aside.
Measure out rice and pour into a fine mesh strainer. Rinse under cold water until the water runs clear.
In a 5-quart stock pot, heat olive oil over medium-high heat. Add the rinsed rice, cinnamon, cumin, garlic, salt and pepper, and sauté for 1 minute.
Add the hot water, let come to a gentle boil (this may happen immediately), cover and reduce the heat to a simmer. Cook for 13 minutes, then remove from heat but leave untouched to continue steaming for at least 5 minutes and up to a half an hour, after which you can uncover, fluff rice with a fork and set aside.
In the meantime, prepare your lentils and onions. Place lentils and all the spices except salt in a small pot and cover with cold water. Bring to a boil over medium-high heat, then reduce to a simmer. Cook 15 to 20 minutes or until tender. Strain, salt to taste, and set aside.
For the onions: Cut onions in half and slice finely. Heat olive oil in a pan over medium-high heat and add the sliced onions and salt. Fry the onions, stirring frequently, until they start to reach a dark brown color, adding water a little at a time as needed when the pan looks dry or the onions begin to burn on the edges rather than brown. This process could take 15 to 20 minutes.
When the lentils and onions are ready, add them to the cooked, fluffed rice. Taste and adjust seasoning.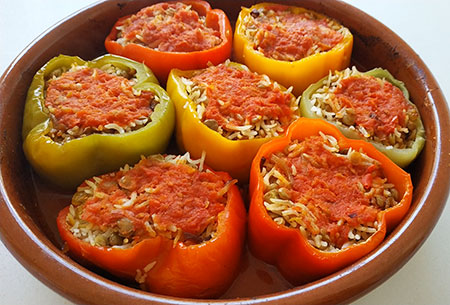 Majadra-Stuffed Peppers
7 bell peppers of various colors (pick ones with flat bottoms)
1 recipe majadra rice (see above)
FOR THE NO-COOK SAUCE
2 cups canned crushed tomatoes
1 cup water
1 tablespoon olive oil
1/4 teaspoon garlic powder
1/4 teaspoon sweet paprika
Salt and freshly ground black pepper to taste
Make the sauce: Mix all the sauce ingredients together. Remove 1 cup of the sauce and set aside. Place the remaining sauce in the bottom of a 10-inch round baking dish.
Parboil the peppers: Cut the tops of off each pepper and remove the attached seeds and stems with your hand. Make sure no seeds or veins remain inside the pepper. Bring a large pot of water to boil and parboil the peppers a few at a time for 1 1/2 minutes. Carefully spill any water from the peppers and remove them from the pot using tongs.
Preheat oven to 375°. Place peppers into the baking dish with the sauce. Fill the peppers with about 1/3 cup of the majadra rice and spoon a bit of the remaining tomato sauce on top.
Cover with foil and bake for 1 hour and 15 minutes, or until the peppers are fully cooked.