From Shuk to Table With Chefs Einat Admony and Janna Gur
It's hard to be shy in this world and really make a splash. Luckily for Einat Admony, her outgoing personality helped her find the chutzpah she needed to not only succeed in New York's intense restaurant scene, but to create her own burgeoning food empire. Today, Admony, 48, owns four restaurants—one of which has six locations—and has become a recognizable figure and force in global Israeli cuisine. She also became a cookbook author after the publication, in 2013, of Balaboosta
.
Now, teaming up with Janna Gur, 61, the celebrated Israeli food personality and founding editor of Al Hashulchan Magazine, the women have released Shuk: From Market to Table, the Heart of Israeli Home Cooking
—one of the year's most anticipated accounts on modern Israeli cuisine.
The book is partly a revamped version of Gur's beloved The Book of New Israeli Food
, from 2007, with a modern twist and a nod to the traditional dishes of Admony's mixed Middle Eastern heritage. Similar to Adeena Sussman's wildy popular Sababa: Fresh, Sunny Flavors From My Israeli Kitchen
, Shuk is likewise inspired by the products and lively vibe of Israeli open-air marketplaces.
"You don't have life in Israel without the shuks," says Admony. "They are the heart of life in Israel—full of energy and color, good food to take home and to eat there. And you will always find the locals there."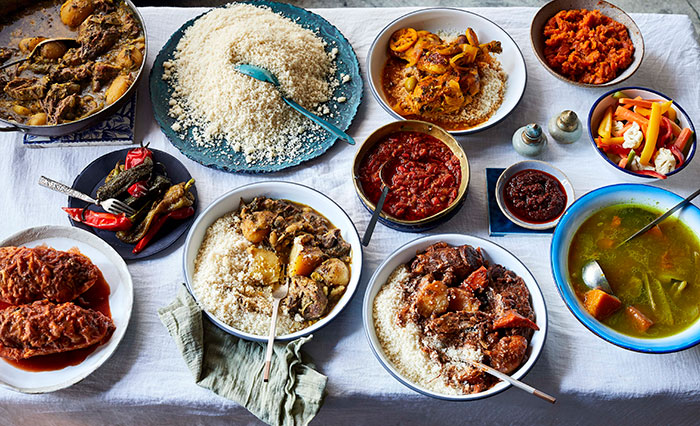 In our interview, she recalls trips to the Carmel Market in Tel Aviv with her father, and the stops they would make in the adjacent Yemenite Quarter for pancake-like lachuch flatbread.
You can feel Admony's cooking personality on almost every page, especially in the boldly spiced recipes like chicken patties (meatballs) with chard, leeks and celery in a lemony broth; the collection of slow-cooked, spicy stews to ladle over hand-rolled couscous (we've got the quick version for you below); and a toned-down take on Jerusalem mixed grill, the popular street food that usually includes spiced sautéed chicken hearts and livers but is made here with Merenguez sausage and chicken thighs.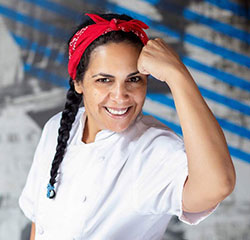 Of her signature mastery of couscous, she tells me that she has "devoted so much of my time and my heart to couscous. Real, hand-rolled, twice-steamed couscous, not the dried version you'll find on supermarket shelves. Real couscous is light as a cloud and so delicious you can eat it alone. But it takes some work and patience, so it is a real treat."
Hand-rolled couscous as a landing pad for mafroum—a dish of egg batter-coated potatoes stuffed with ground meat, pan fried, then simmered in a piquant sauce—is what she says inspired her to open Kish-Kash. This, her latest restaurant, is where serves mafroum and other dishes piled over her legendary hand-rolled couscous.
Gur's deep knowledge and expertise on topics like Israelis' love for dairy and the origins of the iconic Israeli breakfast receive significant coverage in Shuk. In complementary perfection, the two authors' Jewish backgrounds—Admony claims Persian and Yemenite heritage while Gur is Eastern European—merge seamlessly to depict how Israelis are varied, and our food culture is one big melting pot.
"It's healthful eating, but it's not diet food," Admony says, speculating on why the cuisine of the Levant has become so popular. Also, she points out simply, "It's delicious!"
According to the pair, at any Israeli table there should always be a salad. "We can't imagine a meal—be that lunch, dinner or breakfast—without a salad," they write. Both Israeli chopped salad and schnitzel should only ever be made fresh to order, and there is a correct and an incorrect ratio of bulgur wheat to vegetables in tabbouleh salad that might surprise you. Other tidbits interspersed between recipes include a beautiful explanation of herbs and how they are used and stored in Israeli cuisine; and lesser-known historical tangents, for instance a fascinating exploration of the origin of amba—a pickled mango sauce typically served with street food and in Iraqi cooking that Admony grew up eating. In the book, she uses it inventively in salad dressings and exotic aiolis.
Admony and Gur spotlight Israel's most popular open-air markets and share their favorite vendors and eateries—from holes in the wall that only a local would know to well-known favorites.
And in this season of pumpkin-spiced everything in America, readers might be particularly interested in the pair's recipe for sweet coffee hawaij, found in their chapter of spice blends. Their hawaij mixes cloves, nutmeg, cinnamon, ground ginger and cardamom in a combination that the women claim makes for a wildly spiced pumpkin pie.
In the book, I urge you to read through—and then try out!—recipes for Preserved Lemon and Mint Pesto; Tbit, an Iraqi whole-chicken and crispy-topped rice casserole; a version of Iraqi cholent that includes sweet spices like cardamom and cinnamon; grilled fish with za'atar chimichurri; harissa-spiced salad of oranges, olives and red onion; and Admony's famous crispy cauliflower with Bamba and peanut tahini sauce.
Here, I am sharing recipes for three dishes to whet your appetite as well as a guide to charring eggplant.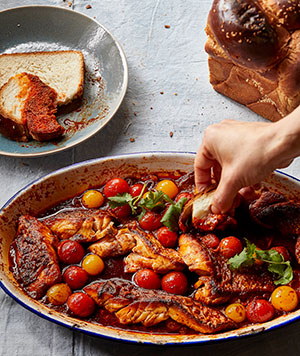 Spicy Fish in Cherry Tomato and Harissa Sauce
Serves 6
Dag hareef, a spicy fish bathed in a flaming-red fiery sauce that begs for a thick slice of challah for dipping, graces almost every North African table on Friday nights. In the Libyan-Tripolitan version, known as chraime, the fish cooks in a minimalist sauce of oil infused with cumin, caraway, and lots of paprika. The more elaborate Moroccan version, which is what my aunt would make, contains fresh tomatoes, peppers, and an entire bunch of cilantro. Cherry tomatoes aren't traditional, but they give this gutsy dish a touch of bright sweetness.
This dish is meant to be spicy, but how spicy is up to you. Start with half the amount of harissa and chile, and fire the dish up to your liking.
1/3 cup vegetable oil
10 garlic cloves, smashed
1/4 cup tomato paste
1 jalapeño chile, cored, seeded, and thinly sliced
1 tablespoon harissa, store-bought or homemade
3 tablespoons sweet paprika
1 teaspoon ground caraway
1 1/2 teaspoons ground cumin
2 pints cherry tomatoes
Kosher salt
1/2 cup water
1 large bunch fresh cilantro
Freshly ground black pepper
6 (7- to 9-ounce) fillets flaky white-fleshed fish (grouper, bass, snapper, and halibut are all nice), skin-on, if possible
Challah or couscous, for serving
Pour the vegetable oil into a relatively deep, large skillet. Immediately add the smashed garlic cloves and cook over very low heat just until fragrant, 3 to 4 minutes. Watch the pan closely to make sure the garlic doesn't brown, or it will become bitter.
Increase the heat to medium-high, add the tomato paste, half the jalapeño, 1½ teaspoons of the harissa, and all the paprika, caraway, and cumin, and stir for a minute or two, until fragrant. Add 1 1/2 pints of the cherry tomatoes (reserve the rest for later) and season with salt. Reduce the heat to medium and cook, stirring occasionally, until the tomatoes start to break down, 7 to 8 minutes. Pour in the water, bring to a simmer, cover, and cook over low heat for about 30 minutes, or until thick and saucy.
Remove about 3 tablespoons of whole leaves from the cilantro bunch and reserve them for garnish. Tear up the rest of the bunch and toss into the pan. Give it a minute to blend with the sauce, then taste and adjust the seasoning with salt, pepper, and the remaining jalapeño and 1½ teaspoons harissa if you want more heat. Bear in mind that once you add the fish, you won't be able to stir the sauce and play with the seasonings—make sure the flavor and level of spiciness are to your liking.
Add the fish fillets, skin-side up, tucking them gently into the sauce. Sprinkle the remaining ½ pint cherry tomatoes on top of the fish.
Bring to a simmer over medium heat. Reduce the heat to low, cover, and simmer, without stirring, until the fish is cooked through, 7 to 8 minutes. Thicker fillets, like halibut, will need 2 to 3 minutes more. To check the fish for doneness, make a small incision in the thickest part of the fish and make sure the flesh is opaque and flaky.
Serve straight out of the pan, garnished with the reserved whole cilantro leaves, with a lot of bread alongside or with couscous.
Cheater's Couscous
Serves 4 to 6
Different versions of this method have circulated around Israeli food blogs for a while now, but they sounded almost too good to be true. In less than 20 minutes, without any special utensils, you can make couscous that tastes and looks like the real thing? Turns out that yes, it does work (mostly)! This method produces coarser crumbles than couscous made the old-fashioned way, but it's still fluffy and delicious, and infinitely better than anything you can get from a box.
2 cups coarse semolina (farina or Cream of Wheat)
1 1/2 teaspoons kosher salt
1/3 cup vegetable oil
2 cups boiling water
Combine the semolina and salt in a microwave-safe medium bowl, then pour in the oil and mix thoroughly with your hands until all the grains are coated with oil. Pour in the boiling water, fluff the mixture with a fork, cover the bowl, and microwave for 4 minutes. At this point, the grains will look like sticky wet sand. Thoroughly mix with a fork again, raking and fluffing the grains as much as possible. Cover and microwave for another 4 minutes. Fluff again with a fork and let cool for about 5 minutes to release some of the steam.
Transfer half the mixture to a food processor and process for 30 to 40 seconds, until the mixture is broken into fine, even-sized crumbles. Transfer to a bowl and repeat with the remaining mixture. Serve at once. If the couscous is not hot enough, reheat for a minute in the microwave. If you don't need the whole amount, store it in an airtight container in the fridge for up to a few days; reheat before serving.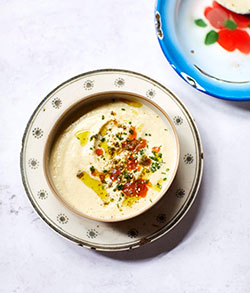 Creamy Charred Eggplant Soup
Serves 4 to 6
This minimalist soup, inspired by a recipe from noted Israeli chef Tomer Agai, is all about showcasing the lovely smoky flavor of "burnt" eggplants, achieved only through charring eggplants on an open fire or on a charcoal grill.
4 tablespoons unsalted butter
1 tablespoon olive oil
2 medium leeks, white and light green parts only, thinly sliced
1 medium yellow onion, chopped
2 small fresh sage sprigs
4 medium eggplants (about 3 pounds), charred*
1 tablespoon kosher salt, plus more as needed
Freshly ground white pepper
1 1/2 quarts water
1/2 cup heavy cream or crème fraiche
3 tablespoons plain yogurt
1 large or 2 small tomatoes, halved
Za'atar
Finely chopped fresh chives
Extra-virgin olive oil
Melt the butter with the oil in a medium soup pot over low heat. Add the leeks and onion and cook, stirring occasionally, for about 20 minutes. You don't want to brown the vegetables, just cook until they are very soft and their oniony flavor gives way to buttery sweetness. Add the sage and simmer for another 3 to 4 minutes.
While the leeks and onion are cooking, peel the charred eggplants and let them sit in a colander in the sink to drain some of their liquid. It is not necessary to drain all the liquid—its smoky and slightly bitter flavor will add depth to the soup.
Transfer the drained eggplants to a cutting board and coarsely chop them, then add to the pot with the leeks and onion. Season with 1 tablespoon salt and a generous pinch of white pepper.
Cook over low heat, stirring often, until the mixture is smooth, about 5 minutes. Pour in the water (or water and stock) and adjust the heat to bring the mixture to a simmer. Reduce the heat to medium-low and cook for about 20 minutes so all the flavors develop and blend. Add the cream and cook for another 4 to 5 minutes to cook off the raw dairy flavor. Taste and add more salt and white pepper.
Carefully transfer the soup to a blender (work in batches, if needed) and thoroughly puree. Be patient—eggplants are fibrous and can take some time to break down properly.
Place a fine-mesh strainer over a clean pot or a large bowl, pour in the soup, and let it trickle through the strainer. Stir the soup with a ladle or a large wooden spoon, pressing it against the strainer to encourage the soup to pass through. If a lot of vegetable solids are left in the strainer, return them to the blender, add a bit of the strained soup to thin it out, and puree once again. Return to the strainer and repeat.
Stir in the yogurt, taste the strained soup, and adjust the seasoning.
Ladle the hot soup into serving bowls and squeeze the tomato halves over each bowl to coax out some fresh tomato pulp and juices—this will add a splash of color and fresh tanginess. You can also garnish the soup with a cluster of tomato seeds (or, as a famous and very poetic local chef calls them, "tomato ovaries"): Halve the tomatoes, remove the clusters with a teaspoon, and float them on the soup. Sprinkle with some za'atar and chopped chives, float a few drops of oil on top, and serve. If not serving at once, let cool, then store in an airtight container in the fridge for up to 3 days; reheat gently—don't bring to a boil. Creamy soups tend to thicken during storage—you may want to thin it with more water.
*Charring Eggplant
This is the sexiest way to cook an eggplant, because even before you add any seasonings or mix it with other ingredients, the eggplant already has a lovely smoky aroma. The method is easy, just a bit messy.
Charring on a gas stovetop: Line your cooktop with aluminum foil. Place a wire rack over one of the burners and put an eggplant or two on the rack. Turn the heat to medium and char the eggplants over the flame, turning them as needed with tongs, until the skin is blackened and blistered on all sides. During roasting, the flesh should collapse, making the eggplant very soft. If you sense tougher spots, position the eggplant so the tougher spots get direct heat and leave to char for a few more minutes.
Often the skin bursts during charring and some of the liquid oozes out—no need to worry, this is all part of the process (but aren't you glad you lined your cooktop?). Total cooking time for a typical large globe eggplant is 25 to 35 minutes; smaller varieties may cook faster. And in case you are wondering, there's absolutely no need to prick eggplants before putting them on the stove.
Charring under the broiler: Line a baking sheet with aluminum foil, arrange the eggplant on the pan, and place it as close to the broiler as you can without actually touching the element to the eggplant. As one surface blackens, turn the eggplant until all surfaces are nicely charred and the eggplant is fully softened. With this broiler method, they'll soften up nicely but won't have as much of that heady aroma we like so much.
Charring on a grill: If you have an outdoor grill going, use it! A charcoal or, ideally, hardwood grill fire will produce sublime results. (A gas grill will work too, though it won't give you that kiss of wood smoke.) Whenever you're having a barbecue, toss an eggplant or two on the grill and let them roast while you're grilling the rest of the menu.
Once properly charred, remove the eggplants from the heat source and transfer to a colander to cool a bit and drain some moisture. When cool enough to handle, peel them or slit them open and scoop out the flesh using a large spoon.
Drizzle the eggplant flesh with a bit of fresh lemon juice, which will keep it nicely light colored. Some cooks like to season the eggplant while still warm, feeling that it will absorb flavors better. Others prefer to put the peeled eggplant flesh in a colander for about an hour to let it drain even more moisture.
Charred eggplant flesh is extremely versatile. You can use it to make dips and salads, fillings for pastry, soups, or topping for shakshuka, or you can serve it whole, with all kinds of goodies on top.
Excerpted from Shuk: From Market to Table, the Heart of Israeli Home Cooking
by Einat Admony and Janna Gur (Artisan Books). Copyright © 2019. Photos by Quentin Bacon.