Dutch Jewish Journalist Jigal Krant Explores 'TLV' Cuisine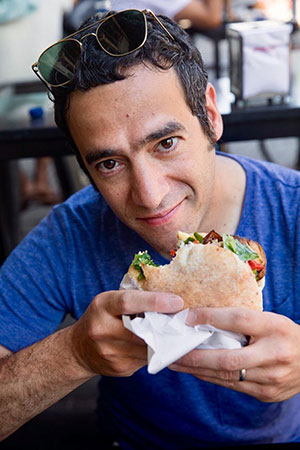 Dutch Jewish culinary journalist Jigal Krant offers this advice to young people who seek out Tel Aviv as a travel destination: "Be sure you're in the city during the weekend—Friday to Saturday—don't go to dinner before 9:00 p.m. and be prepared to share, to sing, to dance."
That fun, hip image of Tel Aviv is depicted in Krant's eclectic and colorful cookbook, TLV: Tel Aviv: Recipes and Stories From Israel
. Suffice it to say, this is one publication that Tel Aviv's tourism board would be proud of. Krant, 45, highlights the vibrant nightlife, street art, beach bars, ethnically diverse street food and interesting and beautiful young people—as well as the casual, trendy restaurant scene driven by creative chefs. Originally written in Dutch, Krant's TLV weaves together recipes with social and historical perspectives, explaining how the city achieved the culinary status it now holds.
Krant is quick to note that Tel Aviv food is not necessarily synonymous with the current craze of modern Israeli cuisine, as practiced by international food celebrities from Yotam Ottolenghi to Michael Solomonv. Rather, he sees a distinction in the city's take on Israeli dishes that he believes makes it unique.
As Krant describes, in Tel Aviv there are no rules for one simple reason; there has never been a local gourmet dining culture, so there are few expectations or limitations for today's chefs to inherit. Tel Aviv has become something of a culinary wild west, where dishes such as beet carpaccio—a wildly popular restaurant dish featured in the book—make one wonder if the dish is a meal, a joke or some kind of existential statement about life.
Krant agrees, while deciding that this is precisely what makes Tel Aviv's restaurant food so innovative: When pressed to choose only one dish that sums up this micro-subset of modern Israeli food, he reluctantly says: "It should be a vegetable dish that is simple, pure and made with lots of heat. This could be the char-roasted kohlrabi dish from the book, the beetroot carpaccio or one of the eggplant dishes."
Joining Krant for the Tel Aviv lovefest are a dozen influential chefs, who contribute recipes and asides. Israeli food god Eyal Shany—who Krant likens to a culinary Michelangelo—makes a few appearances representing his gaggle of Tel Aviv eateries and meta philosophy of cooking. Krant likewise raves about rising celebrity chef Barak Yehezkeli and the dinner party like experience guests enjoy at his tiny, hidden South Tel Aviv restaurant, Burek. But as Krant stresses in the book, Tel Aviv's culinary scene ultimately is about giving status to the dishes themselves, not the chefs behind them.
For years, the Dutch author has treated Tel Aviv as a weekend getaway, jetting off to Israel's Mediterranean coast when he needs a break from his life in Amsterdam. Many of the featured recipes are purely Krant's takes on Tel Aviv dishes he knows and loves best—mainly street foods and salads—accompanied by his personal spice blends that he grinds up fresh.
Be on the lookout for Krant's pita bruschetta, eggplant schnitzel, shawarma in a dizzying array of preparations, pita omelet sandwich amped up with za'atar, cherry tomatoes, fresh cilantro and tahini and, for dessert, tahini-and-chocolate truffles. These are nuggets of the city's culinary mindset that keep Krant—and now us!—going back for more.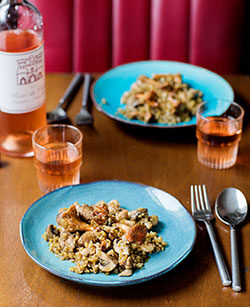 Risotto of Freekeh With Chicken and Mushrooms
Serves 4 to 6
According to a glorious legend, freekeh was discovered by accident thousands of years ago in the aftermath of an Arab tribal struggle. The winners were thorough: after plundering the losers' possessions, raping their women, and taking their children as slaves, they burned the enemy's grain fields. The entire harvest seemed beyond saving – until one of the survivors found some green grains with a pronounced nutty, smoky flavor among the smoldering remains. The chaff had protected the young, still-moist wheat grains from the scorching fire. Since then, Arab wheat fields have also gone up in smoke in peacetime.
Although freekeh has been grown and eaten in the holy land for centuries, it's a relatively new phenomenon in Jewish–Israeli cuisine. Celebrity chef Erez Komarovsky learned about freekeh from Israeli Arabs in Galilee and subsequently introduced it to the general public. Nowadays, freekeh is a popular ingredient in trendy restaurants in Tel Aviv, where
it is often prepared like a risotto.
4 to 6 cups chicken stock
1 tablespoon schmaltz or olive oil
1 large onions, finely chopped
2 garlic cloves, finely chopped
9 ounces whole-wheat freekeh
Splash of aromatic white wine
9 ounces chestnut mushrooms, cleaned and quartered
14 ounces chicken thigh fillets, diced
5 1/2 ounces chanterelle mushrooms, cleaned and quartered
Bring the chicken soup to the boil. Turn the heat down until the soup is simmering and cover the pan with a lid.
Heat the fat in a large, heavy-based saucepan over medium heat. Fry the onion until softened and translucent, then stir in the garlic and freekeh until the grains are coated in the fat. Pour in the wine and cook until it has almost all evaporated. Pour in a couple of ladlefuls of the hot soup, stir well, cover again, and simmer gently for 15 minutes, or until the liquid has been absorbed.
Remove the lid from the pan and stir in the chestnut mushrooms. Now proceed as with a traditional risotto, adding a ladleful of soup at a time and stirring regularly until the liquid has been absorbed. Keep the heat quite high, as the grains need to steam as they cook.
After 10 minutes, stir in the chicken; after a further 10 minutes, add the chanterelles, continuing to add ladlefuls of the soup as and when necessary during cooking.
The risotto is ready when the freekeh is cooked through but still has a "bite" to it (more al dente than risotto rice). This should take 40 to 45 minutes in total. Make sure that the finished risotto is creamy and loose rather than too dry.
Cover the risotto and set aside, off the heat, for 10 minutes before serving. This makes it creamier
and more flavorful. Serve warm—but not glowing hot—with the rest of that aromatic white wine.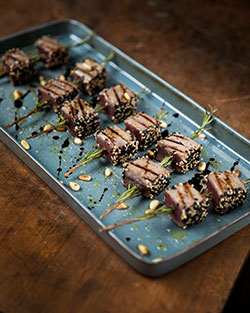 Tuna on Rosemary Skewers
Serves 6
For a country with a coastline of almost 300 kilometers, Israel has a weak fishing culture. The first generations of Israelis hailed mainly from countries without a sea border. They only knew a few traditional freshwater fish dishes, such as the notorious gefilte fish. In 1948, the year of Israeli independence, the national fishing fleet consisted of just four rickety ships. Not until the end of the last century did Israel start to become a fish-loving country. In the restaurants of coastal cities, with Tel Aviv leading the way, fish gradually appeared on more and more menus. The fishing industry grew explosively and uncontrollably, with the unfortunate result that fish numbers rapidly nosedived. Commercial fishing in the Gulf of Eilat was forced to stop after the last tuna was hoisted out of the water. The current conditions in the eastern Mediterranean are not much better. At the daily fish auction in Jaffa, the fish are smaller in number and size with every passing year.
This is not very noticeable in food markets and restaurants in Tel Aviv: consumption continues to rise unhindered. What local fishermen can't catch themselves is just imported. It's as if Israelis, after decades of ignoring fish, are making up for lost time. Raw preparations such as sashimi, carpaccio, tartare and ceviche are especially popular with young Israeli chefs.
The success of this photogenic dish made with rare-cooked tuna depends entirely on the freshness of your fish. Ask a fishmonger whom you trust for sushi-grade tuna, and check its sustainability—overfishing is not an exclusively Israeli problem, and some tuna species are threatened with extinction worldwide. Fortunately, there are also species whose stocks are more buoyant, and which may safely be eaten again. In any case, save this dish for special occasions.
2 tablespoons white sesame seeds
2 tablespoons black sesame seeds
2 teaspoons za'atar
1 teaspoon cayenne pepper
1 teaspoon sumac
Sea salt flakes
Freshly ground black pepper
1 pound, 5 ounces fresh tuna fillet
12 rosemary sprigs
Extra virgin olive oil
1 tablespoon balsamic vinegar
2 tablespoons toasted pine nuts
Toast the white and black sesame seeds over medium heat, shaking the pan until the white seeds turn pale brown. Keep an eye on the seeds as they will burn quickly. Tip the seeds into a bowl with the za'atar, cayenne pepper, sumac and a pinch of sea salt flakes and black pepper.
Dice the tuna into 1 1/2-inch cubes. Press two sides of each cube into the spice mixture. Pierce the cubes of tuna all the way through with a skewer or knitting needle, then thread two or three cubes onto each rosemary sprig.
Brush the tuna with olive oil. Heat a chargrill pan over high heat until very hot (this will take a few minutes). Grill the skewers on all sides until the tuna has golden-brown grill stripes on the outside but is still raw inside.
Pile the tuna skewers on a platter or divide them among individual plates. Drizzle with a little extra virgin olive oil and a few drops of syrupy balsamic vinegar. Season with lots of freshly ground black pepper and sprinkle with the pine nuts.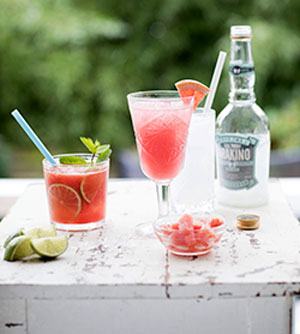 Arak With Grapefruit and Grenadine
Serves 4
On the beaches of Tel Aviv, the combination of arak and grapefruit juice is as quintessential as gin and tonic or rum and cola. If you can get your hands on excellent-quality fresh grapefruit juice from the supermarket, it will save you the trouble of squeezing all those grapefruit.
20 ounces pink grapefruit juice
7 ounces arak
Juice of 1 lime
1 ounce grenadine
20 ice cubes
4 pink grapefruit wedges, to serve
4 mint sprigs
Mix the pink grapefruit juice, arak, lime juice and grenadine in a jug. Chill in the refrigerator for as long as possible before serving. Gather the ice cubes in a clean tea towel and crush with a rolling pin. Divide the crushed ice equally among four cocktail glasses. Fill the glasses with the cocktail mixture. Float a pink grapefruit wedge in each glass and garnish with a mint sprig. Serve with a straw and a muddler.