How Expats Celebrate Thanksgiving in Israel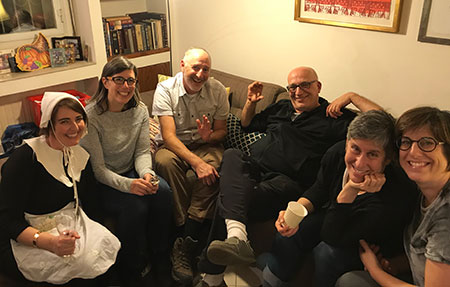 On nearly every street corner in Israel, a sizzling column of turkey shawarma rotates in slow motion, beckoning with every turn. There is turkey pastrami tucked into lunchtime sandwiches. Even schnitzel, one of Israel's signature comfort foods, was originally made out of pounded turkey breast during the early days of the state, before chicken became the protein of choice for the crispy cutlet.
Indeed, when it comes to the average annual turkey consumption per person, Israel easily wallops the United States. Statistics from Israel's Ministry of Agriculture show that Israelis consume around 28 pounds of turkey a year, nearly double the 16.7 pounds eaten by most Americans.
But even here, finding a whole bird for Thanksgiving can be challenging, typically requiring a special order from the butcher. And, because turkeys in Israel tend to be massive—think 15 pounds and up—since they are commonly bred to be sold in parts, picking up a whole bird inevitably elicits comments.
"It's always a kick picking up the whole turkey at the local butcher and fielding all the, 'What are you going to do with that?!' questions from the other people in line," said professional photographer Danielle Freedman-Mehler, 50, who made aliyah from Connecticut in 2005 and lives in Zichron Ya'akov.
It's also a good idea to confirm your order. "One time, even though I reserved it in advance, when I got to the supermarket, they had sold the turkey to someone else," said Kayla Ship, 49, a tourism company executive who moved to Israel from Massachusetts in 1997. "I ended up with half a Tom turkey, which was still huge. But how do you stuff half a turkey?"
Procuring the ingredients to round out the festive table with traditional side dishes also requires ingenuity and improvisation. Last minute panicked phone calls and dashes through Tel Aviv and Jerusalem searching for cans of crispy fried onions and pumpkin purée are common, with expat Americans sharing valuable resources online.
In some cases, Israel's many immigrants—even those not from the United States—have made Thanksgiving ingredients more readily available. Fresh cranberries are impossible to find here, but because the tart red fruit is a staple in Russian kitchens, supermarkets in Israel that cater to the one-million-plus Russian-speaking community stock bags of the frozen berries.
One tradition many American-Israeli celebrants have created is combining Thanksgiving with Shabbat dinner. Friday is the first day of the two-day weekend in Israel, so swapping out a Thursday observance allows more time to prep the meal. Shabbat Thanksgiving also means plenty of leftover challah for next-day sandwiches slathered with mustard and mayo and piled high with slices of turkey.
Still, hard-core traditionalists insist on observing the holiday according to the Western calendar. "I'm very serious about it," said writer Jessica Steinberg, 51, author of  of the children's book Not This Turkey!
, about multiethnic Thanksgiving traditions. "Our meal is on Thursday, and not masquerading as Friday night dinner."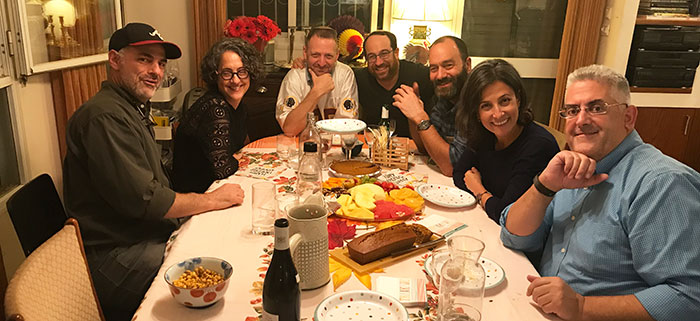 But with a little ingenuity, a traditional Thanksgiving dinner of turkey, stuffing, gravy, cranberry sauce, sweet potatoes and dessert materializes on the tables of hundreds of Americans in Israel each year—a population estimated to be more than 300,000, including the 3,000 Jews who made aliyah from the United States in 2018.
The holiday serves as a link back to the "old country, with flavors evocative of a place that used to be home," said Julie Zuckerman, 50, a fiction writer and marketing executive who has lived in Israel for 24 years. Even her Israeli-born kids urge her to continue the tradition year after year. Not only is it a way to stay connected to the United States, its message of gratitude resonates wherever you find yourself celebrating.
Israeli chef Snir Eng-Sela, 44, moved back to Israel eight years ago with his Chinese-American wife, after several years of cooking in renowned New York City kitchens. "We always do Thanksgiving," said Eng-Sela, who now owns Gouje and Daniel in Bene Zion, north of Tel Aviv. "Israelis love it. It's all about tons of food and celebrating friendship, without any religion or politics," said the chef, whose wife makes her mother's chestnut fried rice, a tradition they hope to pass on to their two daughters. The family's celebration started with 10 people and has grown to 30.
Fall in Israel means pomegranate season, and Israelis take every opportunity to put this bejeweled fruit to work in the kitchen. The brilliant ruby-red seeds play beautifully in a classic cranberry relish adorned with toasted pistachios, which are sprinkled on top for richness and gorgeous color juxtaposition. Furthermore, consider bringing some Israeli spice to your turkey: za'atar lends a piquant punch and a mahogany red burnish when used as a spice rub for turkey and paired with sweet potatoes.
B'teyavon and Happy Thanksgiving!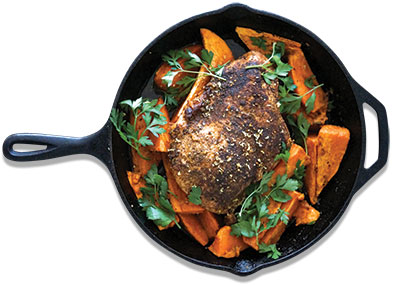 Za'atar Turkey Breast With Sweet Potato Wedges
Serves 6 to 8
1 boneless turkey breast (about 2 1/2 pounds)
2 teaspoons za'atar
1 teaspoon garlic powder
1 teaspoon finely grated lemon zest, plus extra for garnish
1/2 teaspoon cayenne pepper
1/2 teaspoon freshly ground black pepper
1 tablespoon kosher salt
2 tablespoons vegetable oil
2 pounds sweet potatoes, peeled and cut into thick wedges
1/4 cup chopped parsley
1.  Let the turkey breast sit at room temperature for 30 minutes before roasting. Preheat the oven to 250°.
2.  While turkey is resting, combine all of the spices, zest and salt in a small bowl.
3.  Pat the turkey dry with paper towels, then coat both sides with the spices.
4.  Heat the oil in a large ovenproof skillet over medium-high heat. Add the turkey breast and sear until golden brown, 3 to 4 minutes per side.
5. Tuck the sweet potato wedges all around the turkey. Transfer the skillet to the oven and roast the turkey, flipping once and spooning pan juices over sweet potatoes, until an instant-read thermometer registers 155° (or the juices run clear when you poke the turkey breast with a knife), 55 to 60 minutes.
6.  Transfer to a cutting board, reserving any juices in the skillet. Let the turkey rest at least 30 minutes, then thinly slice turkey with a serrated knife. Drizzle any pan juices on top of the turkey before serving. Garnish with extra lemon zest and parsley.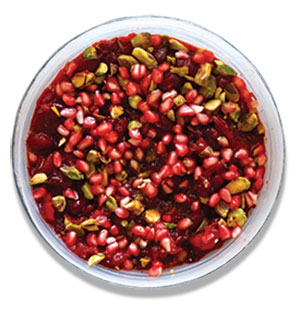 Cranberry Pomegranate Relish With Pistachios
Serves 6 to 8
12 ounces fresh cranberries (3 cups)
2 tablespoons plus 1 teaspoon honey
2 tablespoons plus 1 teaspoon silan (date honey)
1 teaspoon finely grated orange zest, plus more for garnish
Pinch of sea salt
1/2 cup chopped pistachios, toasted
3/4 cup pomegranate seeds
1.  Combine the cranberries, honey and silan in a food processor. Pulse until chopped (but not too finely), then taste and pulse in more honey and silan if needed. Pulse in the orange zest and sea salt. 
2.  Top the cranberry mixture with toasted pistachios, pomegranate seeds and more orange zest, then serve.
Adeena Sussman is the author of Sababa: Fresh, Sunny Flavors from My Israeli Kitchen
. She lives in Tel Aviv.