A Chef Who Grew up on Samba, Carnival and Gefilte Fish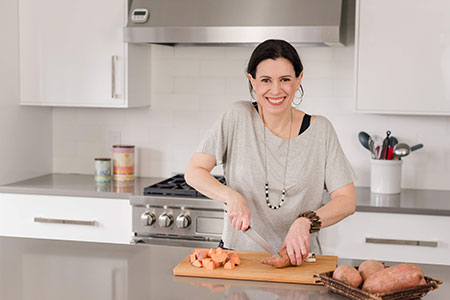 While you won't find a recipe for gefilte fish in Leticia Moreinos Schwartz's new cookbook, Latin Superfoods: 100 Simple, Delicious, and Energizing Recipes for Total Health
, you will discover a surprising mix of Jewish Moroccan cuisine and a healthier approach to pan-Latin American dishes. Schwartz, 44, who today lives in Connecticut with her husband and children, likes to joke that she grew up with samba, carnival and gefilte fish.
Her multilingual and multicultural childhood in Rio de Janeiro was filled with rich, evocative home cooking; Israeli folk dancing competitions and samba; and boisterous Shabbat dinners where stories of the Old Country—Tangiers, Morocco, which her family fled in the 1960s—were passed around with the same enthusiasm and hunger as the Moroccan-inspired dishes.
In this recipe collection, Schwartz shares highlights from her years of blending Jewish food sensibilities with the splendor of Latin American cuisine: Gravlax Marinated in Tequila; Orange Salad With Sunflower Seeds and Queso Blanco; Watermelon Carpaccio With Feta, Olives, Cilantro and Arugula. In a nod to the interconnectedness of the Jewish world—not to mention the rising popularity of modern Israeli cooking around the globe—many of these dishes could just as readily be ordered beachside in Tel Aviv as they could be in Rio.
"Latin cuisine shares many ingredients with many different cuisines," Schwartz tells me. "Asian cuisine, for sure, with all of the lime, cilantro, scallions, ginger, lemongrass, etc. And yes, Israeli cuisine as well! I would not say chickpeas or tahini. But, if you look at falafel, for example, prepared with chickpeas, it's very similar in concept to Acaraje, prepared with black-eyed peas."
In the book, Schwartz is out to promote a healthier way to prepare iconic dishes from her native Brazil and beyond. As a spokesperson for America's Diabetes Challenge within the hispanic community around New York City, she actively seeks solutions for Americans struggling with the epidemic of type 2 diabetes, which has significantly effected her own family. She vows to get families cooking at home, creating recipes that utilize the many superfoods that make up the Latin American pantry and produce bin—papaya, avocado, quinoa, acai and coconut.
Using the mantra of "food as medicine," in the book, Schwartz shares a healthier take on Brigadiero, little Brazilian fudge truffles that she makes using condensed coconut milk, dark chocolate and cocoa nibs in place of condensed cow's milk and candy sprinkles; Arroz Con Pollo, with brown rice and chicken sausage; and a lightened-up Tamale Pie. She also explores vegetarian fare in dishes including Butternut Mash With Arugula Pesto, Mexican Creamed Corn and Ricotta-Stuffed Zucchini. Then there is her simple Roasted Pineapple for a delicious pareve dessert.
Schwartz eschews preachy opining on portion control; encourages the use of herbs and spices for flavor; and stresses the importance of properly hydrating in the morning. Indeed, her breakfast of choice consists of Orange Fennel Agua Fresca, an acai power bowl and a Brazil-nut latté.
Here, I am sharing a taste of Schwartz's Moroccan- and Jewish-influenced recipes from Latin Superfoods. Enjoy!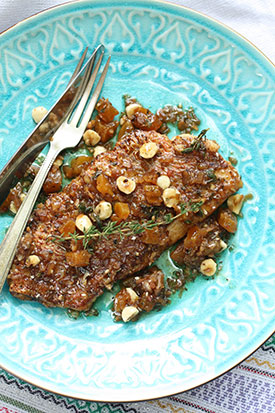 Moroccan Rubbed Red Snapper With Dried Apricot and Hazelnut Sauce
Serves 4
I dream of Tangier. The city where my father was born. A unique interpretation of spices and ingredients from around the world, this recipe combines classical cooking with a contemporary touch. It doesn't just taste delicious. This recipe tells a story. It tells my story, of a Latina girl, with a burning passion for health and cooking, looking to find her place in this universe.
Oftentimes, I find myself looking at butter melting in a copper pan, looking for that point where butter becomes golden-nutty, and then I add apricots, hazelnuts and other herbs and spices. I also find myself, quite often preparing rubs. Lots of rubs! I love them; they are easy to prepare, have a long shelf life and they're very unique.
When I cook red snapper with this aromatic spiced Moroccan butter sauce, the incredible aromas that fills the air takes me to the idea of Tangier, Morocco. I've never been there. I always imagine the spice markets in Morocco where you can find all the ingredients required for this sauce. In fact, preparing healthy recipes enriched with culture has become one of my favorite projects in the kitchen.
FOR THE MOROCCAN RUB
4 teaspoons kosher salt
1 teaspoon freshly ground black pepper
1/2 teaspoon ground ginger
1/2 teaspoon cinnamon
1/2 teaspoon ground cumin
1 teaspoon smoked paprika
1 teaspoon dried thyme
1 teaspoon dried ground lemon zest
FOR THE APRICOT HAZELNUT SAUCE
3/4 cup (1 1/2 sticks) unsalted butter
3 tablespoons fresh lemon juice
2 tablespoons soy sauce
1 large shallot
1 garlic clove, finely minced
1 teaspoon za'atar
3/4 cup diced dried apricots
1/3 cup roughly chopped hazelnuts
3 tablespoons freshly chopped thyme
FOR THE FISH
4, 5-ounce red snapper fillets, skin on
3 tablespoons extra virgin olive oil
Prepare the Rub: In a small bowl combine the salt, pepper, ginger, cinnamon, cumin, paprika, thyme, and lemon zest. Rub this mixture on both sides of the snapper and let sit at room temperature for 30 minutes. Rub can be prepared up to 1 month ahead of time and kept in a glass container.
Prepare the Sauce: In a medium saucepan over low heat, melt butter until it develops a light golden-brown color and nutty aroma, about 4 minutes. Add the lemon juice, soy sauce, shallot, and garlic—it will bubble. Cook on low heat, whisking gently for just a minute. Add the zaatar and apricots and swirl the pan around. Hold on to the hazelnuts and thyme until ready to serve. Remove the pan from the heat and keep aside on the stove.
Prepare the Fish: Carefully brush 1 tablespoon olive oil and sprinkle the Moroccan rub on both sides of the fish. Warm the remaining 2 tablespoons olive oil in a large skillet. Add the snapper, skin side down and briefly hold the fillets down with a spatula to prevent the skin from shrinking. Saute until the bottom of the billets are lightly dark and crusted, about 5 minutes. Turn and cook until the flesh becomes white and complete opaque, about another 5 minutes.
Reheat the sauce gently over low heat and whisk vigorously to blend it smooth. Add the hazelnuts and thyme. To serve, arrange the fish over 4 warm plates, spoon the sauce on top, and serve immediately.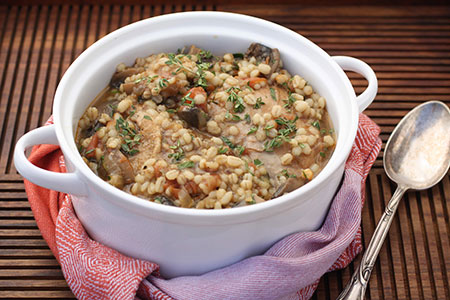 Chicken Barley Stew
Serves 6 to 8
Being Jewish, Brazilian, Moroccan, Latina, and now American, sometimes I think that I hit the cultural food jackpot. Shabbat in Rio de Janeiro is the kind of thing that didn't match, and it's exactly how I grew up: samba, carnival—and gefilte fish! Rio de Janeiro in the 1980s and 1990s was a hotbed of Brazilian radicalism; inflation, violence and corruption on one hand; Judaism, Hebrew and Israeli dancing on the other. All mixed, all scrambled like one big omelet, and very much part of my life.
And then there was food. A lot happened during Shabbat dinners, which was not like any dinner. It mattered more than any other night, because the stories that were told with the foods we ate are the back bone of my family's history. Like my grandmother's chicken stew, served at many Shabbats.
Over chicken stew, Vovó Estella (my grandmother) would tell me about her escape from Morocco, the foods she had to eat to survive, and those she dreamed about eating. She grew up in Tangier and had five kids. They came to Rio in the 1960's. She spoke Spanish and nothing else. I've been making this dish for a long time. It brings great memories of my grandmother. Today, I speak Spanish just like her, in a singing tone and with a smile on my face.
The stew itself is quite easy to prepare and it tastes better the day after. To re-heat, you want to add a little bit of water as the barley absorbs liquid. Once I tried re-heating the barley separately from the chicken, but it didn't work well; the taste was blend and boring. The barley belongs in the stew, making it creamy, hearty and earthy. Just be sure to add a bit of water when re-heating.
1 cup pearl barley
8 chicken thighs, skinless, bone in
Kosher salt and freshly ground black pepper
2 tablespoons olive oil
2 garlic cloves, minced
1 tablespoon oregano
Pinch ground nutmeg
1 large white onion, finely chopped
4 plum tomatoes, skinned, seeded and chopped
1/4 teaspoon paprika
2 pounds cremini mushrooms, quartered
1 1/2 cup chicken broth
Few sprigs thyme, for garnish
Bring a large pot of water to a boil. Add salt and barley and cover partway. Cook over medium heat until barley is nice and tender, about 35 minutes. Drain over a colander and discard the water.
Season the chicken with salt and pepper on both sides.
In a large braising pan (with deep sides) warm the olive oil over medium high heat. Add the chicken pieces and cook until nicely golden brown, about 5 minutes on each side. Remove the chicken thighs to a bowl and cover with aluminum foil to keep moist.
Lower the heat over the pan, add the garlic and cook, stirring constantly with a wooden spoon until it just begins to turn golden. Add the oregano and nutmeg and stir. Add the onion, stirring frequently until everything is soft and translucent. Season lightly with salt and pepper.
Add the tomatoes and paprika and continue cooking until everything smells delicious and it looks like a gorgeous sofrito. Then, add the mushrooms and cook until soft, about 5 minutes stirring frequently.
Add the chicken and any accumulated juices and very carefully mix everything so that flavors meld together; cook for 5 minutes.
Add the broth and bring to a boil. At this point you want to taste and adjust seasoning. Cover the pan and simmer very gently over low heat for 20 minutes.
Add the barley, mix carefully with a wooden spoon and continue cooking for another 20 minutes. Garnish with thyme, divide into plates and serve hot.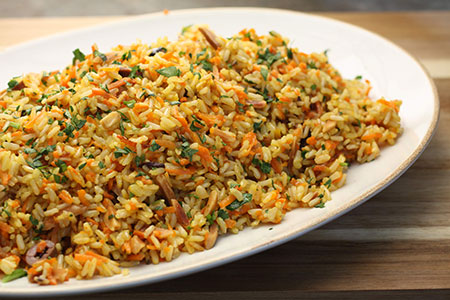 Jeweled Carrot Rice
Serves 6 to 8
This recipe is inspired by the Jeweled rice that I often eat my aunt Sarita's. She is a Jewish immigrant originally from Morocco who came to Rio de Janeiro in the 1960s and adapted into the new tropical land, while keeping her roots and faith intact. She prepares a variety of jeweled rice dishes. The carrots add a natural sweetness to the rice and makes it the perfect side dish for a healthy meal.
2 cups brown basmati rice
2 tablespoons olive oil
Half an onion, finely diced
2 1/2 teaspoons kosher salt
2 cups grated carrots (about 4 medium carrots, grated on the smallest hole)
Pinch saffron thread
3 1/3 cups water
1/2 cup sliced almonds, lightly toasted
1/2 cup chopped pitted Picholine olives
1/4 cup chopped parsley
Prepare the Rice: Rinse the rice in cold water several times to remove the excess starch. On the final wash, drain the rice in a colander and let it sit for 5 minutes, to dry.
In a medium saucepan over low heat, add the olive oil and cook the onion until it is soft, about 3 minutes. Add the rice, salt, carrots, and safron and mix them with a wooden spoon until the grains are coated with oil and warm.
Pour in the cold water, cover partway, and cook the rice over medium heat until it's soft and tender, about 20 minutes.
Fluff the rice and stir in the almonds, olives and parsley. Transfer to a bowl and serve hot.