'William Greenberg Desserts' Is the Baking Book We All Need
In 2008, when pastry chef Carol Becker was offered the opportunity to assume ownership of the iconic New York City bakery she had been visiting for nearly her whole life, she jumped at the chance. William Greenberg Desserts had held a special place in her heart ever since she bit into her first black and white cookie at age 12. Today, under Becker's stewardship, the institution on Manhattan's Upper East Side remains a miraculously flourishing stalwart among a dwindling number of post-World War II Jewish bakeries in the city.
"We still make all the old favorites," Becker told me in an interview. And by "we," she means new kitchen recruits as well as the remaining members of the old baking crew who were trained by original owner William Greenberg. (Even more heartwarming—some of the children of past bakers are currently training  with her.)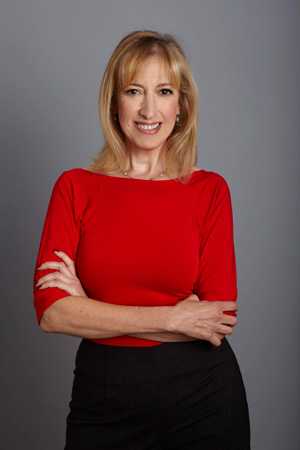 At the same time as continuing traditions like black and white cookies, rugelach and cheesecake, William Greenberg Desserts has updated its repertoire to include contemporary favorites like cake pops and a rainbow sprinkle, rainbow layer cake. Also new—and, in the world of New York bakeries, a very big deal—was the decision to commit so many of its legendary recipes to paper: The William Greenberg Desserts Cookbook: Classic Desserts from an Iconic New York City Bakery
, released on November 19, represents the first foray into the world of cookbook publishing for the kosher dairy bakery, which debuted in 1946 in its Madison Avenue headquarters. More recent outposts include one in Hudson Yards on Manhattan's West Side and another in the Plaza Food Hall on 59th Street.
"The individuality of each location keeps them special, with a mom-and-pop feel," Becker told me. The new recipe collection shares that same homey sensibility, capturing the magic of walking into an old school American Jewish bakery bedecked with gleaming glass cases lined with all sorts of cookies, cakes and pastries and rows of white cardboard boxes and a spool of red-and-white baker's twine.
In the cookbook, Becker divulges the secrets behind some of the most nostalgic recipes: flaky rugelach; rainbow cookies; schnecken (sweet buns); and the bakery's crazy popular "candy cake"—a whipped cream-dressed chocolate cake with chocolate wafer cookies and chocolate shavings, a confection the bakery has been selling since it's creation. If your sweet tooth is craving something less old world and more new and playful, be on the lookout for Becker's recipes for big sprinkle cookies and chocolate cupcakes.
As for William Greenberg's famous black and white cookies—they are the same as they have been for years. (The bakery doesn't claim to have invented them, but they did perfect their formula decades ago). And again, in a marriage between old and new, Becker has stretched the appeal of that cookie by debuting a pumpkin spice version in the fall, different colored frostings for celebrations and even a gluten-free, Passover-friendly iteration.
"Besides the black and whites, the schnecken is a huge favorite, as is the rugelach," Becker said. For deeper analysis of bakery trends,  you'll have to consult the book. In it, she explores the synergy between Italian American and Jewish baking and shares sweet anecdotes and insights—for example, the origins of William Greenberg's muffin obsession—and the who, what, when, where and why of other menu items.
As an establishment where it's the norm to find a line around the block before Jewish holidays, the bakery gained pop culture cred when Jerry Seinfeld stood in line at the Madison Avenue storefront debating the greater meaning behind a black and white cookie in an episode of Seinfeld. Similarly, the television show Mad Men incorporated a box of William Greenberg brownies into the storyline of one episode.
If you find the classics as enticing as I do, then William Greenberg Desserts definitely deserves a spot on your book shelf. Here, I'm sharing delicious, delightful recipes for flaky raspberry rugelach, cheesecake brownies and sour cream blueberry muffins.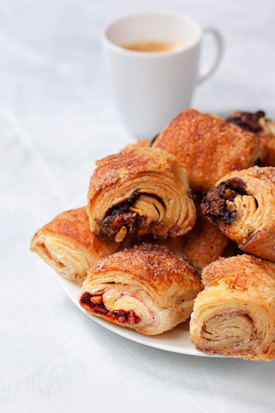 Rugelach
Makes 4 dozen
Mr. Greenberg's aunt passed down the recipe for this very traditional Eastern European rolled cookie. The pastry is very flaky and buttery and tastes delicious with a wide variety of fillings. The raspberry jam variation below is one of the most popular at our bakery and the easiest option, but you can also use melted chocolate, cinnamon-sugar, ground walnuts mixed with spice and sugar, dried apple filling, or any other fruit jam. After much experimentation, I've found that the best method for the pastry is to mix all the ingredients together in a food processor. That and practice. The more rugelach you make, the flakier they'll be. Once you get a feel for the dough, you can handle it very gently to ensure the most tender pastry.
8 ounces cream cheese, cut up, softened
2 sticks unsalted butter, cut up, softened
2 cups flour, plus more for dusting
2 tablespoons sugar
1/2 teaspoon kosher salt
1 cup raspberry jam
In a food processor, combine the cream cheese, butter, flour, sugar, and salt. Pulse, scraping the bowl occasionally, until there are no streaks of flour and the dough forms loose, large clumps. Turn the clumps out onto a lightly floured work surface and divide into four equal piles with lightly floured hands. If you have a kitchen scale, use it to measure the total weight, then divide by four to divvy up the dough perfectly.
Gently gather one pile of dough into a disc on a sheet of wax paper. Top with another sheet of wax paper and gently roll into a ¼-inch-thick round, about 6 inches in diameter. Repeat with the remaining dough. Refrigerate the rounds until firm, at least one hour.
Preheat the oven to 350°F. Line cookie sheets with parchment paper. If the dough has firmed up too much to bend without cracking, let it sit at room temperature until pliable.
Remove the top sheet of wax paper from 1 dough round. Spread evenly with one quarter of the jam. Cut the round into 12 even wedges like a pizza. Roll one wedge up from the wide end to the tip and transfer to a prepared sheet with the tip tucked underneath against the pan. Repeat with the remaining wedges, spacing them 1 inch apart. Chill cookies for 30 minutes before baking.
Bake one sheet at a time until golden and baked through, 18 to 20 minutes. Cool completely on the sheets on racks. Repeat with the remaining rounds and jam.
Do-ahead: The rugelach can be made 3 days ahead. Store in an airtight container at room temperature.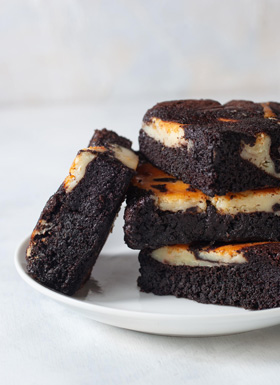 Cheesecake Brownies
Makes one 8-inch pan
I'm not a chocoholic, but there's something about the addition of tangy cream cheese that cuts through its richness and makes it irresistible, even to me. I channeled the classic black-bottom cupcakes—chocolate cake with pockets of cream cheese studded with chocolate chips—and added this brownie to our menu to complete our brownie bunch (which also includes Caramel Swirl, page 39, and Rocky Road, page 43, as well as M&M—no recipe necessary, you can imagine how we make these!). These brownies, with their marbled tops, are as beautiful as they are delicious—they're sure to receive high praise at any bake sale.
BROWNIE BATTER
1 1/2 sticks butter, cut into pieces
5 ounces semisweet chocolate, roughly chopped
3 eggs
1 cups granulated sugar
1/2 cup dark brown sugar
1 teaspoons vanilla extract
1/4 teaspoon kosher salt
1 cup cake flour
CHEESECAKE SWIRL
8 ounces cream cheese, softened
1/2 cup granulated sugar
1 egg
1/2 teaspoon vanilla extract
Make the brownie batter: Preheat oven to 375°. Butter an 8-inch square baking pan and line it with parchment paper, leaving overhang on two opposite sides.
Melt butter and chocolate in a double boiler or in a heatproof bowl in the microwave in 20-second increments. Set aside to cool slightly.
Working with a stand mixer fitted with the whisk attachment or using electric beaters and a large bowl, beat the eggs with sugars, vanilla, and salt and mix on medium-high speed until pale in color and slightly more voluminous, 4 to 5 minutes. Stir in melted chocolate mixture to combine.
Sift in the flour over the bowl and fold to gently incorporate, stopping as soon as no dry streaks remain.
Make the cheesecake swirl: In the bowl of a stand mixer fitted with a paddle attachment or working with electric beaters and a medium bowl, beat the cream cheese on medium speed until light and fluffy.
Add the sugar and beat until the sugar is dissolved, 2 to 3 minutes. Beat in the egg and vanilla until combined.
Spread the brownie batter into the prepared pan, then dollop the cheesecake batter over top. Use a knife to gently swirl the two together.
Bake for 45 to 50 minutes, until a toothpick comes out clean.
Cool completely in pan on a rack, then use parchment handles to transfer to a cutting board and slice into 16 squares.
Do-ahead: Bars can be made 5 days ahead. Store in an airtight container in the refrigerator.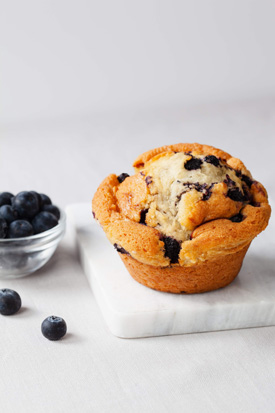 Sour Cream Blueberry Muffins
Makes 1 dozen
Our bakery's breakfast bestseller is also my daughter Emily's favorite morning treat. They make you feel like you're having dessert with your coffee. These muffins bake up big and very fluffy. Their nice melt-in-your-mouth texture is as soft as cake but bursting with fresh blueberries.
2 cups flour
1 tablespoon baking powder
1/4 teaspoon salt
1 cup sugar
2 tablespoons butter, melted and cooled
1 egg
1 1/2 cups sour cream
2 cups blueberries
Preheat the oven to 350°. Line a standard muffin tin with paper liners. In a large bowl, whisk together the flour, baking powder, and salt. In a medium bowl, whisk the sugar, butter, egg, and sour cream until smooth. Pour over the flour and fold just until all traces of flour disappear. Fold in the blueberries until evenly distributed. Divide the batter among the muffin cups.
Bake until golden and a toothpick inserted in the center of one comes out clean, 20 to 25 minutes. Serve warm or cool to room temperature.
Do-ahead: The muffins are best eaten the day they're made, but they can be frozen in an airtight container for up to 2 months and reheated in an oven or toaster oven.
Recipes and photos from William Greenberg Desserts: Classic Desserts from an Iconic New York City Bakery (Skyhorse, 2019).