Coconut Milk for a Delicious Pareve Chocolate Mousse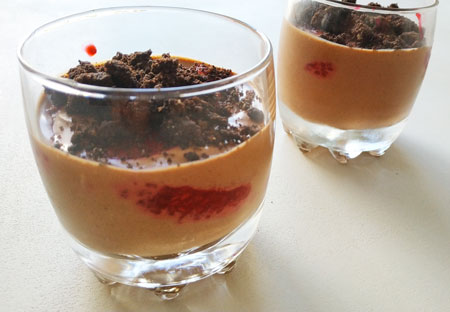 My aversion to the word "pareve" started in baking school. I grew up in the 1990s when vegetable fats, specifically margarine, were considered "healthy" options. But as soon as I got to baking school and learned what margarine with trans fats actually contained, I was no longer able to look at the block of fat—which doesn't melt when left outside of the fridge—the same way again.
Indeed, I broke up with margarine then and there, and vowed to only make my baked goods using pure butter from then on. And the problem with using butter is that once you start, you can never go back to anything less delicious, save for olive oil, which is the fat I use in most of my cooking. (There are some baked goods that call for olive oil, but not most.) Pareve was on the outs with me when it came to baking—unless something just happened to be dairy free, like good chocolate cake, since oil always makes for a moister cake than butter. But this all changed when I discovered coconut milk.
I fell in love with coconut milk when using it to make an Asian dish that called for simmering salmon fillets in a pan with ginger, garlic, lemongrass and rich, sweet coconut milk. It wasn't long until I was experimenting with this alternative milk at my baking bench, making it into a ganache that compared favorably to the traditional version; in rice pudding for a slightly coconut-y feel; and a non-dairy latté for a vegan dinner guest.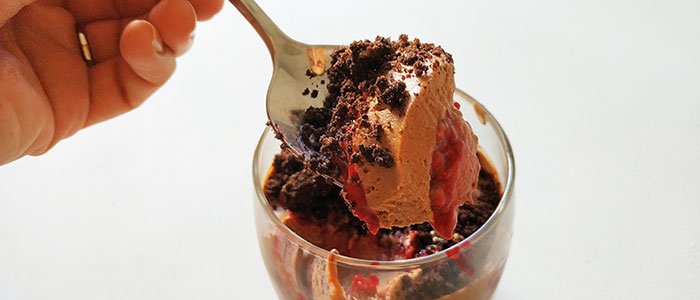 Coconut oil has been a more recent compromise. I've learned to use this specialty product in baked items that need a certain stability to succeed, like chocolate chip cookies, and when I simply must prepare a batch of dairy-free desserts.
I no longer feel hampered, or that I'm compromising, with pareve desserts since constructing this super-rich, ganache-based chocolate mousse dessert with a hint of brandy, no-cook raspberry sauce and chocolate cookie crumbles. High-quality chocolate and a silky aerated texture balanced with cookie crunch and the tart zing of the raspberry sauce more than make up for the lack of dairy. Enjoy!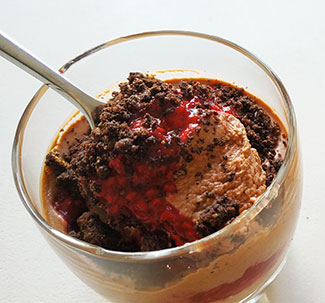 Raspberry Chocolate Mousse With Cookie Crumbles
Serves 8 to 10
CHOCOLATE WAFER COOKIES
1/4 cup coconut oil (oil must be solid—if it has melted, place it in the fridge to firm up.)
1/3 cup sugar
1 tablespoon milk (any pareve variety such as soy or coconut) 
1/2 teaspoon vanilla
1/2 cup flour
1/4 cup cocoa
Small pinch baking soda
Small pinch salt
Small pinch instant espresso powder
CHOCOLATE GANACHE MOUSSE
3 cups coconut cream, divided
9 ounces of 70-percent dark chocolate
2 tablespoons brandy (optional)
1/3 cup powdered sugar
1 tablespoon instant vanilla pudding
1 teaspoon vanilla
QUICK RASPBERRY SAUCE
28 ounces frozen raspberries
1/4 cup powdered sugar
The night before making your dessert, put 2 cups of coconut cream in the fridge.
Make the chocolate cookie crumbles: Preheat oven to 350°. Using a handheld mixer or stand mixer, cream together firm coconut oil and sugar until well combined. Add milk and vanilla, and mix to combine. Sift in the flour, cocoa powder, baking soda, salt and espresso powder and mix until the batter resembles cookie crumbs with a few larger clumps.
Pour cookie crumbles onto a parchment paper-lined baking tray and spread out evenly with your hands. Bake for 10 minutes, then remove from oven and set aside.
Make the ganache: Place 1 cup room temperature coconut cream in a medium-size microwavable bowl. Microwave for about 1 minute, or until steaming. While the milk is heating, chop the dark chocolate into bite-size pieces. Add the chocolate to the steaming coconut cream and wait 1 minute to let it melt. Stir the mixture using a silicon spatula until the chocolate has dissolved and the mixture is smooth. Add the brandy and set aside.
Make the raspberry sauce: Thaw raspberries in the microwave for approximately 1 minute, until soft. Add the powdered sugar and using a potato masher or fork, mash until the juices are released and a sauce forms. Set aside.
Complete the mousse: Remove the chilled coconut cream (2 cups) from the fridge and place in your mixer bowl along with the powdered sugar, instant vanilla pudding mix and vanilla extract. Beat until soft peaks form.
Scrape the slightly cooled ganache into the mixture and beat to combine. The mixture will look runny but will firm up as it chills. Transfer mixing bowl to the fridge to let firm up for 30 minutes to 1 hour.
Loosen up the mousse a bit and spoon into individual glasses, layering it with the raspberry sauce, and topping with the cookie crumbles. Cover and let sit in the fridge at least 30 minutes before serving.