Daniella Silver Offers 'Variations' to Achieve Success in the Kitchen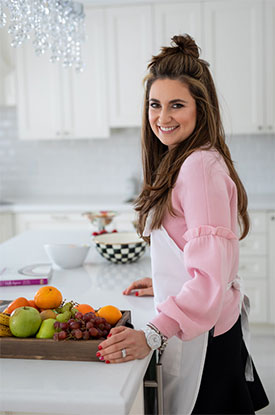 The pressure to make our meals look "Instagram-worthy"—read, beautifully presented and stunningly plated—is intense these days for anyone active on social media. Thankfully, in Variations: Simple and Delicious Dishes. Two Ways, Toronto-based chef Daniella Silver provides the tools needed for photo-worthy dishes while sticking to her trademarks of simplicity and accessibility.
Indeed, it is her straightforward, visually appealing style that has made Silver a familiar name in the kosher world since the release, in 2015, of her first book, The Silver Platter: Simple to Spectacular Wholesome, Family-Friendly Recipes
. You can catch yourself up to Silver's deliciously homey and modern cooking aesthetic on her Instagram page. Scrolling through her feed brings up images of seemingly high-concept yet totally doable show-stopping dishes like Spiced Eggplant Wedges served over her hummus recipe from Variations; Sesame Crusted London Broil; and salted olive oil brownies made from a spelt dough mix.
When I spoke with Silver after the release of Variations, I asked her for some quick favorites to suggest to readers.
"A few great recipes that people can easily make are my Everything Bagel Asparagus, Kale Chicken and, for fun, Peanut Butter Popcorn Bark," Silver tells me. But beyond these three, she says, "I think my recipes are all one level, so if you can do one, you can do them all!"
In Variations, what stands out to me are the sumptuously styled, full-color photographs that grace every page.
"It's time for kosher cooking to make a comeback," Silver says. "The dishes and food are delicious. The photography and the food styling in my books all took time and effort. It was important for me to showcase kosher food that both looks and tastes great.
"What you see is what you get in each recipe for all three of my books," Silver adds, referencing her debut book as well as 2016's Silver Platter-Simple Elegance: Effortless Recipes with Sophisticated Results.
Once you have a copy of Variations in your hands, I suggest you flip to Silver's Deli-Wrapped Squash Bites, Potato Latke Schnitzel and Granola Crusted Breakfast Tart.
However, there is a caveat: some "variations" here are nothing more than serving suggestions that could have been a note at the end of a recipe. Many are simply ideas for turning something served as a family-style dish into an individual appetizer. And others are little more than adding vegetables to a grain salad (versus the original version that omits them), or making homemade pastrami into a sandwich, which seemed as if it was heading in that direction in any case.
Another potentially problematic oversight is the revelation, only at the end of the book, that recipes are made with low-fat milk products unless otherwise mentioned—something that should be known up front as the reader encounters each new recipe. And, unusual for cookbooks these days, the recipes do not feature accompanying intros, where Silver could have easily imparted her heartwarming voice and advice. She is a natural-born culinary cheerleader, and I missed her voice here.
Once you get past the title (and its shortcomings), you'll find a recipe collection that can make a newbie cook into a confident one, or supply a seasoned chef with an enriched arsenal of ideas for Shabbat and holiday meals.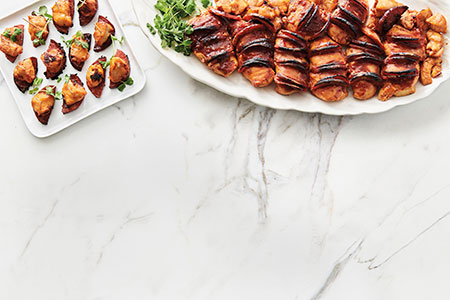 Salami Hasselback Chicken
Serves 4 to 6
6 single skinless, boneless chicken breasts
1 beef salami (1 pound) thinly sliced
1/2 cup ketchup
2 tablespoons apple cider vinegar
3 tablespoons honey
2 tablespoons soy sauce or tamari
2 cloves garlic cloves, minced
Pinch of chili flakes
Preheat oven to 400°. Coat a 9 x 13-inch baking dish with nonstick cooking spray.
Using a serrated knife, carefully cut 3 to 4 slits into each chicken breast, not cutting all the way through. Arrange breasts in a single layer in prepared dish.
Cut each slice of salami in half, forming half-moons. Tuck 1 to 2 half-moons into each slit.
In a medium bowl, stir together ketchup, vinegar, honey, soy sauce, garlic and chili flakes.
Pour on sauce to coat chicken and salami on all sides. Push chicken pieces together so that salami is securely in place.
Bake, uncovered, for 30 to 35 minutes, depending on the thickness of the chicken, until juices run clear.
Variation: Salami Chicken Bites
Cut chicken into 2-inch pieces; place into a medium bowl. Add salami "moons" and remaining ingredients; mix well. Arrange in a single layer on a parchment-lined baking sheet. Bake, uncovered, for 15 to 20 minutes, until chicken is golden. Using toothpicks, pierce chunks of chicken and salami; place onto a serving platter. Serve family style, on individual plates, or as an appetizer for a party.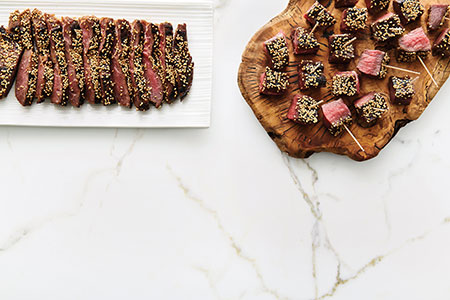 Sesame-Crusted London Broil
Serves 6
1 London broil (about 2 pounds)
Kosher salt to taste
Freshly ground black pepper to taste
1/3 cup soy sauce or tamari
3 tablespoons honey
2 tablespoons extra-light olive oil
3 tablespoons white sesame seeds, toasted
Sprinkle London broil lightly on both sides with salt and pepper and place into a resealable plastic bag. Add soy sauce, honey, and oil; seal bag tightly. Massage meat on both sides with marinade. Marinate for 1 hour or overnight in the refrigerator.
Coat a grill pan with nonstick cooking spray; heat over medium-high.
Remove London broil from marinade; discard marinade. Grill meat for 7 to 8 minutes per side or until meat reaches desired doneness. (For medium, cook meat to an internal temperature of 145°.)
Place meat onto a cutting board; let rest for 5 minutes. Slice against the grain on the diagonal, into thin slices. Place onto serving platter. Sprinkle with toasted sesame seeds.
Variation: Steak Bites
Prepare recipe as directed through Step 3. Cut each piece of meat into cubes. Using toothpicks, pierce each cube; sprinkle with sesame seeds. Serve family style, on individual plates, or as an appetizer for a party.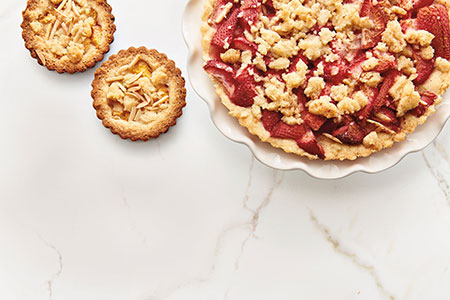 Strawberry Almond Tart
Serves 8 to 10
1 cup flour (or gluten-free flour)
1 cup almond flour
1/2 cup sugar
1 teaspoon salt
2/3 cup vegetable oil
1 tablespoon water
FILLING:
1 pound strawberries quartered (fresh or frozen)
2 tablespoons sugar
2 tablespoons flour
1 teaspoon lemon juice
1/4 cup sliced almonds
ground cinnamon for sprinkling
Preheat oven to 350°. Line a 9- or 10-inch round or ceramic tart pan with parchment paper; coat the sides with nonstick cooking spray.
In a medium bowl, combine flour, almond flour, sugar, salt, oil and water; mix well to form a dough. Reserve 1/2 cup for topping. Place remaining dough into prepared tart pan, pressing down and up the sides to form a crust.
Filling: In a second bowl, combine strawberries with sugar, flour, lemon juice and almonds; mix well. Spoon into crust. Crumble reserved dough; sprinkle crumbs and cinnamon over filling.
Bake for 45 to 50 minutes, until golden.
Variation: Peach crisps
Prepare recipe as directed using 6 peaches, peeled and cut into chunks. You can use mini tart pans for a different presentation. Bake for 30 to 40 minutes. This recipe also works well in a rectangular tart pan.