Gingerbread Cookies Get a Hanukkah Makeover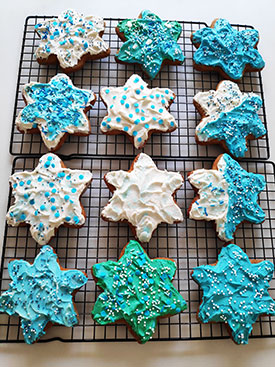 Growing up, my favorite cookie at my family's local bakery was the gingerbread clown with a thick piping of colorful frosting and a hard sugar candy head stuck on the top.
Although historically linked to the people of ancient Greece and Egypt, gingerbread in the modern era has an undeniable association with Christmas. But why? Why can't we Jews refashion these deliciously spicy molasses-based cookies for Hanukkah-themed treats? Despite the ubiquitous, candy-decorated gingerbread houses with their Christian connotation, of course.
All that gingerbread cookies require are minor tweaks to gain a Jewish identity. Blue and white frosting and decorations are a no-brainer, and with the wide range of cookie cutters available these days, it's easy to find cut-outs for menorahs, dreidels, Stars of David, chai and even hamsas.
I have been making such cookies for years, adjusting the flavor little by little to arrive at the perfect spicy, ginger-y bite that makes these treats extra delicious for adults while not being too "hot" for young noshers. If you live in Israel and have easy access to date honey (silan), you can even substitute it for molasses, which is quite pricey here.
Other flavor additions that help draw out deeper caramel undertones are espresso powder and orange zest. These two elements, however, are optional boosters—it's up to you and your preferences. More important is a thick cookie base, which makes the shaped designs easy and fast to cut out. Sturdy cookies likewise make for easy transport. And, what may be the best part of these cookies: colored frostings, candy and sprinkles mean that you can make decorating them into an interactive holiday party activity if you wish.
You could decorate them with royal icing, which completely hardens as it sets, but I am partial to the feel and flavor of buttercream.
Being a baker, but not much of a decorator, I find that the easiest way to frost these gingerbread cookies is to use a small offset spatula that you wave back and forth over the surface to achieve rough strokes, then topping with sprinkles. This from-scratch methods is more foolproof, and oftentimes honest, than attempting to pipe out more intricate details.
Using that philosophy, I even riffed on black and white cookies, making some stars half white and half blue. You can do as you please, of course, as you enjoy these soft gingerbread cookies with a Jewish twist for Hanukkah. Happy holidays!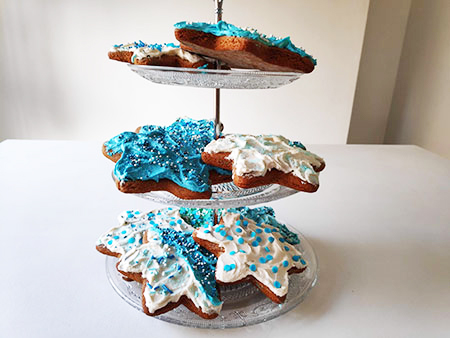 Jewish Gingerbread Cookies
Makes 12 large cookies
By using an extra-large Star of David cookie cutter and frosting the treats with blue and white buttercream, these spicy gingerbread cookies enjoy a Jewish makeover. The perfect flavor profile to accompany a good cup of coffee, they are a wintertime treat enjoyed by all, and are a perfect dessert following a milky Hanukkah spread.
3 1/2 cups flour
2 teaspoons cinnamon
1/4 teaspoon ground cloves
1 teaspoon salt
Pinch espresso powder (optional)
1 teaspoon baking powder
1/2 teaspoon baking soda
1/2 cup butter, slightly softened
1/4 cup vegetable oil
3/4 cup brown sugar
Scant 3/4 cup molasses, or silan
1 tablespoon fresh grated ginger
Pinch finely grated orange zest, optional
1 egg
1 teaspoon vanilla extract
In medium bowl, whisk together the flour, cinnamon, cloves, salt, espresso powder, baking powder and baking soda. Set aside.
In a stand mixer or using a hand mixer, cream butter and oil with brown sugar until well incorporated.
Spray your measuring cup(s) with baking spray and measure out the molasses or silan. The baking spray will help the molasses slip easily out of the measuring cup. Add the molasses or silan to the sugar and butter and mix to combine.
Add the grated ginger and a pinch of orange zest, around 1/4 teaspoon, to the batter and mix to combine.
Add the egg and vanilla extract and mix to combine.
Add the dry ingredients to the creamed butter mixture and mix until entirely incorporated.
Take dough out of the bowl, shape into a disc, cover with plastic wrap and set on a plate in the refrigerator for 30 minutes to 60 minutes, to firm up.
Preheat oven to 350°. Remove dough from the refrigerator, unwrap and place on a lightly floured surface. Roll dough a 1/4-inch-thick circle and cut out desired shapes. Immediately transfer cut-out cookies to a parchment paper-lined baking tray.
Gather the scraps of dough and repeat. Bake cookies for 12 minutes, or until golden around the edges and set on the bottom. Let cool completely on wire racks before frosting. Do not rush this process. Frosting even slightly warm cookies will result in a melted frosting mess.
Buttercream Frosting
Half pound (2 sticks) butter, softened
2 cups powdered sugar
2 tablespoons whole milk
1 1/2 teaspoons vanilla extract
Few drops almond extract
Pinch of salt
Gel food colorings and assorted blue and white sprinkles
Beat butter in a stand mixer until pale and fluffy, scraping down the sides of the bowl as needed. This can take 2 to 3 minutes.
Add half the powdered sugar and mix on low to combine.
Add the milk, vanilla extract, almond extract, and salt, and mix to combine.
Add the remaining cup of powdered sugar and mix to incorporate. Once incorporated, turn the mixer up and beat on medium high until buttercream is light and fluffy and nearing white in color (about 5 minutes).
Separate frosting into bowls according to how many different colors of frosting you would like. Use the color chart on your food coloring box, or coloring charts on the internet, to create the colors you would like to use to decorate the gingerbread cookies.
To frost the cookies: plop a dollop of frosting in the center of your cookie. Using a small offset spatula, work the frosting evenly over the entire surface of the cookie. Use a wavy swirling motion to get a rough, homemade look. Add sprinkles and other candy decorations.
Let frosted cookies set in the fridge for about an hour before serving. If you don't like a hardened frosting, the cookies can be eaten immediately, or removed from the refrigerator 30 minutes before serving.
Once the frosting has set, cookies can be stored in the freezer, each one separated by cut-outs of parchment paper and sealed in a zipper freezer bag.