Basbusa Semolina Cake, a Middle Eastern Classic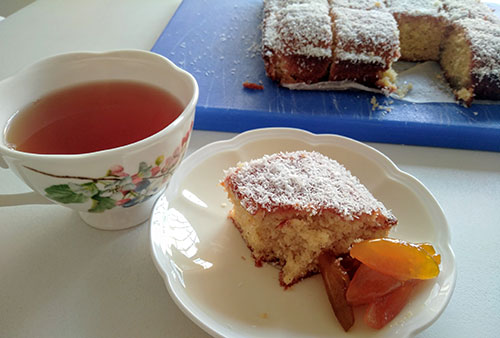 Basbusa is a Middle Eastern cake made with semolina wheat. Versions in Arab-owned bakeries in Israel often seem more confection than cake, perfumed with rose water and soaked in a flood of sweetened milk and/or syrup until the cakes are as dense and sweet as a candy bar. Delicious for sure, but not a light dessert.
Conversely, most basbusa baked in Jewish Mizrahi homes across Israel tend toward the cake side of the dessert equation. Often topped with halved blanched almonds (but not always) and mixed with a bit of flour, the finished bake is either cut in traditional diamond-shaped pieces—like baklava—or into sizable squares of moist-yet-crumbly cake. Occasionally, the Mizrahi version will include Middle Eastern staples such as tahini paste and non-cultured buttermilk.
Since semolina wheat is interchangeable for cornmeal in most cake recipes, I built my cake-y version of basbusa on nothing more than a trusted cornbread muffin recipe that I have been using for years.
Pareve by chance, basbusa pairs a relatively small amount of semolina for texture with all-purpose flour that brings a light structure to the cake, without compromising the unmistakable "cornbread" feel that it should have.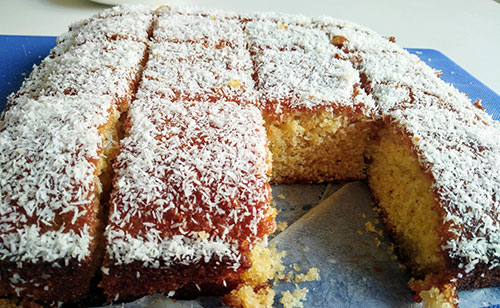 To add some native sabra charm and taste, my take on basbusa utilizes the best of Israel's winter flavors—freshly harvested olive oil and the zest and juice of sweet Israeli oranges—as well as pantry-staple desiccated coconut and a dash of cinnamon. To amplify the cake's aromatic profile, I use fragrant orange blossom water in place of the more traditional rose water.
Unlike a regular tea cake, basbusa requires a dry, crumbly texture fresh out of the oven. Otherwise the cake would not withstand the basting of hot syrup after baking. Once the syrup has been allowed to sufficiently soak into the cake (2 to 3 hours after baking), it can be served as is or with a dollop of marmalade to highlight the subtle orange notes. My basbusa cake pictured here was made from the fruit of this year's kumquat tree in my backyard garden, but store-bought jam will also do the trick.
Orange-Coconut Basbusa Semolina Cake
Makes 16 slices
CAKE
1 1/4 cup all-purpose flour
1/2 cup semolina wheat (or cornmeal)
1 teaspoon salt
2 teaspoons baking powder
1/2 teaspoon ground cinnamon
1 cup sugar
Zest from one orange
1/2 cup orange juice (from about 1 orange)
1/2 cup olive oil
2 large eggs
SYRUP
3/4 cup sugar
3/4 cup water
Orange blossom water, to taste (depending on the strength of your extract, you may need as little as a few drops or up to 1/4 teaspoon)
TOPPING
1/4 cup desiccated coconut
Preheat oven to 350°. In a medium-size bowl combine flour, semolina wheat, salt, baking powder and cinnamon. Set aside.
Prepare a 6 x 6-inch square baking pan by pressing a square of parchment paper down into the pan (you will use the paper that sticks up a bit over the sides later to remove the cooked cake from the pan). Use cooking spray to adhere the paper to the pan.
Place the 1 cup of sugar in a small bowl. Using a microplane, zest the orange directly into the sugar. Mix with a fork until the zest has been completely worked into the sugar and the mixture turns to a yellowish hue.
Add this orange sugar to a large mixing bowl along with the juice from the zested orange (if it doesn't measure a 1/2 cup, add the rest of the amount in water or bottled orange juice). Add the olive oil and eggs and immediately whisk the mixture together. Add the dry ingredients and whisk until the mixture just comes together.
Pour the batter into the prepared pan and bake for 30 to 35 minutes, or until an inserted toothpick comes out clean. You want the cake to be a bit drier than usual, since it will be soaked with syrup.
While the cake bakes, make the sugar syrup: In a small saucepan, combine the sugar and water. Cook on medium-high heat until the sugar has melted and large bubbles form. Take off the heat and add the orange blossom water to taste.
Remove cake from oven, poke all over with a toothpick and immediately pour a little more than 1 cup of the syrup over the cake. Sprinkle immediately with desiccated coconut.
Let cake rest 2 to 3 hours before slicing into squares