Rice Plov Is the Original Uzbeki One-Pot Family Meal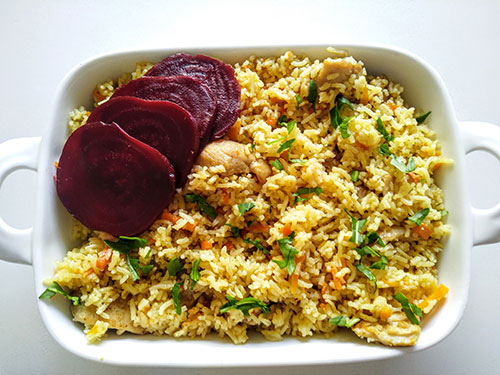 Think of plov, a centuries-old Uzbeki comfort food still beloved today, as a Central Asian take on rice pilaf. In its most authentic form, it is made exclusively by men using chunks of lamb and hard-to-source ingredients like barberries and sheep's fat, sautéed together with basic root vegetables in a special cast iron pot. Creating a stew of sorts, long-grain rice is next layered on top of the meat-and-vegetable mix. Large holes poked with the back of a wooden spoon allow the rice layer and a whole head of garlic to steam as the mélange cooks together. Plov is, in essence, the original one-pot meal.
During Russian imperial rule, plov spread from Central Asia and the Caucasus Mountains region across the lands that later became Soviet republics, including Russia, Ukraine and Belarus, where new, more accessible versions of plov evolved.
Fast-forward to the modern State of Israel, where Russian-speaking immigrants imported plov into their apartment kitchens. Depending on where they emigrated from—Moscow, Moldova or Minsk, for example—each family claims their own version, passed down through the generations. Adaptations range from traditional to others that are heavily spiced and aromatic; typically, the more modern the recipe, the more affordable the ingredients and the faster-to-assemble, often calling for chicken, turkey or chunks of beef.
In Israel today, it would surprise me if a considerable number of plov interpretations featured the spices original to classic Uzbeki versions—think fennel seed, sumac, chili, paprika and cumin, for starters. My Ukrainian mother-in-law doesn't add any of these spices to her plov, which has been adapted to suit the dill, potatoes, cabbage and beets sensibility of Russian food that she grew up eating.
The plov that I make is a belly-filling, warming winter dish. It's a marriage of soft boneless chicken thighs, matchstick carrots, chopped onions and fragrant basmati rice. Mine is streamlined simply because I feel more confident sautéeing the rice directly into the meat-and-vegetable mixture prior to adding water and covering the entire dish to cook. And I brighten up my plov with a smattering of fresh greens just before serving—a tasty and attractive garnish.
Using seared boneless, skinless chicken thighs helps this dish come together fast while eliminating some of the stress and worry of overcooking the chicken. Here, plov has transitioned from a slow-cooked, stew-like affair to one that can be pulled together in about an hour. But, I promise, this plov is just as succulent and flavorful as the long-simmering original. Serve with sweet and earthy roasted beets for a complete meal.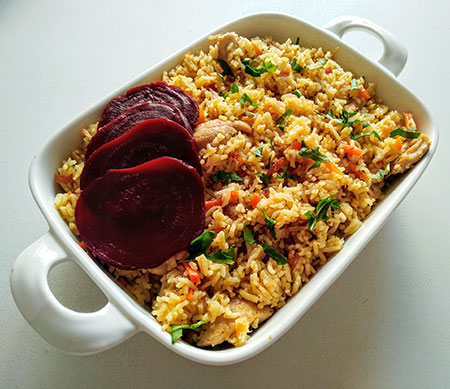 Chicken Plov
Serves 6 to 8
2 pounds boneless skinless chicken thighs, cut into bite size chunks
3 tablespoons olive oil
Salt, freshly ground black pepper and paprika to taste
2 cups basmati or other long-grain rice
3 medium carrots
1 large onion
1 head garlic
2 1/2 cups chicken stock
1/4 cup olive oil
Pinch of turmeric
1/4 cup arugula
Trim the chicken thighs of any excess fat and cut into bite-sized chunks. Place in a medium-size bowl and drizzle with 3 tablespoons olive oil and an even, light sprinkling of salt, pepper and paprika. Set aside to marinate.
Meanwhile, prep the dish's other ingredients: In a fine-mesh strainer, rinse the rice until the water runs clear. Shake off excess water and set aside.
Peel carrots and cut into matchsticks by slicing a carrot in half horizontally, then again lengthwise, slicing it into thin strips, and then those strips into thin pieces of carrots. (This is the traditional way, but you could also coarsely grate carrots.)
Finely chop the onion and add to the sliced carrots. Cut the tip off the head of garlic to expose the cloves. Peel off any loose outer layers of skin and set aside.
Sear the marinated chicken in a hot skillet until browned on both sides, 1 to 2 minutes. Chicken will still appear raw in the middle. Do this in batches, making sure not to crowd the pan. Place all seared chicken pieces in a bowl and set aside.
Heat the chicken stock in the microwave or in a small saucepan. Meanwhile, also heat 1/4 cup olive oil in a 5 to 6-quart stock pot and sautée the onions and carrots with the turmeric and salt and pepper to taste, until the onions are translucent and the carrots begin to soften,  3 to 5 minutes.
Add the rice to the carrot and onion mix and sautée for an additional minute. Add the served chicken pieces to the rice and vegetable, and stir well. Next, add the chicken stock. Mix and let come to a boil, then push the head of garlic down into the rice, exposed cloves side down. Cover, reduce heat to low, and cook for 15 minutes.
After 15 minutes, remove the stock pot from the heat but leave the lid on to continue steaming for 10 to 30 minutes.
After this time, remove the lid and fluff the rice with a fork and take out the head of garlic. Using tongs or the back of a fork, squeeze out as much garlic—which will resemble a paste at the point—as possible and discard the bulb. Mix the garlic paste into the rice, to taste.
Chop the arugula and sprinkle atop rice just before serving.