Nina Safar Takes Kosher in the Kitch! Into Print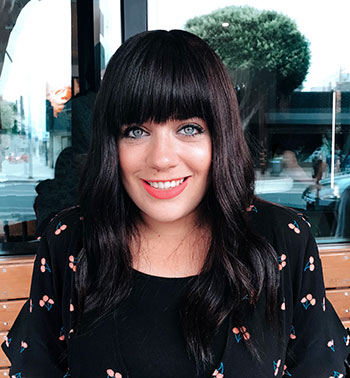 Kosher though she may be, food blogger and cookbook author Nina Safar doesn't deny herself the pleasures of creamy chicken alfredo.
"Pasta coated with a thick, creamy alfredo sauce with slices of chicken and mushrooms always seemed [like it would be] so delicious to me," said Safar, 34. "Once I started creating recipes for the blog, that was one of the dishes that I really wanted to recreate in a kosher way." Which she does, in her debut The Simply Kosher Cookbook: 100+ Recipes for Quick Weeknight Meals and Easy Holiday Favorites
.
If you visit Safar's site, Kosher in the Kitch!, you'll find many seemingly impossible kosher meat entrees, made creamy and delectable with the strategic selection of various non-dairy milks. Enticing examples include No Cheese Mac n Cheese with Kosher Candied Beef Bacon Bits and Creamy Chicken Pot Pie.
"When you stop thinking of kosher as a restrictive diet and instead shift your attention to the ingredients that are available and how you can use them to create flavors you enjoy, the possibilities are plenty and tasty."
At Kosher in the Kitch!, Safar is known for her wacky, fun mash-ups and lighthearted approach to recipe development. Now, with the publication of The Simply Kosher Cookbook, a wider audience will delight in getting to know her playful kitsch—with a smattering of practicality thrown in.
Sure, she still offers up expected dishes like riffs on hamantaschen, and that seemingly kashrut-illegal chicken alfredo, but she also makes sure to give cooks with little time and resources in the kitchen solutions for practical weeknight meals.
Safar fills the book with lots of little nuggets and "lazy hostess," semi-homemade recipes that anybody could easily whip up with very little time spent "in the Kitch!" I just wish there were more photos so we could see the dishes in all their glory.
While her style both on the blog and in print is approachable, there is more to Safar than meets the eye. The Brooklyn-based mom of two grew up in a large Orthodox family; as a teenager, the job of feeding the family often fell on Safar's shoulders. So you'd better believe that she has developed an arsenal of tricks when it comes to getting dinner on the table with a modicum of fuss and time.
"While I have never enjoyed the task of cooking," she revealed to me, "I have always loved the joy that a freshly made meal brings to a home."
The recipes in Simply Kosher are, for the most part, everyday American fare that has become somewhat standard in kosher kitchens. But it's the shaking up of classic Jewish recipes such as stuffing challah with bbq pastrami, and frying up poutine latkes, that really showcases Safar's creativity. Not to mention her incorporation of current cooking trends, for instance adapting recipes for the increasingly ubiquitous Instant Pot.
"Each holiday has a special food connected to it," she said, noting the poutine latkes. "I find such joy in taking classic recipes and giving them a fun twist."
Simply Kosher brings you plenty of those twists as well as super simple staples like Honey Mustard Chicken With Rosemary, Lazy Meatballs and Fluffy Lemon Blueberry Pancakes. Here, enjoy the recipes for her looking-ahead-to-summer Strawberry Feta Salad, Greek-Style Stuffed Salmon and meaty Persian Green Bean Stew, made in an Instant Pot.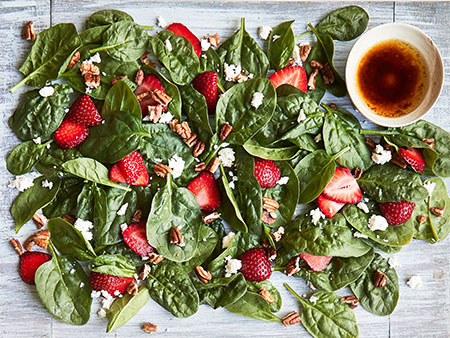 Strawberry Feta Salad
Serves 5 to 6
When hosting, people often fuss so much about the main dish that they forget the power of a really great salad. This sweet and tasty combo of spinach, crumbled feta and strawberries is a favorite of mine. With crunchy pecans and a sweet, flavorful dressing, it is sure to be a crowd pleaser.
6 ounces baby spinach
1 cup sliced strawberries
1/2 cup pecans
1/4 cup crumbled feta
2 tablespoons balsamic vinegar
2 tablespoons olive oil
1 tablespoon brown sugar
Place the spinach in a large serving bowl. Layer the sliced strawberries, pecans and crumbled feta on top.
In a small bowl, whisk together the balsamic vinegar, olive oil and brown sugar.
Drizzle the dressing over the salad, toss and serve.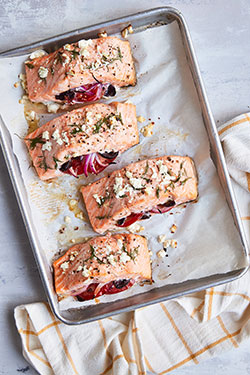 Greek-Style Stuffed Salmon
Serves 4
With this quick recipe, you get your main dish and salad combo all in one. The vegetables cook perfectly with the salmon, the feta cheese melts in your mouth, and the dill dressing adds just the right amount of flavor. It is a really tasty and easy weeknight dinner, but it can also be impressive enough for entertaining. Serve it with a side of jasmine rice or mashed cauliflower to finish off the plate.
1 tablespoon freshly squeezed lemon juice
3 tablespoons olive oil
2 garlic cloves, crushed
1 tablespoon chopped fresh dill
1/2 teaspoon salt
1/4 teaspoon freshly ground black pepper
2 pounds salmon fillet, cut into 4 equal pieces
4 Campari tomatoes on the vine, cut in half
1 small red onion, sliced thinly
1/3 cup pitted Kalamata olives, thinly sliced
1/4 cup crumbled feta cheese
Preheat the oven to 450°. Line a baking sheet with parchment paper.
In a small bowl, whisk together the lemon juice, olive oil, garlic, dill, salt and pepper.
Place the salmon on the prepared baking sheet. Using a sharp paring knife, make slits along the length of the salmon, making sure you don't cut all the way through the fish. You can slice through the side or top of the fish.
Brush the salmon with the olive oil-dill mixture, then stuff the slits in the fish with the tomato halves, onion slices and olives. Top with the crumbled feta.
Bake for 12 minutes or until the salmon flakes easily with a fork.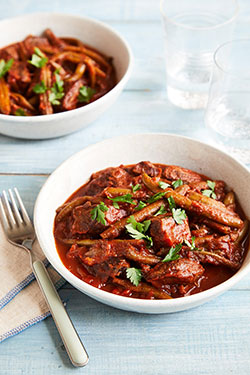 Persian Green Bean Stew
Serves 4 to 6
My neighbor, James, is a talented cook. He cooks gourmet meals from scratch without breaking a sweat. Since I like to take it easy in the kitchen, I asked him to share one of his favorite Instant Pot® recipes—but make it super simple. His mom, Diane, raised him on traditional Middle Eastern foods, and this recipe features a simplified version of a traditional Persian dish called beef khoresh. It is a savory stew of meat and beans cooked in a mix of tomato sauce, tomato paste, and spices—a really delicious and filling meal when served over a plate of rice.
2 tablespoons olive oil
1 medium white onion, thinly sliced
1 pound cubed beef stew meat
1 teaspoon salt
1/4 teaspoon freshly ground black pepper
1/2 teaspoon garlic powder
1/2 teaspoon ground cumin
1 pound green beans, trimmed
2 (16-ounce) cans tomato sauce
2 tablespoons tomato paste
1 bay leaf
On an Instant Pot, select sauté, heat the oil, and add the onion, beef, salt, pepper, garlic powder and cumin. Cook, stirring constantly, until the meat is browned and the onion is tender, about 5 minutes.
Add the green beans, tomato sauce, tomato paste and bay leaf. Close and seal the Instant Pot, select the Stew setting, and cook for 30 minutes.
Once the cooking is done, allow the Instant Pot to release pressure naturally. Remove the bay leaf before serving.
Ingredient Tip: Add two or three dried lemons for an authentic Persian-flavored stew.
Excerpted from The Simply Kosher Cookbook: 100+ Recipes for Quick Weeknight Meals and Easy Holiday Favorites
, by Nina Safar, published by Rockridge Press. Copyright © 2019 by Callisto Media. All rights reserved