Miriam Pascal Is Back With 'More Real Life Kosher Cooking'
Just six days after her debut cookbook Real Life Kosher Cooking
was published in 2017, author and food blogger Miriam Pascal took to Facebook in disbelief. "OMG AM I DREAMING?!?" she wrote to her followers. "[My book] is currently ranked number 19 out of ALL BOOKS on Amazon. If this is a dream, please nobody ever wake me up."
Now almost two years later, the 31-year-old Pascal is back with her second installment, More Real Life Kosher Cooking: Approachable Recipes for Memorable Dishes
, featuring the trademark style of homey and creative kosher cooking that she first honed on her blog, Overtime Cook.
From seemingly minor recipes like homemade bourbon bbq sauce (which is a total winner) to celebratory cocktails (s'mores martini, anyone?), Pascal remains focused on the details. While the book is chock-full of her "approachable and doable" sensibility, she never forgoes the special touches that elevate home cooking to the best-ever-from-scratch version of whatever it is she instructing you to make.
As a chef who primarily came up in the food world online and through social media, Pascal maintains a lively back-and-forth with her thousands of fans. (On Instagram alone Pascal counts over 35,000 followers.) Furthermore, she regularly considers feedback from her friends and family IRL, even going so far as to reveal the recipe for her addictive sweet-and-spicy pretzels that she handed out last year in her mishloach manot baskets.
With hardly any flavor combination out of reach for kosher cooks these days, Pascal's recipes head into a number of exotic and indulgent directions. Asian-inspired entrees include, among others, roasted ground beef orange sesame kebabs, Thai-marinated London broil and tofu lo mein; next-level comfort classics are her crispy-edged mac n' cheese "waffles" and a beer-battered fish sandwich served with homemade tangy tartar sauce, inspired by a favorite take-out place in New Jersey.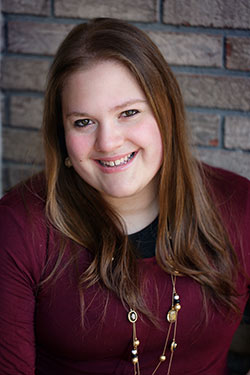 Pascal credits her parents, who both love to experiment with recipes, for modeling early on the kind of fearless cooking that underscores her popularity today. Indeed, she was always encouraged at home to express her creativity through cooking and baking.
"[Now] recipe ideas and inspiration come from all sorts of places," she tells me. "Often, I cook a dish for a Shabbos meal or gathering I'm hosting, and it's a huge hit, so I turn it into an official recipe. Other times, recipes are born when I wonder to myself what would happen if I would combine a popular food, like rugelach, with a coffee shop favorite, like caramel macchiato. Thus my Caramel Macchiato Rugelach recipe in More Real Life Kosher Cooking! Sometimes I try something in a restaurant and love it, so I go home and recreate it. Yet other times, I'll find an ingredient on sale or have an ingredient in my fridge that might go to waste, so I come up with a way to use it."
In the book, look for Pascal's creative pairings of sweet and savory in dishes like blueberry chicken and raspberry honey mustard silver tip roast; and non-traditional dessert riffs like Peanut Butter Tiramisu and Strawberry Shortcake Cheesecake Trifles. For kosher duck sauce diehards, not to worry: Pascal uses the condiment to glaze her favorite oven-roasted potatoes, corned beef and knishes, which in the book she forms into one long braid.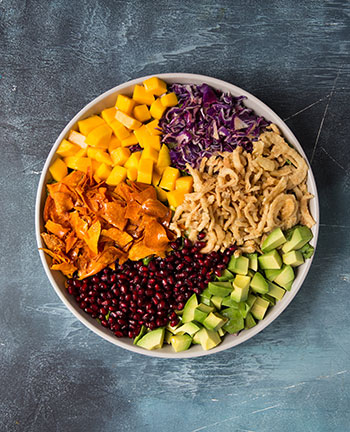 Hungry yet? Included here are Pascal's recipes for multi-textured Rainbow Salad, Wontons in Garlic Sauce and Meat-Stuffed Garlic Bread. Yum!

Rainbow Salad
Serves 6
With almost nothing to prep, I make this recipe when I don't have time, but still want to wow my guests. The combination of sweet and savory flavors, plus all kinds of great crunchy textures, really make this a winner.
MAPLE LIME DRESSING
1/3 cup olive oil
1/4 cup pure maple syrup
3 tablespoons lime juice
1 clove garlic, minced OR 1 cube frozen garlic
1 1/2 teaspoons kosher salt
Pinch cayenne pepper
SALAD
8 ounces romaine lettuce
4 ounces shredded red cabbage
1 mango, diced
1 avocado, diced
1/2 cup pomegranate seeds
1 cup lightly crushed sweet potato chips
3/4 cup crispy fried onions (such as French's)
Prepare the dressing: Whisk together all dressing ingredients in a small bowl until combined. Set aside.
Place all salad ingredients in a large bowl. Add dressing just before serving; toss to combine.
Variation: When pomegranate seeds are not in season, use dried cranberries or dried cherries instead.
Plan Ahead: Dressing can be stored in an airtight container in the fridge for up to 1 week. Salad should be assembled fresh.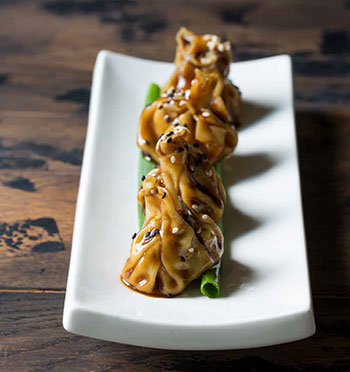 Wontons in Garlic Sauce
Serves 10 to 12
This recipe began with my obsession with wontons and garlic sauce from a particular Chinese restaurant that's nowhere near my home. Naturally, I had to recreate it myself. Since then, these wontons have become the stuff of Pascal family legend. It's my family's all-time favorite Yom Tov appetizer. The only downside? It's pretty much guaranteed to upstage basically any other dish you serve at the same meal!
WONTONS
1 1/2 pound ground beef
2 tablespoons soy sauce
1/2 teaspoon toasted sesame oil
2 tablespoons sesame seeds, preferably a mix of black and white
4 scallions, sliced
4 cloves garlic, minced
50 wonton wrappers, approximately
GARLIC SAUCE
1 (18-ounce) jar hoisin sauce
1/3 cup soy sauce
1/3 cup rice vinegar
1/3 cup honey
2 teaspoons sriracha
1 teaspoon ground mustard
1/2 teaspoon ground ginger
1/2 cup water
12 cloves garlic, minced
Sliced scallions, for garnish (optional)
additional sesame seeds, for garnish (optional)
Prepare the wontons: Combine beef, soy sauce, sesame oil, sesame seeds, scallions, and garlic in a large bowl; stir gently until just combined.
Place about 2 teaspoons meat mixture onto the center of a wonton wrapper. Brush a small amount of water along the edges before pressing them together to help keep them sealed; bring the edges together to form a wonton. Set aside; repeat with remaining meat and wonton wrappers.
Bring a pot of salted water to a boil. Drop a few wontons into the boiling water; cook for about 6 minutes, until the meat is cooked through. Work in batches to avoid overcrowding the pot. Remove wontons with a slotted spoon; place on parchment paper, not touching each other. Set wontons aside.
Meanwhile, prepare the garlic sauce: Combine all sauce ingredients in a medium pot. Bring to a boil, then reduce heat; simmer mixture for about 15 minutes, stirring occasionally, until sauce thickens.
Just before serving, toss cooked wontons in sauce; warm through. If desired, garnish with sliced scallions and sesame seeds.
Plan Ahead: Wontons can be frozen, without sauce, either before cooking (boil just before serving; if boiling frozen, add 1 minute to cooking time) or after cooking. Sauce can be prepared up to 3 days ahead and stored in the fridge. Combine wontons and reheated sauce just before serving.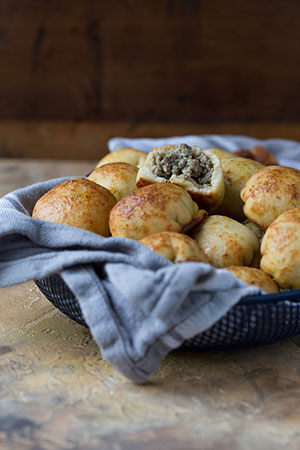 Meat-Stuffed Garlic Bread
Serves 8
Everyone loves garlic bread, but when you hide a meat surprise in the center, it becomes an instant sensation. One of my favorite things about this appetizer is how well it freezes—so make a big batch and keep it on hand for those times when you want to serve something really special. 
GARLIC PESTO
1 cup garlic cloves
1/4 cup fresh parsley
1/2 cup olive oil
1 1/2 teaspoons kosher salt
MEAT FILLING
1 tablespoon oil
1 pound ground beef OR veal
ASSEMBLY
24 mini (2-3 inch) pizza dough rounds
1 egg 
Preheat oven to 400°. Line a baking sheet with parchment paper; set aside.
Prepare the garlic pesto: Place all pesto ingredients into a blender jar. Blend until mixture is completely smooth. You can also do this using an immersion blender and placing ingredients into a tall container. Set aside.
Prepare the meat filling: Heat oil in a large frying pan over high heat. Add meat; cook, stirring to break up the lumps, for a few minutes, until meat starts to brown. Add about . cup of garlic pesto; stir well to combine.
Assemble the garlic bread: In a small bowl, whisk together about 1/2 cup of the garlic pesto and egg. Set aside for topping.
Brush a layer of garlic pesto over 1 pizza dough round. Top with about 1 tablespoon meat mixture, then fold dough around filling. Stretch the dough as you work to make sure it will enclose the filling. Place filled round, seam-side down, on prepared baking sheet. Repeat with remaining dough and filling. Reserve remaining pesto.
Brush reserved pesto and egg mixture generously over the top of each filled round. Bake for 20 minutes, or until golden brown.
Plan Ahead: Meat-stuffed garlic bread can be prepared ahead and frozen until ready to serve. Rewarm, uncovered, until heated through.