Homemade 'Fig Newtons' for a Post-Tu B'Shevat Treat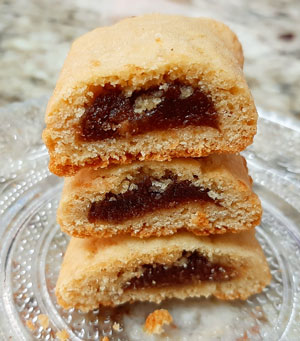 Tu B'Shevat has passed, and you realize that you have a reserve stockpile of dried fruit in the pantry. So, what to do with all those apricots, dates and figs? I'll tell you what I'd do—make homemade Fig Newtons™ (with the dried figs, at least).
Cake-like square cookies that encase a thick dried fig filling, Fig Newtons™ are an underrated treat. Having grown up on sleeves of these cookies, initially I wasn't convinced that a from-scratch version could hold up to the packaged original. Thankfully, I was wrong, which I realized when my picky 5-year-old son wouldn't stop begging for more of the squares for his post-school snack.
As a chocaholic, Fig Newtons™ admittedly are probably not my first choice in a dessert-desert-island scenario. My signature espresso chocolate chip cookies are much more likely to fill that craving. However, put a plate of these figgy squares in front of me, and one little nibble can quickly turn into several cookies down the hatch. That's because they are deceptively simple, but oh so subtly delicious.
The best approach to making these cookies is to prepare the dough and filling in advance, so they can chill in the fridge for at least 1 hour before forming the cookies. Cold ingredients are your friend here, and the chilled elements will make forming these cookies immensely easier.
Another helpful note: Fresh out of the oven, these cookies will appear as if they missed the mark texture-wise. Let them sit a few hours—or overnight (cover them once they cool)—and the outer crust will soften beautifully to create an uncanny copycat to the store-bought Nabisco original.
What makes this cookie ideally suited to the Israeli home-baker? The packages of dried figs that flood the aisles in the wintertime in anticipation of Tu B'Shevat. That said, if you prefer the aromatic and richly intense flavor of dates, you'll be happy to know that these treats are also excellent when made with Medjool dates instead of figs. Figs and dates, in cookies? What could be more Israeli than that?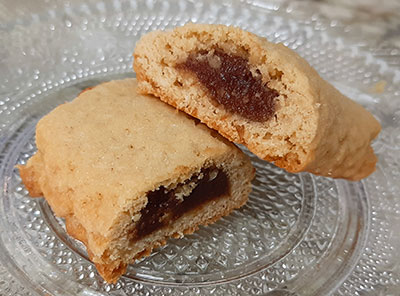 Fig Newton™ Copycat Cookies
Makes 24 cookies
FILLING
3/4 cup brewed dark black tea
10 ounces dried figs
1/2 teaspoon vanilla extract
1/2 teaspoon cinnamon
Pinch of ground cloves
1/4 teaspoon salt
2 tablespoons honey
DOUGH
3/4 cup all-purpose flour
3/4 cup cake flour
1/4 teaspoon baking soda
1/2 teaspoon salt
1/2 cup butter
1/2 cup dark brown sugar
1 egg
1 1/2 teaspoons vanilla extract
Make the filling: Steep two bags of your favorite black tea in 3/4 cup hot water. Trim dried figs of any stems, place in a medium bowl and pour the hot tea over the fruit. Let steep 10 minutes, or until figs are soft.
Transfer the tea and figs to a food processor. Add the vanilla extract, cinnamon, ground cloves, salt and honey, and pulse until the mixture becomes a smooth paste.
Spoon filling into a piping bag or large ziplock bag and place in refrigerator to chill.
Make the dough: In a medium bowl, combine all-purpose flour, cake flour, baking soda and salt. Set aside.
In a separate bowl or stand mixer, cream together butter and brown sugar. Add egg and vanilla and mix until incorporated.
Add the flour mixture to the creamed butter and sugar mixture and mix until a cohesive dough forms. Shape dough into a rectangle, wrap with plastic wrap and chill for at least 1 hour.
Assemble the cookies: Preheat oven to 350°. Remove dough and filling from the refrigerator. Roll the dough into a 13 x 9-inch rectangle. Cut dough lengthwise into three even strips using a pizza cutter. If the dough cracks as you begin rolling it out, stop and gently knead it to prevent breaking.
Cut a hole in the piping bag. (If using a ziplock bag, push the filling down into the corner first.) Pipe a line of filling down the right side edge of each strip, then fold the dough up and over the line of filling, pressing gently with your fingers to seal the edge around the filling. Roll up and over one more time to reach a cylinder shape. It will look thinner than it should, but don't worry, the cookies will expand as they bake. Repeat with the remaining two sections.
Transfer the rolled cylinders to a parchment paper-lined baking sheet, taking care to space them a couple of inches apart. Bake for 12 to 15 minutes, until lightly browned around the edges.
Let cool completely, then cut into 1 1/2-inch cookies.