Getting to the Heart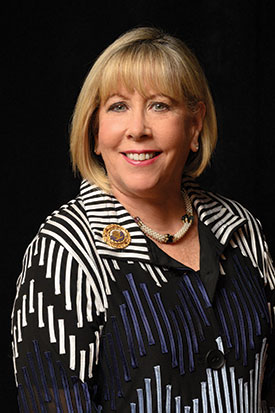 On January 27—the 75th anniversary of the liberation of Auschwitz—the United States House of Representatives passed the Never Again Education Act (NAEA) to establish a new federal program and $10 million in funding for Holocaust education grants to schools offering classes, resources, teacher training and student field trips. The legislation, which passed by a vote of 393 to 5, addresses a critical need for the United States and an urgent priority for Hadassah.
In the past 18 months we have seen the two most violent attacks in history aimed at American Jews; according to FBI figures, two-thirds of religiously biased hate crimes in America are aimed at Jewish targets. The NAEA is one important way to combat the threat and the reality of anti-Semitism. It represents an expanded front against hatred and extremism fueling violent attacks against minorities.
Along with the United States Holocaust Memorial Museum and other Jewish organizations, Hadassah has worked long and hard on the NAEA. At a press conference after the House vote, Representative Carolyn Maloney (D-N.Y.), who spearheaded the legislative campaign, acknowledged our efforts. But the work isn't finished. The action now moves to the Senate, where the measure was introduced last July by Senators Jacky Rosen (D-Nev.), Kevin Cramer (R-N.D.), Marco Rubio (R-Fla.) and Richard Blumenthal (D-Conn.). In October 2019, Hadassah hosted a Capitol Hill event at which experts briefed representatives from more than two dozen Senate offices on the need for increased Holocaust education.
There are now more than 25 NAEA co-sponsors in the Senate, but we need to continue to push until it is passed. To urge your Senators to back the legislation, go to Hadassah.org/neveragain and click on "Take Action."
Our legislative initiative shows both Hadassah at its best and representative government at its most responsive. It is also an important reminder that civic participation goes way beyond voting. America's presidential election cycle is in full swing and for the third time in less than a year Israelis are hoping to elect a new Knesset.
But democracy isn't just an election-day event. Voting is only one expression of freedom—and to be honest it's not an exercise on which Americans collectively have a great track record. Only about 55 percent of eligible voters typically turn out for presidential elections, and the percentage often falls below 20 percent for municipal elections held in years when there is no presidential contest.
The heart of a democratic nation is a multi-chamber organ of civic engagement, certainly encompassing voting, but also meeting, organizing, demonstrating, petitioning and advocating to pressure elected officials and raise our voices in the public square.
Hadassah has been a pillar and a practitioner of democracy since its founding, working in the Jewish community and on the American scene. We helped democratize the Zionist movement by making sure women were in positions of leadership, in making decisions and building institutions. And our voices are heard in Washington because we use them in the corridors of power and also have members in all 435 congressional districts.
Like the activities that lie at the heart of democracy, the human heart is a complex organ. Symbolically we see it as the nexus of our highest values in defense of our families, our communities and our heritage. And it goes without saying that the heart is also a central concern of the Hadassah Medical Organization in Jerusalem—renowned worldwide for cardiac treatment and research—and in Hadassah's health outreach initiatives in America.
February is American Heart Month, so this is a good time to check to see if we are all doing everything we can to keep our hearts as well as our democracy healthy. Thousands of women are committed to promoting heart disease awareness through Every Beat Counts, Hadassah's Heart Health Program.
Whether we talk about our own bodies or the body politic, it's important to know our heart and take action with passion, pride and purpose.