Rachel Mansfield Delivers 'Just the Good Stuff' in Debut Book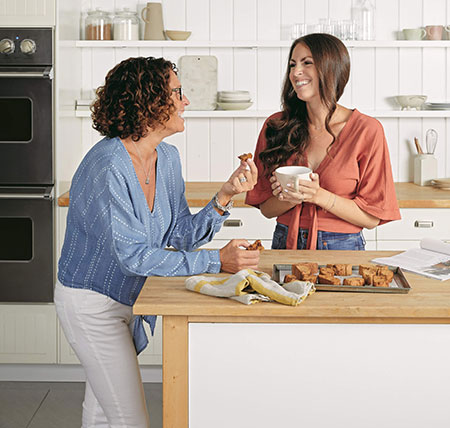 New Jersey native Rachel Mansfield, 29, has been to the extremes of dieting and back. From nearly starving herself in the name of keeping her weight down, to downing bags of peanut butter M&M's as a snack, to an unsuccessful attempt at vegetarianism, it took the young mom years to learn that by adjusting the ingredients in her favorite dishes, she could satisfy all her cravings with healthy adaptations.
Indeed, by her mid-twenties she was spending a significant amount of her free time tinkering in the kitchen and working on her nascent blog.
But then she lost her office job in Manhattan. Newly married and looking for a more meaningful career, she made the leap from part-time food blogger to full-time recipe developer and digital food personality. Devoting those extra hours to expanding her collection of wholesome recipes to fit a decidedly modern and elite nutrition profile—many are gluten-free, dairy-free, vegan, keto-friendly or Whole30 compatible—meant that she could perfect nachos featuring roasted sweet potato "chips" as their base, 6-Ingredient Paleo Zucchini Lasagna and The Best Ever Grain-Free Brownie, among dozens of other recipes.
And now, Mansfield is branching out yet again, this time from the digital world to print. Her debut cookbook, Just the Good Stuff: 100+ Guilt-Free Recipes to Satisfy All Your Cravings: A Cookbook
, has just been published by Clarkson Potter. In it, her trademark indulgent yet wholesome and healthy adaptations come to life for readers unfamiliar with her website and her philosophy on following not one, but rather parts of just about all, eating regimens.
"I joke that I live a 'label-less' lifestyle since I'm not gluten-free or vegan or paleo or anything, but I love foods within each of those categories," she tells me. "I eat foods within any label—whatever tastes good and my body is craving."
Many—but not all—of her recipes are gluten-free, dairy-free, GMO-free and refined sugar-free. She does not use processed ingredients and routinely swaps in alternatives like ghee (clarified butter), coconut oil, soba (buckwheat) noodles and tapioca flour as well as a few hard sells like Manuka honey, which retails for a shocking amount. And in Just the Good Stuff, Mansfield urges readers to use organic produce as well as grass-fed beef and antibiotic-free chicken.
But there are exceptions to every rule. Mansfield tells me she doesn't believe in terms like "splurge," "cheat food" or "junk food." She enjoys challah French toast and bagels with lox and cream cheese just as much as the rest of us—in moderation. Indeed, Jewish holidays in her family—she is the grandchild of Holocaust survivors—mean the works: kugel, matzah ball soup, brisket and her mother's mandel bread recipe. (Mansfield's tweaked version of the almond cookies appears below, and she swears they are "to die for.").
Nonetheless, her quirkily-titled chapters—"Netflix and Chill" and "Feed Your Tribe" are two examples—focus squarely on the rules for healthy eating rather than the exceptions. Mansfield mixes homey staples like cracker-coated baked chicken with more "out-there" coconut-crusted sweet potato fries with cinnamon cashew dip, which Mansfield says tastes like Cinnamon Toast Crunch cereal.
Slightly less foreign to many readers will be dishes like her charred romaine and zesty avocado salad as well as her Thai coconut squash soup with red curry paste.
With my over-developed sweet tooth, I was especially intrigued with the copycat snickers—in which Mansfield replaces the caramel layer with sticky medjool dates (a great low-sugar alternative for baking)—and chocolate chip sweet potato waffles made with almond and coconut flour.
Simply put, in a world where something's gotta give for us to be a bit healthier, you'd be foolish not to try at least one of Mansfield inspired recreations.

Mom's Mandel Bread
Makes about 20 cookies
3/4 cup coconut sugar
3 large pasture-raised eggs
3/4 cup liquid coconut oil
1 teaspoon pure vanilla extract
3 cups gluten-free oat flour or sprouted spelt flour
1 teaspoon baking powder
1⁄3 cup dairy-free dark chocolate chips
1 teaspoon ground cinnamon
Preheat the oven to 350° and line a large baking sheet with parchment paper.
In a large bowl, mix together the coconut sugar, eggs, coconut oil and vanilla until creamy and well combined. Add the oat flour and baking powder, and mix well until the dough comes together. Fold in the dark chocolate chips.
Divide the dough in half and form each half into a loaf (10 to 12 inches long and 3 inches wide) on the prepared baking sheet. Sprinkle the loaves with the cinnamon.
Bake until the loaves are golden brown, about 30 minutes.
Remove the loaves from the oven and slice them into 1-inch-wide cookies. Turn the cookies on their sides on the baking sheet.
Return the baking sheet to the oven and bake for 15 minutes. Flip the cookies and bake until they are lightly golden and toasted on each side, about 10 minutes more. Allow the cookies to cool on the baking sheet for a few minutes before serving. Leftover cookies will keep in an airtight container at room temperature for up to 5 days or in the freezer for up to 2 months. I love these cookies frozen!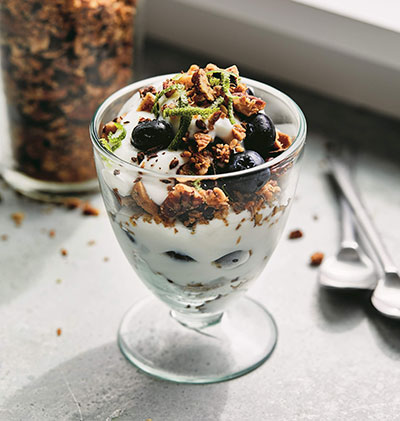 Crunchy Tahini Chocolate Grain-Free Granola
Makes about 5 cups
1/4 cup creamy tahini
1 tablespoon liquid coconut oil
1 teaspoon pure vanilla extract
1/2 teaspoon ground cinnamon
1 cup raw cashews
1 cup raw pecans
1 cup raw almonds
1/4 cup flaxseed
3/4 cup unsweetened coconut flakes
1/3 cup chopped dairy-free dark chocolate (I use Hu Baking Gems)
Preheat the oven to 300° and line a baking sheet with parchment paper.
In a medium saucepan, combine the tahini, coconut oil, vanilla and cinnamon and cook over low heat until melted and well combined. Set it aside.
Combine the cashews, pecans and almonds in a food processor and pulse briefly a few times to break them up into smaller pieces (do not overblend!).
Transfer the nuts to a large bowl, and add the flaxseed and coconut flakes.
Pour the tahini mixture into the bowl and mix well—the dry ingredients should be evenly coated.
Transfer the granola to the prepared baking sheet and press it down firmly to form into a rectangle. Bake, shaking the baking sheet gently every 10 minutes (not too hard or the clusters will break) until the granola is golden brown, 35 to 40 minutes.
Let the granola cool completely, then add the chopped dark chocolate and break up any large clusters. Store in a large resealable container. The granola will keep in the fridge for up to 2 weeks or in the freezer for several months.
Reprinted from Just The Good Stuff. Copyright © 2020 by Rachel Mansfield. Photographs copyright © 2020 by Aubrie Pick. Published by Clarkson Potter, an imprint of Penguin Random House, LLC.