The Original Purim Treat, Yeasted Poppy Seed Hamantaschen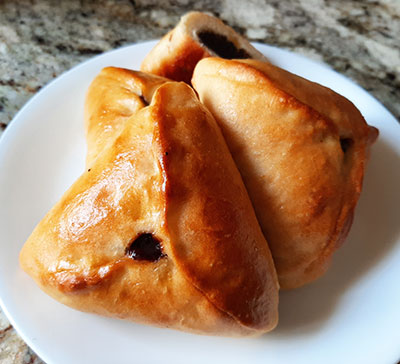 Complex and strong-willed, I hope that echoes of Queen Esther's indomitable spirit can be found in this nearly long-lost cookie: Yeasted Poppy Seed Hamantaschen. These triangular Purim treats are as original as hamantaschen get. Bet you didn't know that the very first hamantaschen were rolled and shaped from a yeasted dough!
Many people are afraid of making yeasted pastries, and for good reason. Yeast can be unpredictable, especially when we try to coax it into a certain shape. And poppy seeds notoriously can carry a bitter taste. Here is how I deal with these two baking dilemmas.
In many dessert recipes—hamantaschen included—poppy seeds (mohn in Yiddish) are best ground up fresh in a spice grinder. Packages of pre-ground poppy seeds often sit on market shelves for months, turning bitter while they wait to be purchased. Avoid them! Once poppy seeds go bitter, no amount of sugar will bring them back to a palatable place. Furthermore, I recommend adding ground up cookie crumbs to the poppy seed filling to help firm the texture and boost the sweetness.
For hamantaschen of all types, thicker fillings are ideal for preventing spillage and opening up in the oven. Just think of all those jam-filled cookies at the temple Megillah reading where the jam just kind of got away. In that case, a cornstarch slurry could have gone a long way to thicken the filling and prevent spillage.
Then there is the enriched yeasted dough, which admittedly is a little finicky and doesn't like to keep its shape when coaxed into a triangle. The trick here is to roll the dough relatively thin (rerolling if necessary just before filling) and seal edges shut with a little egg wash, closing the triangles all the way. Using this method, even if the hamantaschen do open up during rising or baking, it will only be enough to reveal as much of the luscious filling as you'd probably like to show off anyway.
I seem to be a rarity in my generation for my love of poppy seed pastries, so you'll never hear me complain if served a mohn hamantasch. That said, I'm a big fan of Nutella-stuffed hamantaschen using this same yeasted dough: The finished product carries a real pain-au-chocolat vibe!
Brushed with simply syrup to soften and seal in moisture, these yeasted pastries would be ideal for mishloach manot packages for friends and family.
Wishing you all a festival, safe and healthy Purim!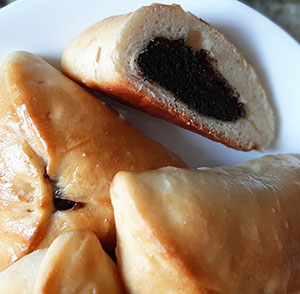 Yeasted Poppy Seed Hamantaschen
Makes 18 large hamantaschen
POPPY SEED FILLING
Up to 3/4 cup graham cracker crumbs, as needed (from about 5 to 6 graham crackers)
3/4 cup poppy seeds
1/2 cup milk
1/2 cup sugar
1 heaping tablespoon honey
1/4 teaspoon lemon zest
2 tablespoons butter
DOUGH
5 cups all-purpose flour
1/4 cup sugar
2 teaspoons salt
1 tablespoon active dry yeast
1/2 cup butter, cut into 1-inch cubes
2 eggs
1 1/4 cups whole milk
1 teaspoon vanilla
1/4 teaspoon orange zest
SIMPLE SYRUP (Make while pastries are baking)
1 cup water
1/2 cup sugar
Few drops lemon juice
Egg wash for assembly and baking
Prepare the filling: Using a food processor, pulse cookies until you have fine crumbs. You can alternately do this using a rolling pin and a ziplock bag. Scrape the cookie crumbs out of the food processor if using, and set aside. In a spice grinder, pulse the poppy seeds a few times until they are finely ground. In a small saucepan over medium heat, bring milk, sugar, honey and lemon zest to a light boil. Add poppy seeds and stir constantly for 2 to 3 three minutes, until thickened. Add the butter and 1/2 cup of the cookie crumbs, and the rest if needed, to achieve a thicker texture and sweeter flavor. Let cool completely before using.
Fill a piping bag or zipper top bag with the cooled filling and snip off the end. Set aside until it's time to assemble the hamantaschen.
Make the dough: In a medium bowl combine flour, sugar, salt and yeast, stirring after each addition. Using your fingers, work butter into the flour mixture until it resembles coarse crumbs. Add the eggs, most of the milk, vanilla and orange zest and mix until a cohesive dough forms. Add more milk or water if necessary, to bring together a dough that is soft but not sticky.
Knead on a lightly floured work surface until smooth and elastic. Form into a ball and place dough back in the bowl. Cover and let rise several hours until tripled in size.
Assemble the hamantaschen: Roll risen dough into a 1/8-inch-thick circle. Using a 4-inch biscuit or cookie cutter, cut out as many circles as possible. Repeat the process by bringing together the dough scraps and rerolling.
Pipe one tablespoon of filling into the center of each circle. Go over the circles again with a rolling pin if they have puffed up.
Dip your pinky finger into the egg wash and trace it around the edge of the circle. Fold up three edges and meet in the middle to make a triangle shape. Using more egg wash, make sure to firmly seal all edges. Place on a parchment paper-lined tray and repeat the process, leaving a few inches in between each hamantasch. Brush with egg wash and let rise 40 minutes to 1 hour, until puffy in appearance.
While hamantaschen are rising, preheat your oven to 350°. Brush cookies again with egg wash and bake for 15 to 20 minutes, until golden.
Make simple syrup: While hamantaschen are baking, combine all ingredients in a small saucepan and bring to a rapid boil. Turn off heat when the sugar has dissolved and the liquid has thickened slightly.
Brush 1 to 2 tablespoons of hot syrup over each hamantasch immediately after they come out of the oven. Eat hamantaschen immediately, or wrap tightly and eat within one day. Reheat in the microwave for a few seconds to refresh. Otherwise, freeze to keep fresh and defrost as needed.