Braising With Four Cups of Wine on Passover
When you're cooking with wine and a legendary vintner is on his way over to share the meal, you make sure to use his wine in your recipe, right?
That's what I thought as I waited for Jeff Morgan of Covenant Winery to ring my doorbell in Tel Aviv, generously splashing some of his $30-a-bottle Covenant Israel Blue C Viognier into a sizzling pan and reducing the liquid as I built the sauce for my Chicken Braised With White Wine, Artichokes and Mushrooms.
Truth be told, earlier in the day I had bought a less expensive—yet still drinkable—bottle of Israeli white and intended to use it in the recipe, but the prospect of offending Morgan, who had brought over the bottle of Blue C earlier in the week, caused me to make a last-minute adjustment.
Turns out, based on his reaction when he saw the open bottle of Covenant on the counter, I couldn't have been more wrong. "You used that…in that?" he asked, motioning toward the chicken.
Having sold thousands of bottles of wine and written several cookbooks (including co-authoring The Covenant Kitchen
with his wife, Jodie), Morgan, 66, knows a thing or two about cooking with wine.
Around 30 years ago, Morgan, then a professional jazz musician in New York, transitioned to journalism and was soon hired by Wine Spectator magazine. In 1995, he and Jodie moved to California's Napa Valley, where he wrote for the magazine until 2003, when he co-founded Covenant with the legendary late winemaker Leslie Rudd. After becoming Napa's most prestigious kosher winery, Covenant expanded its winemaking production to Israel in 2013.
At the time of our dinner, the Morgans were on an extended stay in Israel, where they have an office-cum-pied à terre in the chic Neve Zedek neighborhood of Tel Aviv and where their daughter Zoe directs Israeli marketing for their brand. (Their older daughter, Skye, lives in New York and works in public relations for celebrity chef Thomas Keller.)
My first mistake was using good wine for cooking. "Cook with the decent stuff, drink the good stuff," said Morgan, whose $80 bottles of cabernet sauvignon are considered some of the best kosher (and non-kosher) reds around.
"All of the fruit flavors and other accents we talk about when we talk about wine, which are derived from chemical compounds known as turpines found in all fruits and vegetables, evaporate and disappear when cooked," he told me as we were standing in my kitchen.
So all of those jammy-fruit-forward-leathery-tobacco-tannic-topsoil-grassy descriptors that oenophiles love to throw around? They're gone once the wine hits the skillet.
More important to cooking is a wine's natural acidity, which, as it reduces, highlights the flavors of whatever is being cooked, lends structure to a recipe and, in the case of a meat dish, can help with tenderizing. Start with a wine endowed with freshness and bright acidity, and you've already done your recipe a favor.
Also important: Avoid so-called cooking wines. Their added salt can mess with a recipe's proportions and even ruin a dish. Opt instead for a $7 to $10 bottle of decent wine—and buy extra.
"That way you won't want to skimp on the amount of wine in the recipe," said Morgan, who braises his Flanken Pot au Feu with a seder-appropriate four cups of wine. The result is an entree that can be made in advance and indeed tastes even better the next day.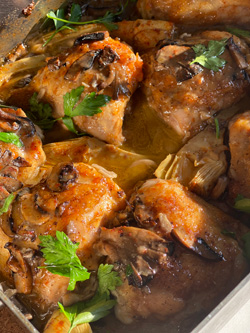 Chicken Braised With White Wine, Artichokes and Mushrooms
Serves 6 to 8
1/2 cup plus 2 tablespoons potato starch, divided
1 1/2 teaspoons fine sea salt, divided, plus more to taste
1 tablespoon paprika, plus more for seasoning
1 teaspoon freshly ground black pepper, divided, plus more to taste
8 large bone-in, skin-on chicken thighs (about 4 pounds), patted dry
1/3 cup olive oil
6 cloves garlic, sliced
2 pounds assorted mushrooms cleaned and sliced (oyster, shiitake, portobello or button)
1 cup dry white wine (e.g., sauvignon blanc or pinot grigio)
1 1/2 cups low sodium chicken broth
2, 14-ounce cans of drained artichoke hearts or 2, 10-ounce packages of frozen artichoke hearts, defrosted, drained and patted dry
Lemon wedges
1. Preheat the oven to 350°. Combine 1/2 cup of the potato starch with 1 teaspoon of the salt, 1 tablespoon paprika and 1/2 teaspoon of the pepper in a large sealable plastic bag or foldable brown paper bag. Add the chicken, seal the bag and shake until the chicken is completely coated.
2. Set a large roasting pan over two burners on your stove, add the oil and heat over medium-high heat. Add the coated chicken, skin side down, and cook without moving until the underside is golden and crisp, swirling the oil once or twice to evenly distribute it, 5 minutes. Flip the chicken and brown the underside, swirling the oil again once or twice, another 5 minutes.
3. Remove the chicken to a plate, then add the garlic to the roasting pan and cook, stirring, until lightly golden and fragrant, 1 to 2 minutes. Add the mushrooms with the remaining 1/2 teaspoon each of salt and pepper and cook, stirring, until the mushrooms release their water and are softened but the pan isn't dry, 4 to 5 minutes. Stir in the remaining 2 tablespoons of potato starch and cook, stirring, until absorbed, 1 to 2 minutes.
4. Add the wine and cook until about half the wine is absorbed, 3 minutes. Then add the chicken broth and cook, stirring, until thickened, 2 to 3 minutes.
5. Return the chicken to the pan, distribute the artichokes evenly among the thigh pieces and spoon some of the mushrooms and sauce from underneath the chicken on top. Transfer the roasting pan to the oven.
6. Cook until the skin is golden and the mushroom sauce is bubbling, 50 to 55 minutes. Remove from the oven and serve with lemon wedges.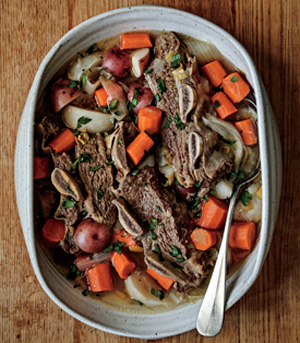 Flanken Pot au Feu
Serves 8
4 pounds flanken
1 bay leaf
1 teaspoon dried thyme
1 teaspoon dried rosemary
8 whole cloves
1/2 teaspoon whole black peppercorns
4 cups water
4 cups dry red wine (e.g., merlot or cabernet sauvignon)
2 teaspoons kosher salt
Freshly ground black pepper, to taste
1 onion, cut in eighths
4 large red potatoes, quartered
4 large carrots, cut into 1-inch-long sections
2 leeks, white part only, cut into 1/4-inch rounds
2 turnips, peeled and cut in eighths
1/4 cup minced parsley
1. Rinse and pat the flanken dry. Set aside. Make a bouquet garni by combining the bay leaf, thyme, rosemary, cloves and peppercorns in a 4-inch-square piece of cheesecloth. Tie it closed with a piece of butcher string. Trim the ends of the string and any excess cheesecloth. Set aside.
2. Place the flanken in a Dutch oven or other large pot. Add the water, wine and the bouquet garni. Bring the liquid to a boil over high heat, cover and reduce the heat to medium-low. Using a large spoon, skim the surface of the liquid to remove any foam that may develop. You may need to do this a few times shortly after the liquid begins to boil. Cover and let simmer for 3 more hours.
3. Remove the pot from the heat and discard the bouquet garni. Using a fat/broth separator, remove and discard any fat from the broth. (If you don't have one of these simple, handy devices, use a spoon or meat baster to skim whatever fat you can off the top of the broth.) The meat should be very tender, and it may have broken into large pieces. This is OK.
4. Return the pot to the stove over high heat and add the 2 teaspoons salt and the pepper to taste. Add the onion, potatoes, carrots, leeks, and turnips. Bring to a boil and reduce the heat to medium. Cover and cook for one more hour. To serve, place a piece of the flanken and a portion of the vegetables in a wide shallow bowl for each diner. Ladle a generous serving of broth over the meat. Garnish with parsley and freshly ground black pepper.
Making the Four Cups Count
The menu's planned, the table is set, the Haggadahs wait to be opened. Now, what to drink for those four cups? Chances are you will sit down to the seder with an empty stomach, so take Jeff Morgan's advice: Start light and go progressively heavier. Think a lower-alcohol, lighter white for glass one, a rosé for two, a hearty red for three and then a sweet, indulgent dessert wine like Covenant's late-harvest Zahav for the final cup. Cup five? That's completely up to you.
Adeena Sussman is the author of Sababa: Fresh, Sunny Flavors from My Israeli Kitchen. She lives in Tel Aviv.