Feeding Women of the Bible, Feeding Ourselves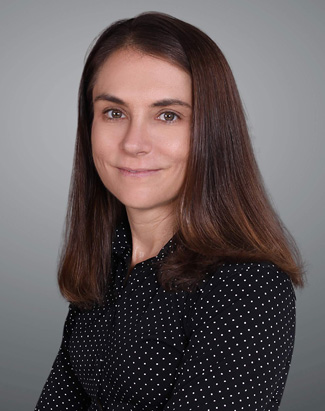 I can't say that I have ever paid much attention to how the women of the Bible were treated, and for that I'm sorry. The stories I learned in Hebrew school have long since escaped my memory—not that I'm positive we ever really went over women's treatment in much detail in the first place. Mostly I remember learning to read and write in Hebrew, recite prayers and memorize holiday themes. We colored in a worksheet of baby Moses in a basket floating down the Nile River and read from textbooks punctuated by 1970s photos of the Western Wall and trees in Israel.
When Kenden Alfond, best known as the Jewish Food Hero, asked me to be a part of her new book celebrating the women of the bible through nourishing vegan recipes, I said, "sure"—without thinking it would change my whole perspective on those leading ladies.
For Alfond's project, Feeding Women of the Bible, Feeding Ourselves
, my assigned chapter was Ruth. I was happy to immerse myself in her story and build a couple of recipes that were plant based and fit with the relevant biblical themes.
In Ruth's story, she returns to Bethlehem with her mother-in-law, Naomi, following a famine. She goes to work in a field collecting wheat, meeting her new husband, Boaz, in the meantime and securing her footing in a new place. I was lucky in my assignment. The story of Ruth does not include gross injustice against a brave heroine.
I was equally happy with my recipe choice—a filling dish of beer-battered and baked cauliflower over Israeli couscous with roasted sweet potatoes, red onion and the chickpeas that Ruth and Boaz were written to have shared for their first meal together. I include the recipe below along with my sweet chili sauce and Alfond's go-to healthy chocolate zucchini cake that accompanies the matriarch Sarah's story.
Written as a Bible study guide for women by women, Feeding also features midrash, verses, discussion points on themes and questions, plus the recipes to honor the women. Many of the Bible's dark stories of rape, banishment and abuse are reinterpreted here by modern Jewish women, many of whom are rabbis and rabbinical students. In a touching twist, Alfond also reached out to school-aged girls for their perspectives, inspired by her young daughter's voice.
Queen Esther's legendary strength further contributed to the realization of this book. One year, when Alfond was making hamantaschen for mishloach manot, she stopped in her tracks upon realizing that the famous cookies basically celebrated the holiday by remembering the villain Haman, instead of the courageous heroine.
And so she developed a nourishing grain bowl—a main dish of quinoa, lentils, green beans and spices such as turmeric, cumin, coriander and a tahini-orange dressing—that Alfond believes to be a fitting way to commemorate Esther. Other Purim recipes include a Persian carrot jam with cassonade sugar, cinnamon and rose water, and a Rice pilaf with lentils, raisins and pumpkin.
The book itself is a true collaborative effort, with 40 different women coming together to lend a hand, be it via interpretation and discourse or through a recipe.
The Hebrew Bible uses the word "hometz"—vinegar in modern Hebrew—to describe the dip eaten by Ruth and Boaz the day they met. Some interpretations prefer to translate this as "hummus," an infinitely more appetizing dip than straight vinegar. The recipe I developed is one I like to think would have sustained Ruth as she set out for a long day sowing the harvest.
Here, Israeli couscous is studded with chickpeas that have been soaked, boiled and then roasted in the oven alongside a colorful sweet potato and red onion. Supplemented by a side dish of beer-battered, panko-coated cauliflower florets and Thai-style sweet chili sauce, this plant-based alternative for the Shavuot holiday is a welcome, healthy respite to the typical cheesecake.


Israeli Veggie Couscous with "Popcorn" Cauliflower and Sweet Chili Sauce
Serves 4 to 6
FOR THE COUSCOUS
1 cup canned chickpeas, rinsed and drained
2 medium red onions, chopped
1 small sweet potato, chopped
1 to 2 tablespoons high-quality olive oil
1 cup Israeli couscous, uncooked
1 to 2 tablespoons high-quality olive oil
Salt and freshly ground black pepper to taste 
FOR THE SWEET CHILI SAUCE
1 heaping tablespoon cornstarch
2 tablespoons water
1 red chili pepper, finely chopped
5 garlic cloves, crushed
1/4 cup plus 1 tablespoon rice wine vinegar
3/4 cup water
1 cup white sugar
2 tablespoons plus 1 teaspoon soy sauce
FOR THE POPCORN CAULIFLOWER
2 1/4 pounds whole cauliflower, broken into florets
10 ounces beer
1 cup all-purpose flour
1/2 teaspoon salt
Pinch garlic powder/freshly ground black pepper/paprika
2 1/4 cups panko bread crumbs
1/4 teaspoon salt, or more to taste
Olive oil for drizzling
Preheat your oven to 350° degrees and line two large baking sheets with parchment paper.
To make the popcorn cauliflower, prepare the beer batter by whisking together flour and spices in a medium-sized bowl. Slowly pour in beer and whisk until smooth.
Dip each cauliflower floret into the beer batter mixture and then dip into the panko crumbs one at a time, making sure to coat each nook and cranny with the crumbs.
Place breaded cauliflower on one of the prepared baking sheets, drizzle with a small amount of olive oil, and bake until golden and crisp on the outside, and nicely soft and tender on the inside, around 50 to 60 minutes.
Add the onions, sweet potato, and chickpeas to the second prepared baking sheet and drizzle with olive oil. Toss to coat the vegetables and chickpeas and season with salt and pepper to taste. Roast until the sweet potatoes are fork-tender, around 30 minutes.
While the vegetables are roasting, prepare the Israeli couscous according to package directions. Set aside to cool.
In the meantime, in a small bowl combine cornstarch with 2 tablespoons water. Mix with a fork until smooth. Set aside.
In a medium saucepan, combine rice wine vinegar, water, sugar, and soy sauce. Bring to a light boil, then reduce to a gentle simmer.
Add in the chili pepper, garlic, and cornflour and water mixture. Continue to simmer for 2 to 5 minutes, or until thickened to a syrupy consistency.
Let the sweet chili dip cool down then store in the fridge where it will keep for up to 2 weeks.
To assemble, in a large bowl, combine the sweet potato and chickpea mixture with the Israeli couscous. Drizzle with another 2 to 3 tablespoons of olive oil and season with salt and pepper to taste. Serve alongside popcorn cauliflower and sweet chili sauce.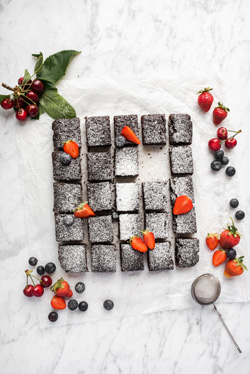 Chocolate Zucchini Cake
Serves 4 to 6
1 cup all-purpose flour
1/3 cup unsweetened cocoa powder
3/4 cup raw sugar
1 teaspoon baking powder
1/2 teaspoon baking soda
1/2 teaspoon sea salt
1/2 teaspoon cinnamon
1 cup zucchini, finely grated
1/4 cup non-dairy milk
1/2 cup applesauce
1 teaspoon pure vanilla extract
Confectioners sugar, for dusting
Fresh berries, to serve 
Preheat your oven to 350° degrees.
In a large mixing bowl, sift together the flour, cocoa powder, sugar, baking soda, baking powder, salt, and cinnamon.
In a separate mixing bowl, stir together the zucchini, milk, applesauce, and vanilla extract.
Transfer the wet ingredients into the dry and fold the two together until well-combined, taking care not to overmix the batter.
Lightly oil a baking dish and pour in the batter. Smooth the top with a spatula.
Bake for 40 minutes, or until a toothpick inserted in the center comes out clean.
Remove cake from the oven and allow to cool for 10 minutes before removing from the cake pan and allow to cool completely on a wire cooling rack.
Serve garnished with confectioners sugar and fresh berries.
From the Jewish Food Hero Kitchen