Throw a Hametz Breakfast or Dessert Party Pre-Passover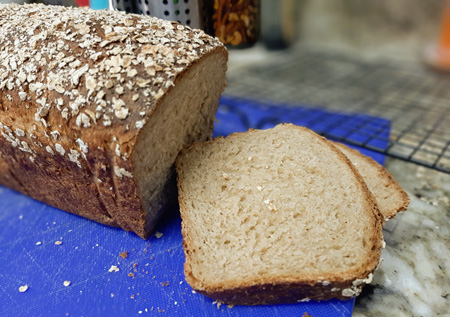 Cleaning our kitchens and pantries from all traces of hametz is a veritable nightmare. For some especially organized early birds, they begin systematically cleaning long before Spring time arrives. Others, like I, watch in horrors of anticipation from the sidelines until nearly the last minute.
If by chance you are one of the well-organized in this tale, you give yourself an opportunity to throw a hametz party. That's when you clear out all the grains you have on hand, bake up some great goodies and invite friends and family over to help you devour the decadent carbs. The following are two items that I would serve at such a party, if I could just get my act together.
Everything But the Pantry Shelf Whole Wheat, Oatmeal and Beer Sandwich Bread
A light and fluffy sandwich bread, this large loaf relies on a combination of all-purpose flour, whole wheat flour, quick cooking oats and that last lingering beer on your pantry shelf. These hametz carbs together coax out a deep, complex flavor as they simultaneously help you clean out your cabinets. Slice up the loaf for grilled cheese sandwiches or morning toast, and soon you'll be left with only more crumbs (which unfortunately you'll have to sweep away before the holiday begins).
Raspberry Maple Breakfast Cookies
These are inspired by Flour Bakery of Boston's breakfast scones. Pastry chef and Flour proprietor Joanne Chang developed the scone recipe to resemble her morning bowl of oatmeal, which includes "copious amounts of maple syrup," according to the celebrated chef. For me, breakfast is always a struggle—between slapping together kids' lunches, brushing teeth and that last little shoe that's not going to secure itself—so I usually grab a quick bite of anything to hold me over until the mad rush passes.
My perfect bowl of oatmeal is eaten at night, as a snack in front of the television, a victory lap after the kids go down. I usually chuck about half a cup of instant oats into a bowl with a tablespoon of maple syrup, a handful of frozen raspberries and water to cover. One-and-a-half minutes in the microwave, and it's ready for a glug of whole milk and another drizzle of maple syrup. It's pretty darn perfect.
My version of these scones—in breakfast cookie form—incorporates similar flavors. They contain a novelty item: rye flour. But, not worries, rye can easily be subbed with regular flour.
Whole oats that seldom have a place in my kitchen, save for when I make a batch of silan-coated granola, take the main stage here after a pulses in the food processor to break their structure down, lending a more tender and delicate tooth feel. Raspberries straight from the freezer help lock in moisture, something scones (and scone-like treats) are known to lose if not eaten fresh. The final result is a lightly sweetened, moist breakfast treat with an epic maple glaze that I've only adjusted slightly from the Flour original—and one that feels like my favorite bowl of oats.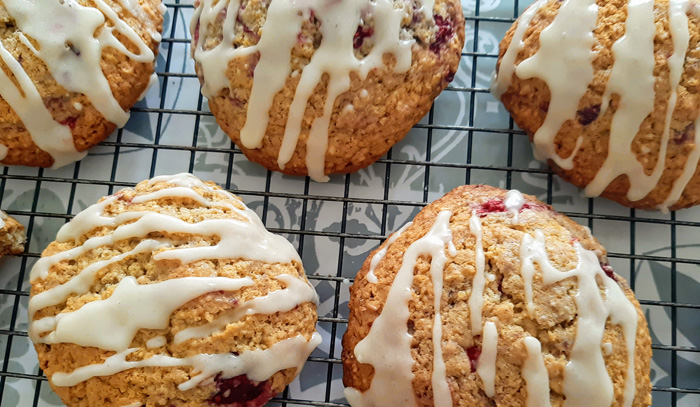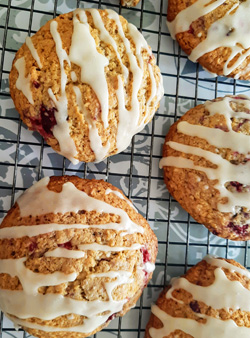 Raspberry Maple Breakfast Cookies
Makes 9 cookies
GLAZE
1 cup powdered sugar
2 tablespoons maple syrup
1 tablespoon milk
Pinch or two of salt to taste
1 1/4 cup whole oats (not quick cooking)
1 cup all-purpose flour
1/2 cup rye flour (or all-purpose flour)
1/4 cup brown sugar
1 1/2 teaspoons baking powder
1/4 teaspoon baking soda
1/4 teaspoon salt
3/4 cup cold butter, cut into chunks
1/4 cup maple syrup
1/3 cup cold whole milk
1 egg
1 cup frozen raspberries, straight from the freezer
Preheat oven to 350°. Make glaze by combining all ingredients in a medium bowl. Set aside.
In a food processor, pulse oats, flours, brown sugar, baking powder, baking soda and salt several times until combined.
Add the chunks of cold butter, and pulse until the mixture resembles coarse crumbs.
Add the maple syrup, milk and egg, and pulse until just combined.
Remove food processor blade and stir in frozen raspberries.
Portion out dough onto a lined baking tray using a small ice cream scoop.
Bake for 20 to 25 minutes, until golden.
Remove from oven, let cool for 5 to 10 minutes, then drizzle or brush generously with glaze.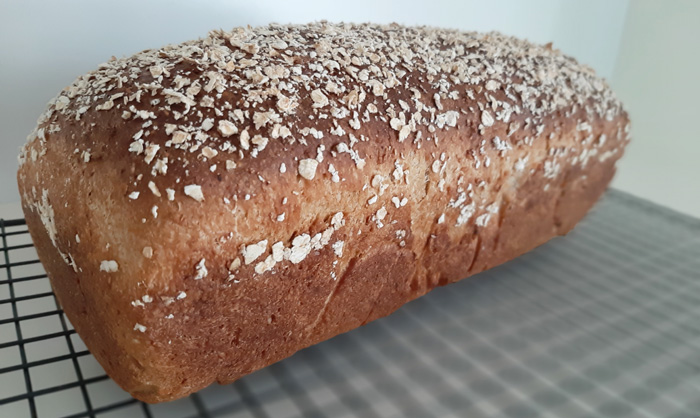 Everything But the Pantry Shelf Whole Wheat, Oatmeal and Beer Sandwich Bread
Makes on large loaf
3 1/2 cups bread flour
1 cup whole wheat flour
1 cup quick cooking oats
1 tablespoon dried yeast
1 1/2 teaspoons salt
1/3 cup demerara sugar or white sugar
1/4 cup sesame seeds
1/4 cup olive oil
1, 12 ounce bottle of beer
Up to 1 ¼ cup water
Egg wash for brushing
2 tablespoons quick oats for topping
Combine bread flour, whole wheat flour and quick cooking oats in a large bowl.
Add yeast, salt, sugar and sesame seeds, mixing after each addition.
Add the olive oil and beer and mix to combine. Add enough water to reach a workable dough consistency that is soft but not sticky.
Remove dough from the bowl and knead on the counter for 5 to 10 minutes, until smooth and pliable.
Set dough back down into the bowl, wrap with plastic wrap and let rise for several hours in a warm location.
Once dough is risen, remove from bowl and either shape into a free-form loaf, or roughly flatten it out into a rectangle with your hands, roll into a jelly roll shape and set in down into parchment-lined loaf pans to rise. Brush with egg wash, and sprinkle with quick oats.
Let rise about 1 hour, or until the dough starts to peek up over the loaf pan.
About 20 minutes before the bread is finished rising preheat your oven to 375°. Bake bread for 40 minutes. Cover it with tented tinfoil if it begins to burn at any point.
Let cool completely before slicing.