Chocolate Ganache Truffles For a Corona-Era Passover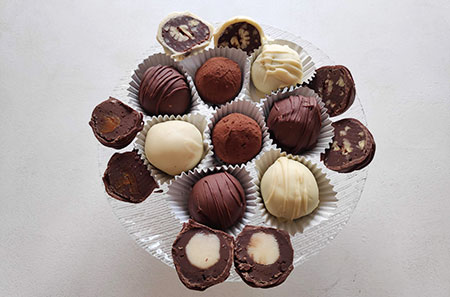 When I was first dating my husband, he bought me a cookbook featuring all chocolate recipes. Flipping through the pages back then, everything seemed so difficult to replicate—including the chocolate truffles that appeared tantalizingly at the beginning of the book. I doubted that I'd ever be able to make one of those recipes turn out as beautifully as they were in the photographs. But as I came to learn, chocolate truffles made from ganache were the gateway into the world of chocolate candy making, so I just needed to master that first recipe.
Now that we've entered into this tough reality of self-isolation and quarantine in the wake of the coronavirus, it seems that chocolate (and lots of it) is warranted now more than ever. Many of us are stuck at home, hunkering down, trying to tend to our family's needs while worried about making ends meet and preserving our mental health. Others, like my husband, a medical intern, are fighting this pandemic on the front lines. Meanwhile, grocery stores are nearly empty and have become unfamiliar ground, filled with face masked-patrons and uncertainty. This is what we are dealing with this year as we prep for Passover—in Israel, America and around the globe.
Going out only when absolutely necessary, as has become our mandated norm, there is no better time to learn how to fend for ourselves at home, even if that means something as frivolous as making candy. It may sound like the complicated work of chocolatiers, but chocolate ganache-based truffles are actually child's play in the kitchen. (Meaning, your kids and/or quarantine mates should help you make them!)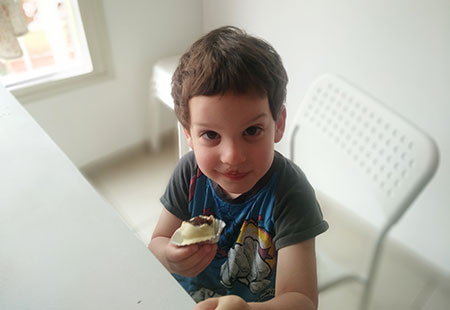 Here's how it works: Make a very thick ganache, let it set up in the fridge until cool and firm, scoop and roll into balls, and coat in melted chocolate to finish. You can even stuff the truffles with a little surprise, as I do here with halved dried apricots and bite-sized chunks of marzipan.
Ganache is also a blank canvas for a variety of flavors, so you're free to add whatever flavorings—liquor, anyone?—you have on hand. You can also split the ganache into several bowls and mix in different flavorings. Think about that heart-shaped box of mixed chocolates we've all received. In ganache truffles, you can play with the flavoring of the ganache itself, the different fillings and the coating, mixing and matching chocolates as you please. In non-Passover times, play around with other ganache mix ins besides nuts and dried fruits.
In this recipe, I'm using a microwave for convenience, and I've kept things pareve, using only shelf-stable pantry items. However, these can be made using dairy chocolate: Indeed, some of my truffles are coated in white chocolate. You can keep these in the fridge for days, sneaking a bite here or there as needed, or set them out on a plate just before serving for a more formal presentation. Whatever gets you through these days.
Wishing you a meaningful and healthy Passover, one that is sure to be unlike any other we've ever experienced. But this too shall pass.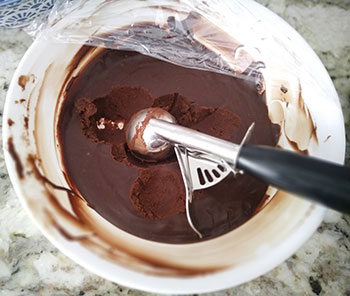 Chocolate Ganache Truffles
Makes 31 generous-sized truffles
GANACHE
1 cup coconut cream (or whipping cream)
18 ounces high-quality dark chocolate
2 tablespoons brandy (or the liquor of your choice)
1/2 cup pecan halves, chopped (optional, to be used in half of the ganache mixture)
Pinch of salt
Pinch of instant espresso powder (optional)
FILLINGS
8 to 9 dried apricots, halved
15, 1/2-inch chunks of marzipan (from a small bar of marzipan)
CHOCOLATE COATING
14 ounces dark chocolate (or any other chocolate of your choosing)
1 teaspoon neutral vegetable oil
OR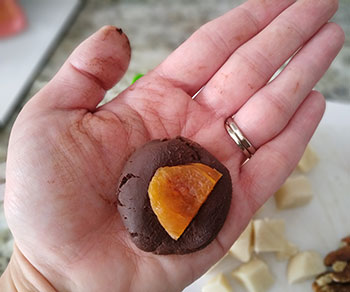 Up to 1/4 cup unsweetened cocoa powder (optional)
Place coconut cream in a medium-sized microwavable bowl, and microwave until steaming, about 1 1/2 minutes.
While the cream is warming, break the chocolate into small pieces. Once the cream is warmed, add the chocolate chunks to the bowl and let sit for 1 minute. Stir until the chocolate has completely melted into the coconut cream. Place back in the microwave in 30 second pulses if the chocolate fails to melt all the way.
Mix the brandy into the chocolate mixture. Split the ganache into two bowls and add the chopped pecans to one, if using. Place ganache(s) in the fridge for 2 to 4 hours, or overnight, until very firm.
Scoop chilled ganache into tablespoon-sized balls, one at a time, using a spoon or small cookie scoop. Flatten the ball into a round and place half an apricot or one chunk of marzipan in the center. Fold the ganache up and around the filling and roll into a ball. Place on a parchment paper-lined tray and continue on with the next truffle. Keep a bowl of water and a towel next to you to clean your hands as needed.
Place truffles back in the fridge to chill for at least 2 hours.
When ready to coat the truffles, break chocolate into chunks and melt in the microwave in 30 second pulses, stirring after each pulse.
Coat the balls by dropping them in chocolate and gently pushing around with a fork. Lift the truffle out of the chocolate—scraping the bottom of the fork against the edge of the bowl to rid them of excess chocolate—and place back onto the parchment paper-lined tray with the aid of a second fork. You can also coat the truffles by rolling them in a bit of cocoa powder.
Let the chocolate set until matte, then using a fork, drizzle a bit more chocolate over the top of the truffles to create a pretty design.
Let truffles fully set in the fridge and enjoy.