'Candidly Passover' Will Help Solve Holiday Mealtime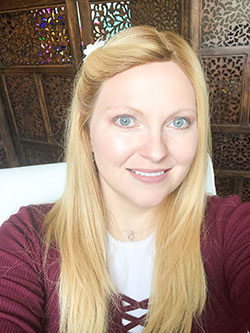 With the current surreal state of the world, cooking for Passover might be the last thing on your mind. But the holiday is upon us!
Enter Tamar Teitelbaim, 38, Brooklyn-based creator of Candidly Delicious, a kosher food blog with a nearly 15,000 followers across several platforms. She is out this year with Candidly Passover: Recipes for Pesach and Year-round
, a slim volume that will help you feed your family over the chag—and these strange, uncertain times.
The book is filled with no-brainer recipes you'll be tempted to whip out as Passover regulars (matzah grilled cheese); creative gluten-free creations you'll want to make long after the holiday ends (skirt steak-stuffed yams, chicken teriyaki meatballs); and classics that are totally worth making at least once a year, like sour cream blintzes made with eggy, Passover-friendly crepes.
A charming little companion from the coiner of #BeTheMasterOfMealtime—also the name of the Facebook community she moderates—Teitelbaum's book will help you and your family survive all eight days, especially beyond seder nights.
"I have always struggled the most during chol hamoed," Teitelbaum told me. "This year is unique of course, but typically, I'm out all day with my family. We bring a picnic lunch out and then get home exhausted and still need to throw some food together for the night. I had that in mind and included recipes that can be thrown together in the evening."
And this year more than ever, we are in need of some lifesaving mealtime ideas.
Teitelbaum's upscale avocado toast on matzah with baby arugula and a pinch of red pepper flakes illustrates this no-hassle concept, as does the grain- and seed-free Passover granola that you'd probably be satisfied scarfing down any time of the year.
You can enjoy the recipe for Teitelbaum's hazelnut cake below as well as her crowd-pleasing teriyaki chicken meatballs.
Here's wishing you a happy "rest" of Passover, and continued good health!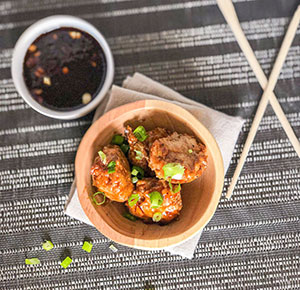 Teriyaki Chicken Meatballs
Serves 6
This dinner gets all the sticky, sweet teriyaki flavor into a Passover-friendly meatball.  Serve with some sauteed Asian veggies for an authentic feel.
MEATBALLS
2 pounds Ground Chicken
¼ cups potato starch
2 teaspoons kosher salt
1/2 teaspoon freshly ground black pepper
1 teaspoon cinnamon
1/2 teaspoon cloves
2 tablespoons oil
SAUCE
1 cup coconut aminos
1/2 cup brown sugar
2 teaspoons ginger powder
6 cloves garlic, minced
1 teaspoon kosher salt
1/2 teaspoon freshly ground black pepper
2 tablespoons Sherry
2 tablespoons potato starch
Green onions, for garnish (optional)
Preheat oven to 350.
Combine the ground chicken, potato starch, kosher salt, black pepper, cinnamon and cloves into a large bowl and mix thoroughly by hand.
Heat a large skillet with the oil.
Roll the meat into 2-tablespoon-sized balls. Carefully sear the meatballs on all sides.
Place the seared meatballs into a 9 x 13-inch roasting pan.
Combine all of the sauce ingredients into a small bowl and whisk until well combined. Pour over the meatballs.
Cover the pan with a lid or foil. Bake for 30 minutes, or until chicken is cooked through.
Turn the meatballs to coat in the sauce. Serve topped with sauce and optional diced green onions.
Chef's Notes: Coconut Aminos is a coconut-based seasoning liquid.  It's not sweet or coconutty in flavor.  It's dark and salty, so it's a great replacement for soy sauce.  I use coconut aminos year-round to replace the soy sauce in my dishes. If you'd like to freeze this dish , freeze raw and bake right out of the freezer for about an hour. This will give you a moist meatball that freezing after cooking just can't yield.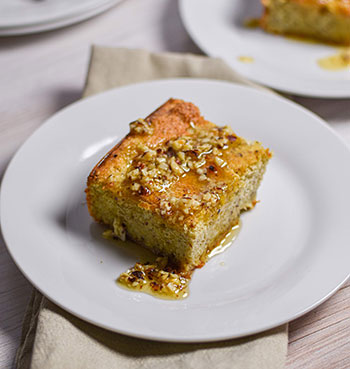 Hazelnut Cake
Serves 12 
I have a big Pesach challenge when it comes to desserts.  The internet holds thousands of amazing recipes made with almond flour, but I'm allergic to almonds.  So, I set out to make an almond-free nut cake with an amazing texture and flavor.
CAKE
8 eggs, separated
1 1/2 cups pareve milk
1 cup sugar
1/2 cup oil
1 tablespoons vanilla
1/2 teaspoon kosher salt
1 cup coconut flour
1/2 cup tapioca starch
1 cup ground hazelnuts
GLAZE
1/2 cup honey
1/4 cup chopped hazelnuts, toasted
2 tablespoons orange juice
Preheat oven to 350. Prepare a 9 x 13-inch cake pan by spraying lightly with oil and dusting gently with either tapioca or potato starch.
Whip egg whites until stiff peaks are reached. Set aside.
Beat yolks and sugar until pale yellow.
Add the milk, oil and vanilla. Mix.
Add kosher salt, coconut flour, tapioca starch, ground hazelnuts and mix.
Gently fold in the egg whites until well combined.
Pour the batter into the prepared pan and bake for 45 minutes until done through.
Allow the cake to cool completely. Then mix together the honey, chopped hazelnuts and orange juice until well combined.
Pour the syrup evenly over the top of the cake and spread. Allow the mixture to soak in a bit prior to serving.