Young Jewish Chefs Propel a New Deli Renaissance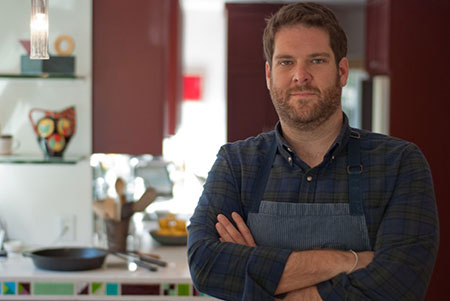 Don't sound the death knell for the Jewish deli quite yet. While well-known establishments like New York City's Stage and Carnegie delis—not to mention dozens of others around the country—have closed in recent years, in many cities they're being replaced by a new crop of eateries founded by an energized, culturally curious group of Jewish chefs intent on bridging tradition and modernity.
They're not just stacking sandwiches with cold cuts and spicy brown mustard. Indeed, these young chefs are connecting with their Jewish heritage, elevating deli's place in American culture and helping revive the genre by taking it back to its roots, when deli was made in-house with as much pride as Italian pasta and French croissants. (None of the restaurants mentioned in this article is certified kosher.)
And in the wake of the coronavirus outbreak and the rash of closures it has forced upon the restaurant industry, delis are relying on their longstanding expertise in catering, takeout and delivery to feed their customers.
At Wexler's Deli in Los Angeles, which opened in 2014 in the hip downtown Grand Central Market, chef Micah Wexler, known more for his fine-dining expertise, built a business that referenced his weekly trips with his family to the city's iconic Langer's.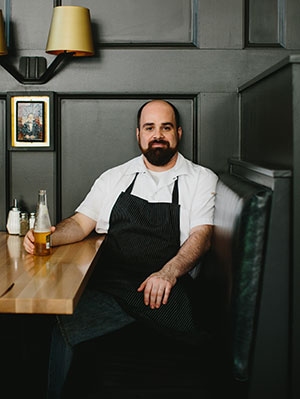 "I can still hear my grandmother telling them to put more syrup in her chocolate phosphate," joked Wexler, who moved into the deli business after a Middle Eastern restaurant he owned failed to survive.
Once Wexler, 37, decided on deli for his next venture, he was determined to adhere to the high culinary standards he'd learned working at Michelin-starred restaurants around the world.
"It had gotten to a place where a lot of delis weren't making their own stuff anymore. It was basically, 'call 1-800-PASTRAMI,' " said Wexler, who now runs multiple locations in Southern California and who offered Passover catering of classics like brisket, matzah ball soup, gefilte fish and potato kugel to patrons largely stuck at home because of the pandemic. He started by making everything—mayonnaise, salad dressings, desserts and, of course, pastrami—from scratch, using recipes he developed through a combination of research, trial and error, and taste memory.
Other restaurant owners are creating crowd-pleasing, Instagram-friendly modern classics to satisfy a wider audience. At The General Muir in Atlanta, one of Todd Ginsberg's most popular items is the Vegetarian Reuben sandwich stacked with smoked coriander-rubbed beets. For the classically trained chef who prefers seasonal and local cooking, it's a veggie option that takes pride of place among more typical offerings like chopped liver on pletzel bread and matzah ball soup laced with schmaltz.
"It was important for me to cook in the style I love alongside the deli items," said Ginsberg.
Since opening The General Muir, Ginsberg, 46, has presented at Limmud Jewish learning conferences; traveled to Israel on a research trip in preparation for opening a fast-casual Israeli food stall, Yalla; and catered more brises and bar mitzvahs than he can count.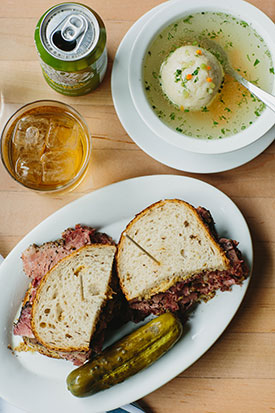 Ginsberg's mini-empire includes a bakery that supplies all three General Muir locations, which, after the coronavirus hit, has done a steady takeout business of an abbreviated menu that included roast chickens with gravy, corned beef and cabbage, and gravlax by the pound.
Deli also allows restaurateurs to take a big-tent approach to their local Jewish population, embracing patrons of all ages and backgrounds. In the San Francisco Bay Area, "there was a huge Jewish community, but maybe Jewish in a different way," said Evan Bloom, who first established Wise Sons deli as a roving pop-up in 2010 with his brother, Ari, and friend Leo Beckerman. "We asked ourselves, 'How would they relate to Judaism?' "
The answer was in plain sight, piled between two slices of rye. The pop-up was so popular that "octogenarians were following us from event to event with clipped-out articles," said Bloom.
Younger customers turned out in droves, too. "Just like hamburgers and charcuterie were becoming trendy," said Bloom, "people were becoming interested in their culture and what their ancestors had been eating, so we tapped into that," expanding tradition with items like crispy pastrami used to approximate bacon.
"Jewish culture has been important to me," said Bloom, 34, who attended Jewish sleepaway camps and was involved in Hillel at the University of California, Berkeley. "I wanted this to be a place for Jews to come and eat and feel good," he said of Wise Sons, which has long been a popular choice on the delivery service Caviar. In March, several of the deli's five locations throughout the San Francisco area began offering curbside pickup, while others were forced to close temporarily.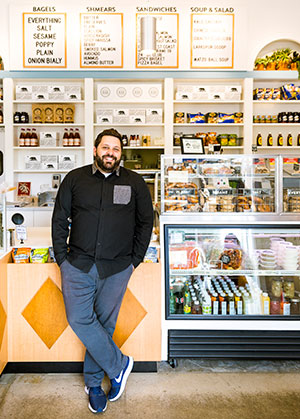 Now CEO of Wise Sons, Bloom recently wrote a book, Eat Something
, co-authored with Rachel Levin, which takes a light-hearted, nostalgic and ultimately insightful look at the deli. It places the iconic food in a larger cultural context and makes it relevant to a new generation of fans who aren't as well versed in the traditions of Lipton Onion Soup Mix, Lender's Bagels and Hebrew National salami.
"Deli seems more culturally relevant and cool than ever," said David Sax, 41, one of the world's pre-eminent experts on the subject and the author of Save the Deli: In Search of Perfect Pastrami, Crusty Rye, and the Heart of Jewish Delicatessen
, published a decade ago. But he acknowledges the duality of the upswing, which finds its flip side in the closure of restaurants like New York City's Fine & Schapiro, a 93-year-old Upper West Side establishment that served its last egg salad sandwich this year.
Still, some classic delis continue to thrive.
Ziggy Gruber, the breakout star of the 2015 documentary Deli Man, typically sells 12,000 pounds combined of corned beef and pastrami every week between the three brick-and-mortar Houston locations of his third-generation deli, Kenny & Ziggy's, and via his mail order business—a vital revenue stream during the pandemic.
"These two items"—pastrami and matzah ball soup—"have become as much American foods as Jewish foods," said Gruber, 52. "For older people, this is comfort food. For young people, it is an adventure."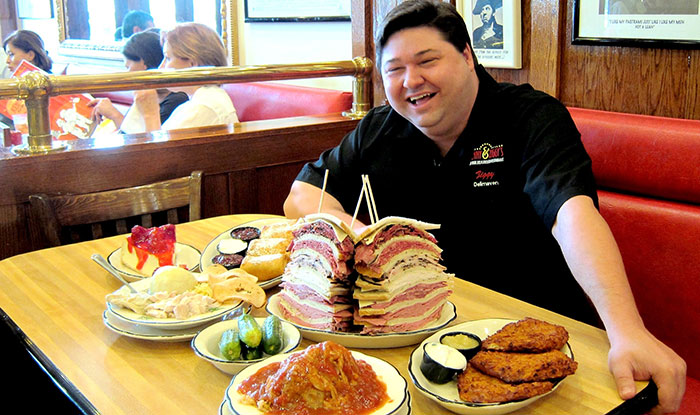 Ultimately, Sax believes it all comes down to the younger generation's interest level. If it holds and continues to grow, with new places sprouting up or new ownership of old delis, then the culture, he said, "will survive and even grow in its own way. Delicious pastrami speaks for itself." 
Adeena Sussman is the author of Sababa: Fresh, Sunny Flavors from My Israeli Kitchen. She lives in Tel Aviv.
---
The Club's Club Sandwich
Makes 1 sandwich
CRISPY PASTRAMI
Fatty pastrami, thinly sliced
SANDWICH
1 tablespoon vegetable oil
3 slices challah, homemade or store bought
1 1/2 tablespoons Horseradish Mayonnaise (recipe follows)
3 to 4 leaves crispy lettuce, such as iceberg or leaf
3 to 4 thin slices red onion
3 to 4 ounces roasted or smoked turkey, sliced
1/4 ripe avocado, sliced
2 to 3 slices Crispy Pastrami
Potato chips, pickles, ketchup and mustard for serving
Freshly ground black pepper
1. To make the pastrami, preheat the oven to 350°. Lay the pastrami in one even layer on a foil- or parchment-lined baking sheet. Bake until the edges begin to crisp, about 8 minutes. Remove the pastrami from the pan and drain on paper towels until cool.
2. Store the pastrami, covered,
in the refrigerator for up to 1 week. To serve, crisp up in a heavy-bottomed skillet over medium heat.
3. To make the sandwich, heat the oil in a large nonstick or cast-iron skillet over medium-low heat. Add the sliced bread to the pan (or work in batches, depending on the size of your pan) and cook until lightly browned and just starting to crisp on the bottom, about 3 minutes. Flip and cook for 2 minutes more.
4. Slather the tops of all of the bread slices with the Horseradish Mayonnaise. Top two of the slices with a few lettuce leaves and onion. Pile half the sliced turkey on top of each slice of lettuce-covered bread. Place all the sliced avocado on top of one of the turkey-covered bread slices, and the pastrami on the other.
5. Now, take the bread with the avocado layer and place it directly on top of the layer with pastrami. Take the last piece of bread, which should only have Horseradish Mayonnaise on it, and slap it on top, mayo side down. Give the entire sandwich stack a smush with your palm.
6. Use toothpicks to hold the sandwich together and cut into four triangles. Serve with potato chips, pickles, ketchup and mustard.
Horseradish Mayonnaise
Makes about 1 cup
1 cup mayonnaise
1 tablespoon store-bought, extra-hot horseradish
3/4 teaspoon sugar
Mix the mayonnaise, horseradish and sugar in a small bowl until combined. Horseradish Mayonnaise will keep in an airtight container in the refrigerator for up to 1 month.
Next Generation Health Salad
Serves 4
2 tablespoons apple cider vinegar
1 tablespoon sugar
1 teaspoon olive oil
2 generous handfuls sliced radicchio, chicory, treviso, endive or a combination
4 cups thinly sliced Lacinato kale
2 red radishes, thinly sliced, preferably on a mandoline
1 small carrot, peeled and shaved into ribbons with a vegetable peeler
1 small shallot, thinly sliced
Kosher salt
Freshly ground black pepper
1. In a small bowl, whisk together the vinegar, sugar and olive oil. Set the dressing  aside.
2. Add the salad greens, kale, radishes, carrot and shallot to a large salad serving bowl. Pour in the dressing and season with salt and the pepper.
3. Use your hands to toss together, and then massage the dressing into the salad—you can't get the same effect with salad tongs or spoons. Let the tossed salad rest for at least 15 minutes or up to 1 hour before serving.
Recipes reprinted from Eat Something: A Wise Sons Cookbook for Jews Who Like Food and Food Lovers Who Like Jews
by Evan Bloom and Rachel Levin with permission by Chronicle Books, 2020. Photos by Maren Caruso.