Israeli Corn Schnitzel, a Guilty Pleasure Off the Kids' Menu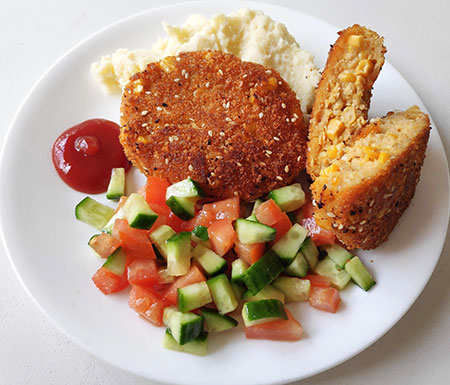 In the late 1990s, when I was a teenager studying abroad in Israel—long before it became one of the vegan capitals of the world—non-meaters were ubiquitously fed fried corn schnitzel in any number of circumstances, from school cafeterias to youth group dinners.
An Israeli specialty, corn schnitzel remains popular to this day—though admittedly its appeal may remain a mystery to anyone who hasn't grown up eating it. Most problematic to me is the industrial version's reliance on emulsifiers and soy protein. Indeed, it's been the fine print ingredients in frozen supermarket corn schnitzel that has kept me away from buying it when, in reality, its convenience could really help me out at dinnertime with my three sons.
Thankfully, vegetarians and vegans today can find innumerable creative options in Israel, so there's no longer the need to pass off these curious breadcrumb-coated, oval-shaped patties as anything remotely healthy. Remember, vegetarian/vegan doesn't always mean healthy.
Instead, nowadays, these patties have moved from the vegetarian menu to the children's menu. While in my house, my kids typically eat what my husband and I eat, every now and then a kid's gotta be a kid. Indeed, mine often ask for corn schnitzel over the chicken version, which confounds me. (Who would turn their nose up at what is essentially fried chicken?) But, to honor their request, I decided to roll up my sleeves and try making corn schnitzel from scratch, eschewing the additives in the store-bought brands.
I'm not too modest to share that the recipe I crafted is as accurate a replica as you will find. Creating this schnitzel requires nothing more than a few cans of corn (or a frozen bag), some flour and breadcrumbs—this is pantry cooking at its most basic. While sesame seeds in the breadcrumb coating are optional, they do add a special touch of Israeli authenticity. Plus, sesame seeds mean a tiny little bit of protein in an otherwise protein-less dish.
I hope you will enjoy corn schnitzel as a quick and easy kid-friendly meal that is vegetarian and pareve. Serve the schnitzel with mashed potatoes and an extra-large portion of fresh Israeli salad. Kids can dunk the patties in ketchup, but if you'd like to feel a bit more grown up about the dish, try dipping them in Thai sweet chili sauce.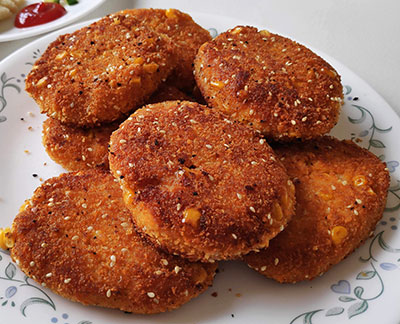 Israeli Corn Schnitzel
Makes around 10 patties
5 1/2 cups cooked corn kernels drained of any liquid, divided (use either frozen or canned corn)
3/4 cup all-purpose flour
2 cups breadcrumbs, divided
3/4 teaspoon salt, plus a bit more for seasoning breadcrumbs
Hefty pinch of freshly ground black pepper and granulated or powdered garlic, to taste
1 egg
1 tablespoon sesame seeds (optional)
Oil for frying
Process 4 cups of corn kernels in a food processor until relatively smooth with little bits of corn still speckled throughout the mash.
Transfer the processed corn to a medium bowl. Add the remaining 1 1/2 cups of whole corn kernels, along with the flour, 1 cup breadcrumbs, salt, pepper, garlic and egg. Mix to combine.
In a separate bowl, combine the remaining 1 cup breadcrumbs with sesame seeds. Salt to taste.
Coat the bottom of a non-stick skillet with neutral vegetable oil and heat over medium high heat.
Using a large ice cream scoop, scoop out about 1/4 cup of corn batter into your hand. Holding it over the breadcrumbs bowl, sprinkle on all sides with breadcrumbs, gently patting it into an on oval-shaped patty. If the batter is too soft to work with, stop and let it chill in the refrigerator for 30 minutes.
Slide the patty gently down into the hot oil using a spatula. Cook 2 to 3 patties at a time and do not crowd the pan. Fry until deeply golden on both sides, about 2 to 3 means on each side, then transfer to a paper towel-lined plate.
Serve hot with a side of mashed potatoes and Israeli salad.