'Quicker Than Quick' Healthy Recipes From Pamela Salzman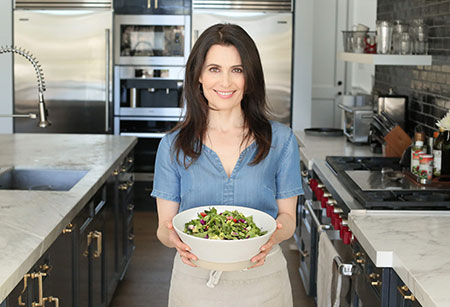 Pamela Salzman fondly recalls the crash course on Jewish cooking she received from her mother-in-law not long after she married her son. She remembers the techniques and recipes for brisket, tzimmes, kugel and latkes, all standard and beloved fare to Ashkenazi Jews, but not well-known at that point to Salzman, who converted.
These days, the Los Angeles-based mother of three divides her time teaching healthy cooking classes, gardening, sharing wholesome weekly meal plans with her social media followers, blogging and recipe developing. And debuting now is her second cookbook, Pamela Salzman's Quicker Than Quick: 140 Crave-Worthy Recipes for Healthy Comfort Foods in 30 Minutes or Less
, a collection of recipes she whipped up to appease those looking for fast, uncomplicated recipes to match their busy lifestyles.
Salzman's Instagram feed provides a visual cue to her style, showcasing the influences of Jewish, Middle Eastern and Italian culinary traditions while relying heavily on a Californian awareness of fresh seasonal produce. "If I had a 'style,' it would be fresh, vibrant, flavorful food," she tells me. "I stick with what's in season and let the food speak for itself."
A featuring of "Quick and Nutritious" 30-minute meals that eschew cow's milk and white flour as much as possible, Salzman makes sure to give readers variations that allow for gluten-free, vegan and vegetarian adjustments—tweaks that will also work for kashrut obervers.
Always a teacher, Salzman doles out helpful advice on such topics as stretching leftovers, learning how to substitute on-hand ingredients and—how's this for practical?—the best method to clean a pan with burnt food stuck to the bottom.
Salzman has a stated goal of eating healthy 90 percent of the time, and she relies on creations like her Wild Salmon California Bowl, Black Bean Mushroom Burger and Red Lentil and Vegetable Soup to make doing so easy and delicious. For greater ethnic influences, check out her Mediterranean Fish Stew, Harissa Vegetable Soup, Tuna Ceviche and a reimagined Chicken Marbella.
Salzman takes a short detour into parts unknown (to me) with suggestions on adding to one's diet such trending supplements as the collagen peptides I continue to hear about and see in cookbooks. Then she quickly moves on to a fabulous array of salad ideas, sides and snacks. I'm especially intrigued by her Chipotle Tofu Tacos With Avocado Lime Crema that she says is her husband's favorite.
Here, I am sharing two of Salzman's inspired takes on global cuisine—one Moroccan, the other Middle Eastern: Marrakesh Salad With Bulgur and Dates and Chicken Shawarma Burgers.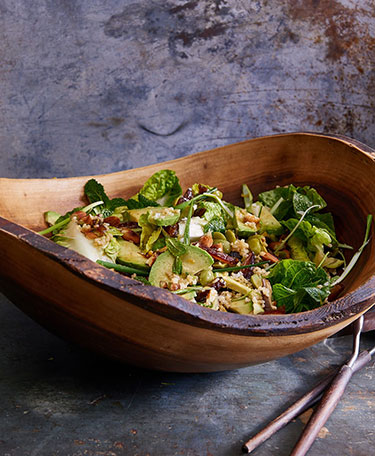 Marrakesh Salad With Bulgur and Dates
Serves 6
1/3 cup bulgur or quinoa
SALAD DRESSING
1 tablespoon freshly squeezed lemon juice
1 tablespoon red wine vinegar
1/2 teaspoon sea salt
A few twists of freshly ground black pepper
1 to 2 teaspoons raw honey or pure maple syrup
3 tablespoons unrefined, cold-pressed, extra-virgin olive oil
Pinch of cayenne pepper
Pinch of ground cinnamon (optional)
SALAD
1/2 cup raw almonds
2 teaspoons unrefined, cold-pressed, extra-virgin olive oil
Pinch of sea salt
Zest of 1 large lemon or 1 1/2 small lemons
3 heads Baby Gem lettuce or equivalent amount of greens, large leaves torn in half
4 scallions, sliced
6 Medjool dates, pitted and chopped
1/2 cup pitted green olives, sliced lengthwise
Handful of fresh mint leaves, roughly torn
1 avocado, pitted, peeled, and sliced lengthwise
In a medium-sized saucepan, cook the bulgur in plenty of boiling water until tender, about 20 minutes. Drain in a fine-mesh sieve and spread out on a baking sheet to cool.
Prepare the dressing: Place all the dressing ingredients in a screw-top jar and shake until combined. Set aside.
Prepare the salad: Sauté the almonds in olive oil in a medium-size skillet over medium heat until they are lightly toasted, about 4 minutes. Chop coarsely, then sprinkle with the salt and lemon zest. Set aside.
Arrange the lettuce in a large bowl or on a platter. Add the cooled bulgur and scallions. Drizzle lightly with the dressing and toss gently.
Arrange the dates, olives, mint, and chopped almonds on top of the greens. Arrange the avocado slices on top of the salad. Drizzle with the remaining dressing.
Tips: This salad is also good with cooked, diced beets. Pistachios can be subbed for almonds. Feta is a nice addition. Refrigerate the dates to make them easier to chop.
Even quicker: Take your favorite basic vinaigrette (e.g., My Favorite Everyday Salad Dressing [page 320] and add a pinch of cayenne pepper and a pinch of ground cinnamon.
Make it gluten-free: Use quinoa.
Make it vegan: Use maple syrup; do not add feta.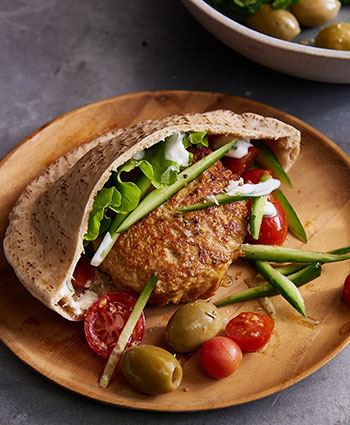 Chicken Shawarma Burgers
Serves 6
1 1/2 teaspoons ground cumin
1 1/2 teaspoons paprika
1/2 teaspoon garlic powder
1/2 teaspoon ground turmeric
1/8 teaspoon ground cinnamon
1/8 teaspoon cayenne pepper
1 teaspoon sea salt
Freshly ground black pepper
11/2 pounds ground dark meat chicken
1/3 cup grated onion
Unrefined, cold-pressed, extra-virgin olive oil or avocado oil
serving suggestions: pita, hamburger bun, salad, large lettuce leaves
optional accompaniments: tzatziki or white sauce, pickled vegetables, shredded lettuce, tomato
In a large bowl, whisk together spices, salt, and black pepper to taste. Add the ground chicken and onion and combine well by hand.
Form the mixture into six 4-inch-diameter, 1/2-inch-thick patties.
Heat a large skillet or griddle, preferably cast iron, over medium-high heat.
Oil lightly with the oil. Cook each patty for 9 minutes, or until cooked through, flipping at the 4½-minute point. When done, the patty should spring back when lightly pressed in the center.
Serve in pita, on hamburger buns, in a lettuce wrap, or in a salad, with your desired accompaniments.
Tzatziki
1 1/2 tablespoons freshly squeezed lemon juice
1 garlic clove, minced
2 Persian cucumbers, grated or diced
1 cup whole unsweetened plain Greek yogurt or nondairy yogurt
1 1/2 teaspoons white wine vinegar
1 tablespoon finely chopped fresh mint or dill (optional)
1/2 teaspoon sea salt
Combine all the ingredients in a small bowl and stir. Can be made ahead of time and stored in the fridge.
White Sauce

2/3 cup whole unsweetened plain Greek yogurt or nondairy yogurt
1/3 cup good-quality mayonnaise or soy-free Vegenaise
3 garlic cloves, minced
1 tablespoon freshly squeezed lemon juice
1/8 teaspoon sea salt
1/8 teaspoon paprika
Freshly ground black pepper
Combine all the ingredients in a small bowl and stir. Can be made ahead of time and stored in the fridge.
Make it gluten-free: Serve with gluten-free bread or salad.
Make it kosher and dairy-free: Use nondairy yogurt and soy-free Vegenaise to make the tzatziki and white sauce.