When All Is Urgent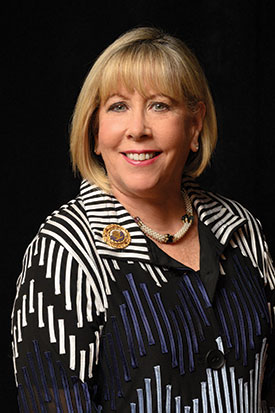 The Never Again Education Act (NAEA), long supported by Hadassah, is now the law of the land. After passage in the House of Representatives by a 393-5 vote, after adoption in the Senate by unanimous consent, the measure was signed by President Trump on May 28.
The new law enables the United States Holocaust Memorial Museum to expand its training and programming for teachers across the country by developing and disseminating resources designed to foster understanding of the Holocaust, educate students on its history and on the urgency of opposing hate, bigotry and genocide against any group. The measure provides $10 million in funding over the next five years to support these aims and enhance the museum's centralized website, where educators can find curriculum materials.
Rep. Carolyn Maloney (D-NY) launched the NAEA campaign in 2018—six months before the deadly shooting at the Tree of Life synagogue in Pittsburgh—in response to two disturbing trends: The decline in awareness of the Holocaust and the rise of anti-Semitism. During the two-year drive to secure bipartisan support and passage in both houses of Congress, anti-Jewish hate crimes continued to mount across America.
From the start, the NAEA has been a signature goal for Hadassah. Our Executive Director/CEO Janice Weinman and Karen Paikin Barall, director of Hadassah's Government Relations Office in Washington, worked tirelessly with Representative Maloney and her staff to advance the bill. Our membership played a pivotal role in the campaign, inspiring advocates, mobilizing grassroots support in all 50 states and all 435 congressional districts, helping to enlist legislative sponsors.
Critical House support came from Representative Elise Stefanik (R-N.Y.). Leading the campaign for Senate passage were Senators Jacky Rosen (D-Nev.), Kevin Cramer (R-N.D.), Marco Rubio (R-Fla.) and Richard Blumenthal (D-Conn.). I thank all those who worked to achieve this goal. The NAEA's enactment marks an important moment for Hadassah advocacy and a critical step forward in America's response not only to anti-Semitism, but to hate based on race, faith, ethnicity, gender or sexual orientation.
I cannot emphasize enough that the lesson of the Holocaust (and the language of the NAEA) is part of the larger pursuit of equality and justice. Hadassah stands with people across the United States in condemning the murders of George Floyd, Ahmaud Arbery and Breonna Taylor, and in solidarity with communities of color—and all those from Jewish and other communities—denouncing instances of police brutality and opposing systemic racism.
Anti-Semitism is itself a virus. In country after country, century after century, the Jewish people have been subjected to discrimination, forced conversion, expulsion and mass murder. The disease crests and wanes but never disappears. Just as masks and social distancing mitigate the spread and virulence of Covid-19, so are democracy and education proven factors in blunting the metastasis of hate.
When the bubonic plague swept Europe in the 14th century, thousands were massacred in anti-Semitic attacks ignited by conspiracy theories blaming Jews for the pandemic. We hear similar claims from hate groups today—that Jews or Israel, George Soros or the Rothschilds, are behind coronavirus, either to assert their supremacy or later save the world with a vaccine. These libels are less deadly than in medieval times but amplified and spread by today's communication tools.
Hadassah's next role is to develop advocates to contact local school boards to apply for NAEA grants, especially in regions where anti-Semitism and racism are strong—and where we can make the most difference. Educators, administrators and school boards need to know that opportunities that did not exist yesterday are now available.
Like humanity itself, America is a work in progress. When we vote, advocate, protest and engage with our elected representatives, we are expressing our faith in the promise and future of our nation.