Chicken Shawarma à la Maxim's in Haifa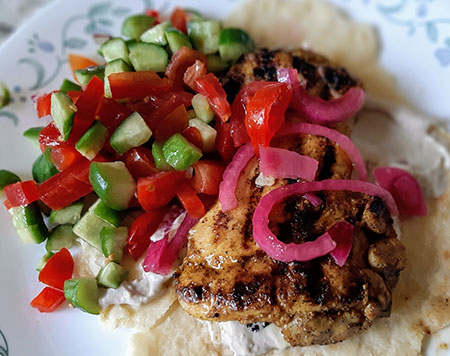 We've never been a peanut butter-and-jelly household. It's not that we don't eat American foods, because we do, even quintessential sandwiches like tuna melts smothered with dark orange cheddar cheese.
In Israel, common sandwich choices include simple "yellow" cheese; creamy tahini-laced hummus; a schmear of dairy quark; and chocolate spread. My kids get plenty of those sammies in their mid-morning snack at school, dubbed the "10 a.m. meal" in Hebrew.
On the topic of hummus: That particular spread gets swiped up with fries just as much if not more so than ketchup, and nothing goes better with fries and hummus than marinated spiced charred boneless chicken thighs—and maybe some Israeli salad. It's a dish I like to order at kebab (shipudim) restaurants in Haifa, spots that my husband and I loved to frequent before kids, time and pandemics got in the way. Since I love recreating flavors at home, this seemed like as good a time as any to recreate one of my favorite food combinations.
"Maxim for dinner" I promised my husband, referencing a favorite restaurant on the Haifa beach, one that was tragically the scene of a gruesome suicide bombing in 2003. I only came to know of the eatery after the attack, in more peaceful times, long after its Jewish and Christian Arab owners picked up the pieces and boldly reopened their doors. Soon after they did, Israelis of all kinds returned to Maxim, to dine on plates of Middle Eastern spreads, breads and meats while looking out at the soothing Mediterranean. The restaurant's legacy was able to transcend unthinkable tragedy. A testament to Israeli resilience, indeed.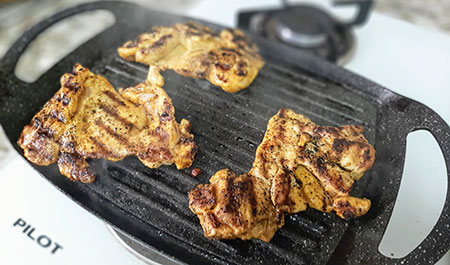 My take on Maxim's menu focused on preserving a flavor memory: Shawarma-spiced "spring chicken" (those skinless, boneless chicken thighs) for me and hummus alone for my husband, the vegetarian. French fries, or "chips" in Israel, for the kids, and lots of ketchup as well as the trendy quick-pickled purple onions that add a pizazz all their own.
This spice mix is my own version of that bright orange-yellow blend whose perfume fills the air near any falafel or shawarma stand in Israel. Centered around the two Mizrahi mother spices—turmeric and cumin—it also showcases some of my other favorite enhancements, namely garlic, paprika and cinnamon. The spice mix makes enough so that you'll have plenty of extra to store away in your pantry.
Cook the chicken on a screaming hot grill or indoors on a grill pan. The best part of using boneless chicken thighs is there is almost no risk of overcooking, giving the pieces plenty of time to accumulate black charred bits as the chicken cooks through. Enjoy the delectable chicken as a section of a composed plate with salad and hummus—or chopped and nestled into a pita or tortilla with salads, pickles, hummus and a drizzle of tahini. The perfect lunch of Israeli flavors to quell culinary wanderlust, yours and mine.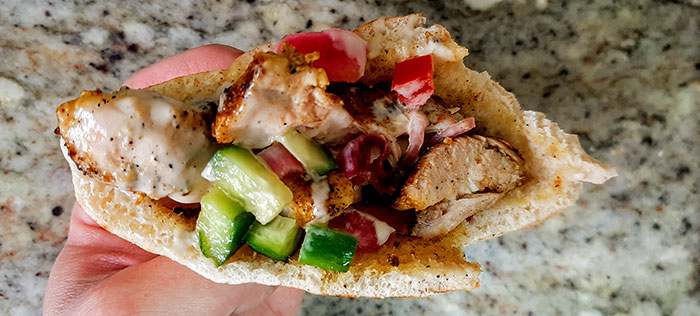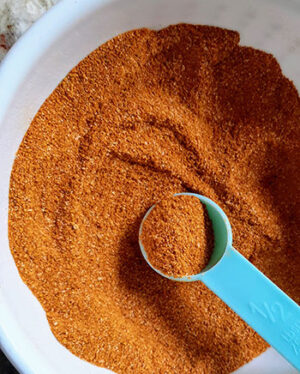 Orange-Yellow Shawarma Spice
Makes just over 1/2 cup of spice blend
3 tablespoons ground turmeric
2 tablespoons ground cumin
2 tablespoons granulated garlic
1 tablespoon paprika
1 1/2 teaspoons cinnamon
1 teaspoon black pepper
1 3/4 teaspoons salt
Mix in a small bowl to combine, then seal in an airtight container or plastic bag.
Chicken Shawarma
Serves 4
2 pounds boneless chicken thighs, trimmed of any fat, cartilage or bits of bone
1 tablespoon yellow shawarma spice mix
1/4 cup olive oil
Add spice mix and oil to the chicken in a bowl or bag. Mix to combine, then let marinate for at least 1 hour. (You can marinate the chicken for up to 24 hours in the refrigerator.)
Heat a grill pan or barbecue on high heat. Sear and cook the chicken on each side in batches until the chicken is charred on all sides, and soft without any resistance when pierced in its thickest area with a wooden toothpick or fork, about 5 to 6 minutes per side.
Let the cooked chicken rest for 10 to 15 minutes, then slice into bite size pieces. Enjoy in a pita or flatbread with all the fixings, or simply unsliced on a plate as a main component to any meal.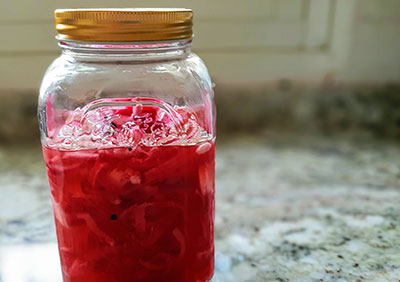 Pickled Red Onions
Makes 2 cups
1 cup apple cider vinegar
2 cups water
2 cloves garlic
1/4 cup sugar
Heaping teaspoon whole peppercorns
2 large red onions
In a small saucepan bring apple cider vinegar, water, garlic, sugar and peppercorns to a boil.
Meanwhile, slice red onions into thin half-moons and place in a large glass jar.
Once vinegar mixture reaches a boil, turn off heat and carefully pour the liquid over the onions.
Let cool to room temperature, cover the jar with a lid, then place in the refrigerator. Pickled onions can last 2 to 3 weeks in the fridge.