Leading Jewish Chefs in Their Own Kitchens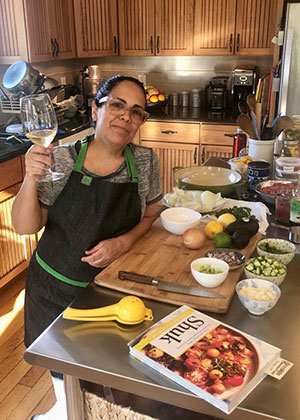 Famous chefs? Turns out, they're just like us. As ordinary Americans have increased the amount of time spent preparing food at home—a New York Times article in May reported a 52 percent rise in cooking since the Covid-19 pandemic struck—so, too, have culinary celebrities, many of whom have long turned to their personal kitchens as places to unwind and connect with family and friends as well as to prepare unfussy, flavorful meals meant solely for their own consumption.
Indeed, beginning with the stay-at-home orders first issued in March, millions of online social media followers got a peek into the home cooking routines of such luminaries as Ina Garten, the Food Network star and best-selling cookbook author who holed up in East Hampton, N.Y.
Many chefs used the time away from their restaurants and television shows to cook in a more relaxed atmosphere. Einat Admony, the Israeli-American owner of the growing chain of kosher Taïm falafel restaurants—many of which have remained open for takeout and delivery since March—and Balaboosta in New York City, sheltered in place at her second home in upstate New York. There, she raided her organic vegetable garden to make meals for her husband, Stefan Nafziger, their son Liam, 13, and daughter Mika, 11.
"My number one audience is my children," said Admony. "Their palates seem to change and evolve every few weeks, and I love to work with that."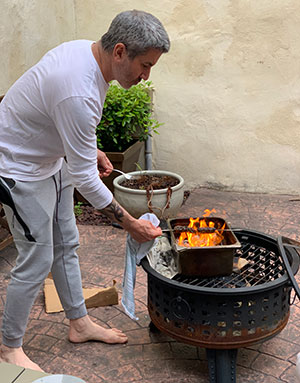 With the extra time the coronavirus lockdown granted her, Admony, 48, who is also the co-author, with Janna Gur, of the recent cookbook Shuk, worked to perfect her sourdough and experimented with Indian and Korean cuisines. And then there are her Shabbat dinners.
"That's a non-negotiable no matter what else is going on," Admony said of her Friday night meals, which feature dishes like her legendary couscous and a spread of salads that might include her nut-studded cauliflower tabbouleh.
For busy chefs who are often attempting to satisfy dozens—if not hundreds—of customers on a single night when their restaurants are open, home cooking serves as a massive source of stress relief.
"It's therapeutic," said Michael Solomonov, 42, chef/partner of an empire of Philadelphia-area restaurants with Israeli and Jewish influences. As an activity to share with his two sons, David, 9, and Lucas, 7, Solomonov will make fresh pita breads, then keep them on hand for a couple of nights worth of child-pleasing pizzas. "It's the opposite of restaurant cooking, it's so relaxing," said Solomonov, some of whose restaurants offered packaged Shabbat meals and takeout during the pandemic while their dining rooms were closed.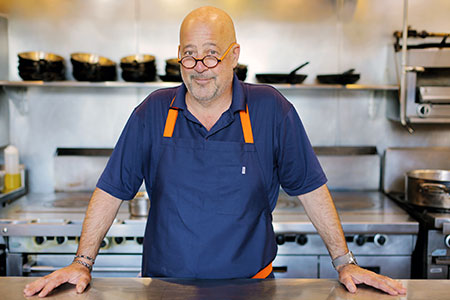 Andrew Zimmern, the Minneapolis-based, globetrotting star of Bizarre Foods and, more recently, What's Eating America, keeps it quick and cool during the warmer summer months. He has a chilled Turkish cucumber and yogurt soup called caçik on steady rotation, with at least one batch always at the ready in a handy pitcher. 
"I learned long ago to always double the recipe when the weather turns warm," said Zimmern, 59, who has been using his time cooking at home to make both more elaborate dishes, like duck à l'orange, and more simple—but no less satisfying—ones like macaroni with four-cheese sauce.
"I don't have to say no to any recipe that pops into my head because I have the time to make it," said Zimmern.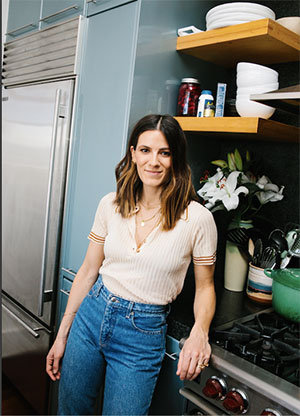 Now more than ever, food professionals are viewing the home kitchen as a place to cook what they know best—to delicious effect.
"We make eggs morning, afternoon and night," said Eden Grinshpan, the 34-year-old Top Chef Canada judge and social media sensation whose upcoming book, Eating Out Loud, a collection of Middle Eastern-inspired recipes, is slated to debut in September. "It's easy protein to cook up and it's just so versatile: spring frittata, shakshuka, omelets, jammy eggs."
You'll find Grinshpan posting frequent live cooking stories on Instagram that also star her husband, Ido Nivron, and their 3-year-old daughter, Ayv.
"The shakshuka definitely comes from our Israeli roots," said the Brooklyn-based, Toronto-born Grinshpan, whose parents and in-laws hail from Israel. "We make it so often I lost count."
Rather than looking for things that are just comforting and nurturing, Pati Jinich, a Mexican-American cookbook author and television personality, is looking to inject some fun into her home kitchen in Washington, D.C.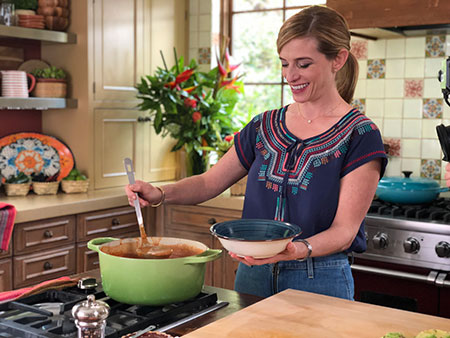 "I like dishes that have multiple parts, not necessarily hard to make but that I can make over the course of a day at home, and then assemble before dinner," said Jinich, 48, who regularly recruits her sons Juju, 14, Sammy, 18, and Aaron, 20, along with husband Dani, to help out. "Also, if there is a garnish, a vinaigrette, a bunch of condiments, each of my kids can choose their own adventure at mealtime."
Jinich's Mexican grilled steak salad can be made vegetarian by swapping in portobello mushrooms. The salad and its vinaigrette dressing feature a variety of colors, textures and sweet-tart flavor accents that will add a little excitement to your cooking repertoire—which many of us have been craving to cure the doldrums of the last few months. 
Caçik
(Cold Cucumber Soup With Yogurt And Dill)
Serves 4 to 6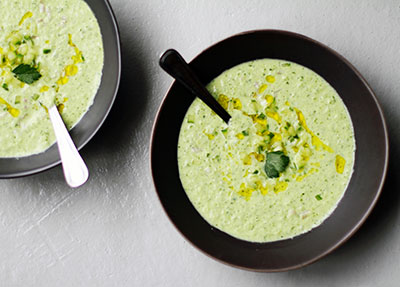 2 large European cucumbers, halved and seeded, 1/2 cup finely diced and reserved for garnish, the rest coarsely chopped
1/3 cup loosely packed dill
2 tablespoons loosely packed tarragon leaves
1/2 red onion, minced
1/4 cup loosely packed flat-leaf parsley leaves
Salt and fresh ground white pepper to taste
1/4 cup olive oil, plus more for drizzling
1 1/2 cups plain thick Turkish or Greek yogurt
3 tablespoons fresh lemon juice
1 garlic clove
1/2 shallot, minced for garnish
1.  In a blender, combine the chopped cucumber with the dill, tarragon, onion, parsley, white pepper, salt, olive oil, yogurt, lemon juice and garlic. Pulse until smooth. Cover and refrigerate for 4 to 5 hours, or until well chilled.
2.  Taste and season the cucumber soup again as necessary just before serving. Pour the soup into bowls. Garnish with the finely diced cucumber, shallot and a drizzle of olive oil and serve.
Adeena Sussman is the author of Sababa: Fresh, Sunny Flavors from My Israeli Kitchen. She lives in Tel Aviv.
2 tablespoons olive oil, divided
2 tablespoons butter
1 cup asparagus, ends trimmed and cut in thirds
2 cups sorrel, cut in chiffonade
1 shallot, minced
1 clove garlic, minced
2 teaspoons salt, divided
12 eggs
1/2 cup heavy cream
1/4 teaspoon freshly ground black pepper
1/2 cup ricotta cheese
1 tablespoon za'atar
1. Preheat oven to 350°. Meanwhile, heat 1 tablespoon olive oil and butter in an oven-safe skillet.
2. Add the asparagus, sorrel, shallot and garlic to the pan and let it cook for about 5 minutes. Season with 1 teaspoon salt.
3.  Whisk eggs, heavy cream, remaining 1 teaspoon of salt and freshly ground black pepper together and pour the mixture directly into the pan over the cooked vegetables. Place dollops of ricotta throughout the top of the egg-vegetable mixture
in pan.
4.  Place the pan in the preheated oven and cook for 8 to 12 minutes, until the frittata has risen and the center is set (it should be a little wobbly but not too wobbly).
5. In a small bowl, mix together the reserved tablespoon of olive oil with the tablespoon of za'atar and drizzle it on top of the frittata. Slice in wedges.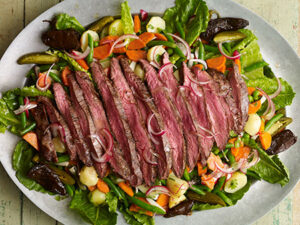 Mexican Grilled Steak Salad
Serves 4 to 6
FOR THE SALAD
2 to 3 pounds flank steak
1 teaspoon kosher or coarse sea salt, or more to taste
Freshly ground black pepper to taste
3 (about 1/2 pound) medium carrots, peeled, halved lengthwise and sliced
3 (about 1 pound) medium red potatoes, peeled and cubed
1/2 pound green beans, ends trimmed, cut diagonally into thirds
1 cup peas, fresh or thawed from frozen
6 radishes, halved and cut into matchsticks
2 tablespoons cilantro leaves and upper part of stems, chopped
1  ripe avocado, halved, pitted, meat scooped out and sliced
Pickled jalapeños to taste
Chipotle chiles in adobo sauce to taste
FOR THE VINAIGRETTE
1/3 cup distilled white vinegar
1/3 cup olive oil, plus more to grill the meat
1/3 cup vegetable oil
1 teaspoon kosher or coarse sea salt
1/2 teaspoon freshly ground black pepper
1/2 teaspoon brown sugar
1 clove garlic, finely minced or pressed
2/3 cup red onion, slivered
FOR SERVING
1 head romaine lettuce leaves, rinsed and drained
Warm corn tortillas
1.  Preheat the grill over medium-high heat. Brush the flank steak with olive oil and season with salt and pepper. Grill the meat for 5 to 6 minutes per side for medium (about 145° on a meat thermometer). Let rest for 5 to 10 minutes, then thinly slice against the grain and set aside.
2.  Bring salted water to a boil in a medium saucepan. Cook the carrots for about 3 to 4 minutes until tender, remove with a spider or slotted spoon and place in a bowl. Repeat with the potatoes and green beans, adding them to the same bowl with the carrots. Lastly, cook the peas for just one minute, then drain and place in the bowl with the other cooked vegetables.
3.  In a bowl, whisk the vinegar with the oils, salt, pepper, sugar and garlic, until emulsified.
Add the onion and let macerate for at least 15 minutes. You may cover and place in the fridge for up to a couple of weeks. Shake before using. If you like your salad very juicy and dressed, double the vinaigrette!
4. Dress the lettuce with some of the vinaigrette and place on a large platter. Pour some of the vinaigrette and the onions on the cooked vegetables, incorporate the radishes and cilantro, mix well and place on lettuce. Place the sliced meat on top, add the avocado, dress with more of the vinaigrette. Add some of the pickled jalapeños and chipotles in adobo on the sides of the plate or to your liking. Serve with warm corn tortillas on the side.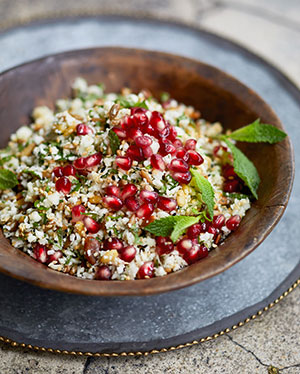 Cauliflower Tabbouleh With Crunchy Seeds
Serves 4 to 6
Excerpted from 'Shuk' by Einat Admony and Janna Gur (Artisan Books). Copyright © 2019. Photographs by Quentin Bacon
3 tablespoons sesame seeds
Olive oil, for frying
3 tablespoons pine nuts
3 tablespoons hulled pumpkin seeds (pepitas)
3 tablespoons hulled sunflower seeds
1 medium cauliflower, cored and cut into large florets
1 tablespoon nigella seeds
2 tablespoons finely chopped fresh cilantro
2 tablespoons finely chopped fresh mint
2 tablespoons finely chopped fresh parsley
3 tablespoons fresh lemon juice, plus more as needed
3 tablespoons extra-virgin olive oil, plus more as needed
1 teaspoon kosher salt, plus more as needed
Freshly ground black pepper
1/3 cup fresh pomegranate seeds, for garnish (optional)
Toast the sesame seeds in a dry medium skillet over medium heat, stirring continuously for a couple of minutes, until golden. Transfer to a small plate and let cool.
Line a plate with paper towels. Heat a thin layer of oil in the same skillet over medium-low heat. Add the pine nuts and sauté, shaking the skillet frequently, until they just turn light golden, 3 to 4 minutes. Use a slotted spoon to transfer them to the paper towels. Fry the pumpkin and sunflower seeds in the same manner; transfer them to the paper towels as well.
Pulse the cauliflower florets in a food processor until they are broken down to couscous-size crumbles. Transfer the cauliflower to a large bowl. If there are any large pieces left, return them to the food processor and pulse until they reach the desired size, then add them to the bowl.
Add the sesame seeds, pine nuts, pumpkin seeds, sunflower seeds, nigella seeds, cilantro, mint and parsley to the bowl with the cauliflower. Add the lemon juice, oil, salt and some energetic twists of pepper and toss to combine. Taste and adjust the seasoning, adding more salt, pepper, lemon juice and/or oil as needed to make the salad yummy and bright.
Sprinkle the pomegranate seeds on top (if using) and serve promptly.