'Essential' Middle Eastern Recipes and Memorable Stories
Longtime professional chef and cookbook author Michelle Anderson's life is the stuff of movies.
During our interview about her newest work, The Essential Middle Eastern Cookbook: Classic Recipes Made Easy
, an overview of tantalizing recipes from a broad span of that region, she shared a number of stories about being stowed away in a boat en route to Libya; amusing anecdotes about the travels of her father, a general manager for a well-known oil company; and a summary of her family's own painful history, including that her mother spent her early childhood years in a Japanese internment camp, and that many relatives perished in the Holocaust.
It was not the story I was expecting from the Ontario-based chef who has published over 30 cookbooks, mostly on specialized subjects such as healthy and clean eating; bread machine baking; and the Paleo diet. But unlike those other titles, Anderson's life experiences have prepared her for this collection, which she describes as "intensely personal."
"I wanted to introduce people to a very broad range of recipes," says Anderson, 52. "Yes, each region deserves its own book, but this way it is like a fabulous first date, intriguing and leaving you anticipating the next meeting."
In truth, the countries she explores as a culinary traveler—Lebanon, Morocco, Iran and Turkey—could have multiple volumes replete with unique local recipes and techniques. But as far as introducing this cuisine in its authentic form to an English-speaking audience, this one collection is an excellent entry point.
Anderson uses her familiarity with Middle Eastern cooking, as someone who has spent significant time visiting, living and working as a chef in various Middle Eastern countries, to her advantage. Using her own skills as a seasoned chef, she transforms recipes that traditionally take all day to produce into ones that you can get on your dinner table in 30 minutes. It is an easier feat these days as many more Middle Eastern ingredients are available in major grocery stores, Anderson told me.
Many recipes are vegetarian friendly. Indeed, a primary focus on vegetables and away from meat is an aspect of Middle Eastern cuisine that Anderson especially promotes with the people she cooks for most.
And beyond the four countries she explores gastronomically, Anderson strives to highlight the area's sub regions and food cultures, offering references for special sauces and spice blends, like the ras el hanout used in so many of the book's recipes.
Hard pressed to pick a favorite, Anderson said she is "partial" to North African cuisine. "The layering of spices, flavorings, textures and even cooking techniques is genius," she said, "and the resulting dishes should have poems written about them."
One of her standout North African dishes is the spicy beef tagine that she recalls cooking in record-breaking heat in Libya. It's something which I'm sure I would have no problem finding on my North African neighbors' table right next to a couscous platter come Friday night.
I likewise found myself nodding along to the snippets of the Mizrachi-Jewish Middle Eastern foods that I regularly encounter in Israel here. If you look hard enough there are recipes for the same fiery Yemenite schug Israelis spoon over jachnun and hummus; the deep-fried Lebanese bulgur dumplings eaten by Iraqi Jews; and the ubiquitous spiced, pan-fried fish cakes. Other familiar recipes I was glad to see here include a gelatin-based Turkish delight, sweet cheesy knafeh and tachin—a crispy Persian rice dish. I just wish there were more photos to accompany these gorgeous heritage recipes.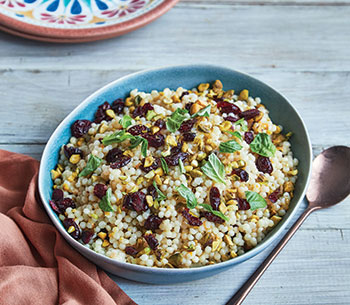 Israeli Couscous
Serves 4
If I had to pick a favorite couscous, I would take Israeli couscous every single time. The pearl-size balls and colorful chopped vegetables create a lovely mosaic in which every single ingredient shows up in each bite of the mixture.
1 teaspoon plus 3 tablespoons olive oil, divided
1 cup pearl couscous
1 1/4 cups water
Juice and zest of 1/4 orange
1 tablespoon freshly squeezed lemon juice
Sea salt, for seasoning
1/2 cup dried cranberries
1/4 cup chopped pistachios
1 tablespoon chopped, fresh basil
Heat one teaspoon of the olive oil in a medium saucepan over medium-high heat.
Toast the couscous in the oil until lightly golden, about 2 minutes.
Add the water and bring the mixture to a boil. Reduce the heat to low and simmer until the liquid is absorbed, about 10 minutes.
In a medium bowl, whisk together the remaining 3 tablespoons of olive oil, the orange juice, orange zest, and lemon juice and season with salt.
Stir in the cooked couscous, cranberries, and pistachios.
Serve topped with basil.
FUN FACT: In Israel, the crack of a pistachio shell is considered to be good luck, especially for relationships.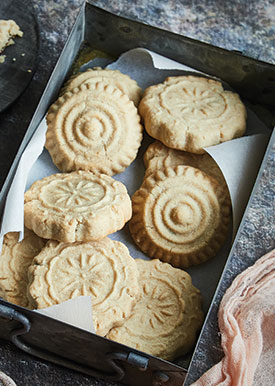 Date-Filled Cookies (Maamoul)
Serves 4
If you enjoy Fig Newton cookies, you will love these rich, lightly spiced filled cookies. They are so easy to make and they freeze beautifully. Maamoul are traditional offerings at religious holidays, such as Eid at the end of Ramadan in Syria, Jordan, Israel, and Lebanon. However, you can enjoy them anytime!
3/4 cup melted butter or ghee
3 tablespoons sugar
Pinch ground cinnamon
2 1/4 cups all-purpose flour, plus more if necessary
1/4 cup whole milk, plus more if necessary
3/4 pound Medjool whole dates or date paste
Preheat the oven to 350°.
Line a baking sheet with parchment paper and set aside.
In a large bowl, mix together the butter, sugar and cinnamon until blended.
Add the flour and mix the ingredients together until the mixture looks like coarse crumbs.
Add half the milk and mix it into the other ingredients, using your fingers. Then add the remaining milk 1 tablespoon at a time until a smooth dough is formed. Knead the dough in the bowl until it is pliable and not sticky. Let the dough rest for 30 minutes.
While the dough is resting, put the dates in a food processor and pulse until smooth and spreadable.
Roll the dough into 34 balls of relatively equal size.
Pick up a dough ball and flatten it into a round . inch thick, then scoop about 1 scant tablespoon of filling into the center.
Fold the dough over to form a half-moon shape and pinch the edges together to seal the cookie. Flatten the cookie slightly and place it on the baking sheet.
Repeat with the remaining dough and filling, spacing the cookies about inches apart.
Recipes excerpted from The Essential Middle Eastern Cookbook: Classic Recipes Made Easy
, by Michelle Anderson, published by Rockridge Press. Copyright © 2020 by Callisto Media. All rights reserved.