2020 Inspiration We Don't Want to Lose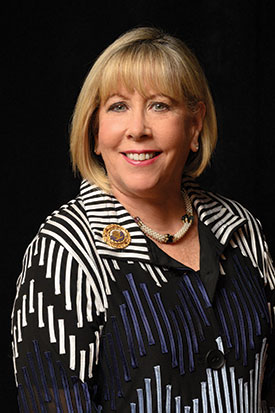 Dickens got the concept right but was wrong about the uniqueness of his age: We are always in the best and worst of times. These past few months of 2020 have shown us the worst that nature can give, and we have used the best modern tools, often acquiring new skills, to mitigate the coronavirus and the organizational and physical limitations of social distancing. We also have seen many examples of the extraordinary good people are capable of.
In Israel, Hadassah Medical Organization personnel are adding a new chapter to our century-plus story, treating Covid-19 patients and also working to develop new therapies
for the virus.
In America, the pandemic has transformed Hadassah from an organization of 300,000 members to one of 300,000 chapters. With every house a frontier, we are more splintered and, at the same time, more connected than ever. We are finding a new appreciation for one another and tapping into strengths we didn't know we had.
While in isolation, some of us have risen to the occasion and some have had difficulty functioning, and likely most of us have had moments of both. But we are reaching out and staying in touch by Zoom, video chat, email, phone and by making strategic forays—sometimes they feel like moonwalks—into the altered landscape outside our homes.
We have seen Hadassah chapter initiatives to collect and drop off PPE for medical personnel, make masks for community distribution and do grocery runs for our most vulnerable members. Hadassah groups and members on their own or in coordination with other organizations have engaged in large-scale collections for food banks. Many members have participated in webinars with HMO experts who discussed coping with anxiety and stress or answered questions about the pandemic, including what to expect in the weeks and months ahead.
Since one of our physicians flew to Japan to treat Israelis who were aboard the Diamond Princess cruise ship, we have received daily reports from HMO on its pivotal role in Israel's response to the coronavirus. Our medical center quickly became the country's main testing hub and was the first to evaluate all staff and do repeat testing every five days. Its testing protocol was adopted by other centers and by the Israeli Air Force. We also helped the Palestinian Authority set up testing labs.
HMO's efforts have put it in the media spotlight. Multiple media outlets, including The Washington Post, reported a story we all know well—cooperation and camaraderie among Arab and Jewish medical staff and patient families—but amplified it as a struggle against a common viral enemy.
With international air travel shut down in March, we were suddenly more cut off from Israel than at any time in the last 75 years, but we have been able to hear and read about the work of our medical center, getting first-hand reports from Jerusalem.
And maybe it's the cleaner air—a byproduct of dramatically reduced carbon emissions—that has given us a clear lens on history for viewing what it was like for Hadassah's founding generation, women who had the faith to build a health care system and a nation most of them would never see with their own eyes. We can see all the way back to Hadassah's origins—and how much those early days looked like today.
HMO grew out of the 44-member American Zionist Medical Unit, a mobile hospital that sailed from New York, reaching Palestine in August 1918—during the flu pandemic. Before becoming renowned for emergency and trauma care, fertility treatments and robotic surgery, stem cells and transplants, HMO waged and won wars on infectious disease, transforming Israel's public health landscape.
For all the loss of life, for all the stress we have seen and felt these many months, I'm sure we will hold on to our 2020 inspiration, remembering the new and old horizons that this experience opened to us. The worst of times will come again. And we'll always make the best of them with pride, passion and purpose.