'Peas, Love & Carrots,' Danielle Renov's Debut Cookbook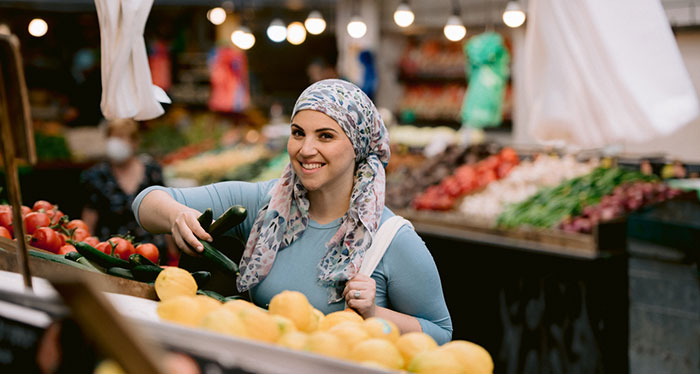 Early summer is Danielle Renov's favorite time to linger over the dizzying array of stalls in the Machaneh Yehudah shuk in Jerusalem. Living nearby with her husband and kids, who made aliyah 13 years ago from the Five Towns area of Long Island, N.Y., she still gets giddy describing her shopping trips to the open-air market every few days.
"June happens to be my favorite produce month in Israel, because it's when the fruit is the sweetest," Renov, an Instagram star turned cookbook author, told me. "It's the beginning of stone fruit season, the weather is warm, we have unbelievable crispy lettuce and greens and wonderful peaches, nectarines, cherries and plums. The watermelon is so sweet, and everything is just delicious and juicy."
Yes, we're in the throes of a global pandemic, but for a brief moment as I write this post, the shuk is open for business, serving as a lifeline, as it always has, for Jerusalemites.
Now, the end of this month marks the release of Renov's first print outing, Peas, Love & Carrots: The Cookbook
, whose title borrows from the influencer's Instagram handle.
Indeed, this recipe collection has been in the works for years, and Renov considers it a thank you to her community of 52,000+ Instagram followers. The book's more than 250 recipes—many accompanied by beautiful photographs—are intended to be accessible, family-pleasing favorites, whether they boast Sephardi or Ashkenazi backstories, are decadent or healthy, and are fit to grace a Shabbat or holiday table.
"I live in Jerusalem in a small apartment," she said. "I know what shelf space is like, and I know how valuable that is. If you're willing to put my book on your shelf and take up that space, I want it to be worthy."
Taking Renov at her work, I looked to Peas, Love & Carrots recently when making Shabbat dinner for my family. I prepared her tahini- and tamarind-glazed roasted salmon topped with kadaif "noodles" usually reserved for baklava; and a salad of red quinoa, roasted sweet potato, dried cranberries and toasted almonds. Both delicious, the salmon proved to be particularly easy to assemble and had the added bonus of feeling holiday-like in its elegance. The quinoa salad was a fresh, healthy alternative to the rice that usually graces my Shabbat table.
Those two dishes are just the tip of the iceberg in a book that offers numerous salads, detail-oriented dressings, dips, spreads, homey mains and sweets. And while salad dressings may sound trivial, they make up a significant part of one of Renov's favorite chapters.
"I love a salad, I really, really do," she told me, naming it her favorite lunch. "A lot of the time a good salad is just about a really good dressing. If you have some lettuce, a cucumber, and some red onion, and then a really crave-worthy salad dressing, you're good to go."
In the book, she offers 12 dressing recipes.
"My dream," she said, laughing, "is having five or six salad dressings in my fridge at a time."
She's also quick to add what many experienced home cook know already: that a good dressing can and should be used as a marinade or dip.
Proving that point, in her book, she writes that "No shabbos meal in my house is complete without homemade mayo." And, yes, she includes recipes for many variations—jalapeño, truffle and even curry-lime-infused versions of mayonnaise.
Peas, Love & Carrots is gorgeous, filled to the brim with instantly fascinating yet approachable dishes that espouse Renov's love of seasonal Israeli cooking in combination with her French Moroccan and Ashkenazi American heritage. Her Moroccan-inspired chicken tagine, Renov said, is a good fit for someone new to the Shabbat dinner game, since the aromatic dish basically "cooks itself" until it gets "super soft, luxurious and delicious," she said. Veal Milanese is another one that she described as an easy "show stopper."
But perhaps the most defining recipe of all just might be the matzah ball soup pictured on the book's cover. It's what Renov considers the perfect combo of her two heritages—plus her adopted Jerusalemite identity. This iteration of matzah ball soup comes laced with licorice-like fennel, fiery harissa, chickpeas, arak and Swiss chard, with fresh cilantro, mint, radish and sumac used as garnishes.
Here, enjoy three sample recipes from Renov's debut: Crispy Baked Falafel, Burnt Cauliflower and Herb Salad, and Moroccan Stuffed Artichokes.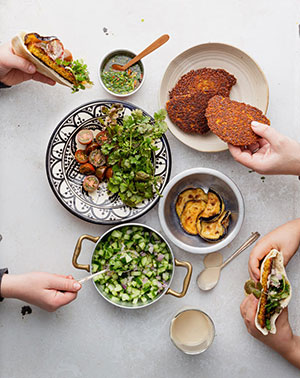 Crispy Baked Falafel
Makes 8 falafel patties
I know, it's supposed to be fried. And I'm all for that. So, you can definitely go ahead and form the base mixture into balls and deep fry. It will work and be excellent. I wanted to try out baking them one day because a food that's inherently healthy should maybe stay that way. So, I did it, and it was delicious. Crispy on the outside, moist on the inside, and I got all the falafel feels I was looking for. The only thing is, if I was baking them, I wanted them to be as perfect as possible. Of course, that meant the flavor had to be on point, but also the whole eating experience. So, instead of creating balls, I created flat semicircular falafel patties, if you will, that fit in perfectly into half a pita. This way, you get crispy falafel in every bite!
8 cloves garlic
1 small onion
2 teaspoons fresh squeezed lemon juice
4 cups chickpeas soaked overnight in room temperature water, uncovered (you'll need about 3 cups dried chickpeas)
1/2 teaspoon cumin
1 1/2 teaspoon paprika
2 1/2 teaspoons kosher salt
1 teaspoon freshly ground black pepper
1 teaspoon baking powder
2 tablespoons olive oil
1 cup parsley leaves
1/2 cup cilantro leaves (optional)
1/4 cup canola oil
Preheat oven to 400°. Place a baking sheet into the oven to heat.
Meanwhile, add garlic, onion and lemon juice to the bowl of a food processor fitted with the "S" blade.
Pulse, scraping down sides often until puréed and everything is evenly mixed. Add chickpeas and herbs. Pulse until mixture is finely blended, but still somewhat coarse, scraping down sides occasionally.
Remove pan from oven; coat pan with canola oil so that falafel patties don't stick
Take a small fistful of mixture (about 1/3 cup); form it into a half circle directly on the baking sheet (about 8 "falafels" will fit on the sheet).
Drizzle a very small amount of oil over the patties. Bake for 35 minutes.
Use a spatula to gently remove them from the baking sheet. Stuff into pitas with whatever you like and enjoy.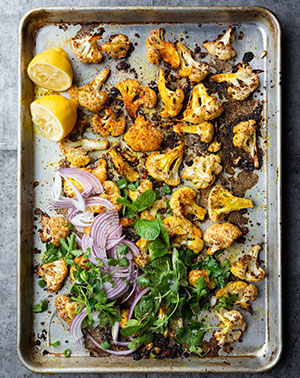 Burnt Cauliflower and Herb Salad
Makes 2 quarts
You've seen enough shabbos roundups by now (or maybe fast-forward 50 years, Instagram is a thing of the past, you have no idea what Shabbos round-ups are and you're using this book on a different planet that you flew to via the new intergalactic highway?), which is where I show you what I've prepared for Shabbos each week, to know that burnt, lemony cauliflower is a staple in my house. What you don't know is what I do with it the next day! 
CAULIFLOWER
2 (24-ounce) bags frozen cauliflower florets
3 tablespoons olive oil, divided
4 cloves garlic, minced
1 1/2 teaspoon kosher salt
1/2 teaspoon freshly ground black pepper
2 teaspoons turmeric
1 1/2 teaspoons sumac
1/2 teaspoon paprika
1 lemon, halved
HERB SALAD
1/2 cup chopped parsley
1/2 cup chopped cilantro
1/2 cup chopped scallions (from about 4 scallions)
2 tablespoons chopped mint (optional)
1 small purple onion, finely diced (about 1 cup)
1 to 1 1/2 tablespoons white vinegar
Kosher salt, to taste
Freshly ground black pepper, to taste
Preheat oven to 350°. Line a baking sheet with heavy duty foil; coat with 1 tablespoon olive oil.
Toss frozen cauliflower with 2 tablespoons oil, garlic, salt, pepper, turmeric, sumac and paprika. Spread out on baking sheet in a single layer. Roast undisturbed for about 45 minutes (DO NOT OPEN OVEN DOOR DURING THAT TIME!).
While cauliflower is roasting, make the herb salad by combining parsley, cilantro, scallions, mint and onion in a large bowl.
After 45 minutes, cauliflower should begin to get crispy and charred. Open oven door, remove baking sheet and squeeze both halves of the lemon over the cauliflower. DO NOT MIX OR STIR. Just squeeze over the top, return to oven and cook for 5 to 6 minutes longer.
When cauliflower is done, add to the herb salad, tossing to combine. Add vinegar; toss to combine. Season to taste with salt and pepper. Serve warm or cold.
Note: If not serving the same day, combine herbs with cauliflower before serving time.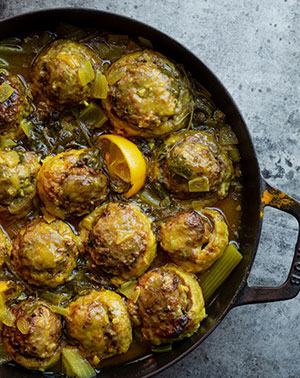 Moroccan Stuffed Artichokes
Serves 8
If you've ever walked into a Sephardic restaurant or takeout place, then you already know exactly what these are. If you haven't, then you need to make them, because they are absolutely delicious. The buttery artichoke, with the hearty meat and the earthy turmeric and bright lemon, make the most wonderful combination, resulting in the comfort food you didn't know you were missing
20 ounces frozen artichoke hearts, defrosted)
STUFFING
2 1/4 pounds ground beef
1/2 cup chopped cilantro leaves
3 cloves garlic, minced
1 egg, lightly beaten
1 teaspoon kosher salt
1/2 teaspoon coarsely ground black pepper
1 teaspoon paprika
1/2 teaspoon ground cumin
1/4 teaspoon coriander
1/8 teaspoon ground ginger
1 tablespoon white vinegar
DREDGING
4 eggs, well beaten
2 cups all-purpose flour
TO COOK
2 tablespoons avocado oil
SAUCE
1 onion, diced
5 stalks celery, peeled, cut into 2-inch pieces
2 cloves garlic, minced
1 teaspoon turmeric
1 lemon, halved
3 cups chicken stock (additional 1/2 to 1 cup, as needed)
1/2 cup cilantro leaves
Place artichoke hearts onto a sheet pan.
In a large bowl, combine all stuffing ingredients, mixing until incorporated. Fill artichoke hearts with stuffing mixture, filling fully and letting stuffing bulge out a bit. Return to heats to sheet pan.
In a large bowl, combine dredging ingredients. Dip stuffed artichoke hearts into mixture, allowing excess to drip back into the bowl. Return to hearts to sheet pan.
When all artichoke hearts are filled and dredged, heat avocado oil in a high-walled pan over medium high heat.
Add prepared artichoke hearts. Sauté on both sides, using the backs of 2 spoons to gently turn them so they don't break. You may need to do this in batches so as not to overcrowd the pan.
Transfer sautéed artichoke hearts to the sheet pan as they are done.
Make sauce: To the same pan, add onion, celery and garlic. Cook 4 to 5 minutes until onion and celery soften just a bit. Add turmeric and cook for 1 minute. Squeeze in lemon juice. Add stock, using a wooden spoon to scrape up any bits accumulated on the bottom of the pan.
Add stuffed artichokes and cilantro to the sauce. Reduce heat to low and cover the pan. Simmer for 1 1/2 hours, basting every 20 minutes.
Serve hot and enjoy!
All recipes from Peas, Love & Carrots: The Cookbook
, by Danielle Renov. Copyright 2020 by ArtScroll Mesorah. Photos by Moshe Wulliger. Reproduced with permission of the copyright holder. All rights reserved.