Summer in Israel Means Heat, Humidity and Mangoes
Ever wonder what the best part of the impossibly hot and humid Israeli summer is? Easy: mangoes.
Israelis first became enamored with mangoes in the 1970s, when seedlings were brought here from America to be planted. Today, Israeli farmers cultivate eight varieties, mostly grown in the hottest corners of the country: near the Kinneret up north; in the Negev Desert's Arava Valley, in the south; and the hotter than hell (pardon my saying so) Jordan Valley.

And those are just examples of the commercially grown fruit. Another four varieties are made primarily for export to Europe, the ultimate destination for half the mangoes harvested here.
Another mango-related, agricultural fact: Israeli agritech is responsible for multiple original varieties of the fruit, four of which are patented in the State of Israel but now grown elsewhere.
Simply put, Israelis are mango crazy in every possible sense.
Now, in August, the arrival of lime season overlaps with pique mango season. In my mind, there isn't a more perfect flavor combination than juicy ripe mango and sweet lime, which is exactly what goes into my favorite smoothie—what Israelis refer to as a "fruit shake."
What's more, you can use that smoothie recipe as a base for Mexican-style whole fruit popsicles, called paletas.
Another word about mango varieties: My favorite is the "Maya." Maya mangoes are not stringy, like others can be, have a deep orange flesh, are as sweet as candy and are positively gigantic. They also come wrapped in a red-and-orange skin that is edible. Yes, you read that correctly; you can eat the skin of a Maya mango. These mangoes are perfect for topping the creamy, slightly sweet and sticky rice dessert you may have enjoyed in Asian restaurants.
Israelis love traveling. Indeed, you've probably bumped into groups of them if you've ever traveled extensively in the Far East or South America. For mid-20 somethings looking to blow off steam after army service and before surrendering themselves to the real world, Thailand is a perennially frequent landing spot—at least when our skies are open to air travel.
What all this travel means is that thankfully, today, there is an abundance of very good Thai Restaurants in Israel. In my own cooking, I like to experiment with adding Thai-produced coconut milk and cream to desserts. And for kosher and vegan adherents, a reliance on non-dairy milks and creams open up a world of delicious possibility.
I hope you will use these two recipes—for Mango Sticky Rice and Mango Whole Fruit Popsicles—as an expression of the unique sweetness of this popular fruit. Wishing you a safe and healthy August.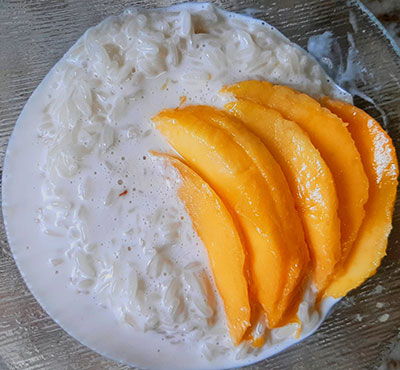 Mango Sticky Rice
Serves 8
COCONUT MILK MIXTURE
1 cup coconut milk
1 cup coconut cream
1/3 cup sugar
1/2 teaspoon vanilla
1/8 teaspoon salt
1 jasmine green tea bag (optional)
2 1/2 cups glutinous rice or sushi rice
SAUCE
1 cup coconut cream
2 tablespoons sugar
Pinch of salt
1/2 teaspoon vanilla
4 large mangoes, sliced (half of a large mango per each serving)
Soak the rice: Place the rice in a large bowl or pot, and fill with water to cover the rice by 2 inches. Let sit 6 to 8 hours, or overnight.
Make the coconut milk mixture: In a medium pot, combine all the ingredients, through the tea bag, if using.  Bring to a boil, then turn down the heat and simmer just until the sugar has dissolved. This should take a total of about 5 minutes. Remove the tea bag, if using, and set mixture aside.
Rinse and steam the rice: In a fine mesh strainer over the sink, rinse the rice until the water runs clear. Place the rinsed rice in a cheese cloth or thin dish towel (I use a muslin baby swaddling blanket) and tie the ends to secure.
Fill a large pot 1/3 full with water and bring to a boil. Use a pot with a built-in steamer basket if you have one, otherwise you can create a makeshift steamer by placing your fine mesh strainer over the pot of water and placing a lid on top with a dish towel lining the inner lid to catch any condensation.
Place the rice parcel inside your steamer basket or fine mesh strainer, and place over the boiling water. Cover the pot with a lid and let rice steam for 15 minutes, then remove the pot from the heat and let sit an additional 15 minutes covered to continue cooking.
Meanwhile, make the sauce for serving: Heat the coconut cream, sugar, salt and vanilla in the microwave until steaming, 1 to 1 1/2 minutes. Stir and set aside.
Once the rice has finished steaming, remove the lid. Open up the cheese cloth and transfer the rice to a large bowl using a spatula. (Dipping the spatula in a little bit of water will make for easier transport.)
Fluff up the rice with a wooden spoon and add a few tablespoons of the coconut milk mixture at a time, stirring after each addition so the rice absorbs the liquid. Do so until you use the entire mixture.
Serve topped with sliced mango and 1 to 2 tablespoons of the coconut sauce on top.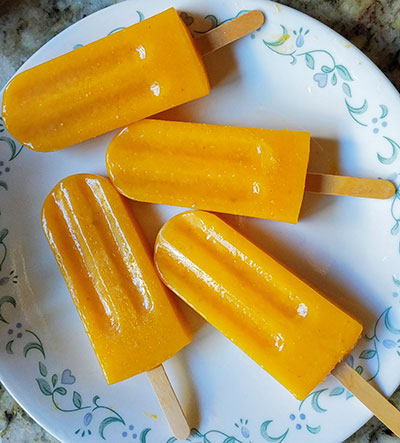 Mango Whole Fruit Popsicles (Paletas)
Makes 6, 1/2-cup popsicles
2 cups fresh ripe mango, from about 2 medium-sized mangoes
1/2 cup water
4 tablespoons honey
1 to 2 tablespoons lime juice, or to taste (optional)
Zest of 1 small lime
To prepare the mango, cut into four and scoop the flesh out of each section. Discard the central pit.
Place the scooped mango in an airtight container or loosely tied plastic sandwich bag and freeze until solid, 2 to 3 hours. (Buying fruit in bulk, prepping and storing in the freezer means you'll always have some on hand for fruit shakes and popsicles.)
Remove the mango from the freezer and roughly chop. If the fruit is too hard, try warming it in the microwave for a few seconds so it's still frozen, but soft enough to chop.
Place the chopped fruit in a food processor or blender with the water, honey, lime juice, if using, and zest.
Blend until smooth. Taste and adjust sweetness to taste. It should taste slightly sweeter than you would like the final product to be.
Pour the mixture into 6, 1/2-cup paleta popsicle molds, or 6 paper or plastic cups. Make sure to tap the popsicle mold lightly on your countertop after you've filled it, to get rid of any air pockets.
Place a popsicle stick down the middle of the mixture about half way down and place in a freezer for 2 to 3 hours, or until firm.
Rinse popsicle molds under warm water for a few seconds to release, or cut away the paper or plastic cups using scissors.