Feeling Adventurous? Try Making Knafeh at Home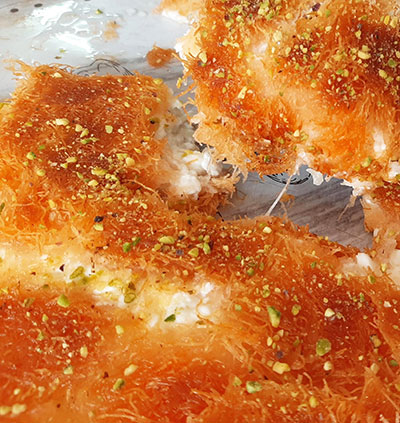 For many of the most adventurous Israeli cooks, knafeh remains a hallowed dessert almost exclusively enjoyed in a restaurant. After all, it's no easy feat to work with the seared, buttery, orange-tinted phyllo dough noodles, cooking them together with sweet cheese and finally dousing the whole pan with floral syrup. Knafeh is like sushi—even accomplished chefs prefer to let the masters make it.
Well, the global pandemic and its ensuing stay-at-home orders have turned that notion on its head.
At home, I make almost everything from scratch, but I have always avoided knafeh—a specialty of the Arab pastry kitchen—for fear of failure. But, it's the favorite dessert of my husband, Eli. He grew up a few miles from Nazareth, a Northern city with a sizable Arab population and where knafeh is a local delicacy.
Try as I might, I just couldn't wrap my head around knafeh. I've ventured into the kitchens of Arab bakeries before—I've seen chefs stationed in front of specially designed rotating stoves where gigantic deep-lipped trays of knafeh sit directly on the flame. The chefs then nervously invert these massive batches of knafeh onto another tray to reveal the golden base, beads of sweat running down their foreheads.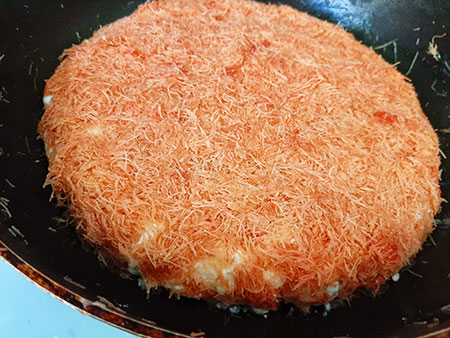 It all seems too difficult to replicate at home. But then came my breakthrough: Kadaif shredded phyllo dough, which is available in the freezer section of Arab markets and in many specialty and regular supermarkets in America. These shredded-dough noodles, also called kataifi, cook up fast and lend a nice crunch in dishes, both savory and sweet. With these noodles in hand, I decided to dig a little deeper into knafeh.
The West Bank city of Nablus likes to claim ownership of the sweet dish, but it's really more of a regional classic. Popular in nearby countries such as Lebanon and Turkey, where it also goes by the names kunefe and kanafa, variations include differences in cheeses (softer cheeses like ricotta, versus Armenian-style string cheese); spiced syrups; and even some that use a semolina cake mixture as the pastry base.
In Israel, the gold standard is the one made with Nabulsi cheese—a semi-hard brined white cheese that melts like mozzarella. This cheese is the reason that knafeh is served warm, so you pull apart a nice stringy bite rather than a congealed cheese layer.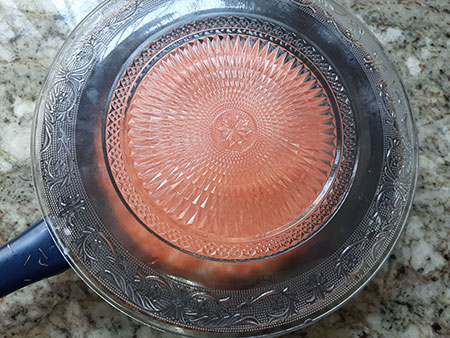 For my hacked knafeh, I didn't use Nabulsi cheese. Instead, I chose an untraditional yet convenient mix of slightly salty full-fat cottage cheese and shredded mozzarella. I swear, it's not as strange as it sounds, and this combo cooked up and reheated splendidly.
After trying out an oven-baked method, I settled on the stove top as the most authentic and tastiest path and delivers a crunch that the oven just can't.
That said, if your heart can't take all the flipping and transferring described in the recipe below, you can certainly follow the instructions for forming the knafeh, but do so in a 10-inch round cake pan, then bake in the oven at 425° for 35 minutes or so, covering it once the noodles brown. Then, you can remove your knafeh from the oven, top with syrup and eat it straight out of the pan—no flipping necessary.
The stove top version takes confidence, but there's also not much to it: All you do is press down a layer of buttered noodles into the pan, spread the cheese mixture over the top, and press down another layer of buttery noodles on top to seal.
Inverting the knafeh onto a plate, and sliding it back down into the pan to cook on the second side, is the most challenging part. But even if you're not a champion pancake flipper—I'm certainly not!—whatever you turn out is still going to look impressive and taste great.
Just remember to breathe and relax. You have warm knafeh on the way!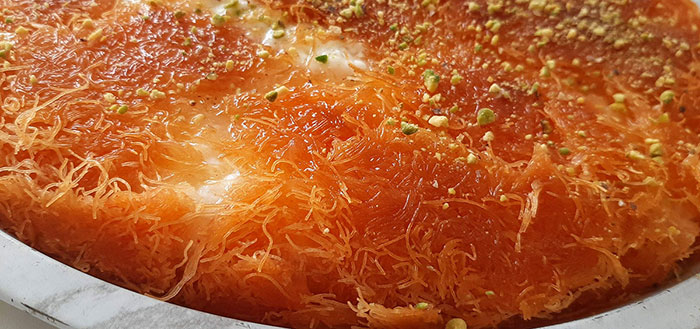 Israeli Knafeh
Serves 8
1/2 cup deshelled pistachios
1 cup sugar
1/2 cup water
Few drops lemon juice
1/4 teaspoon orange blossom or rose water* (start with a smaller amount, then add more to taste)
1 cup plus 2 tablespoons butter, softened (divided)
1 cup full-fat cottage cheese
1/2 cup plus 2 tablespoons shredded mozzarella
2 1/2 tablespoons sugar
11 ounces frozen kadaif noodles (kataifi)
2 drops yellow food coloring
2 drops red food coloring
Toast the pistachios by cooking over high heat in a 10-inch non-stick skillet on the stove stop. Shake the pan every few seconds, and cook until the nuts emit a rich aroma, about 2 to 3 minutes.
Pulse pistachios in a food processor and grind finely. Place ground nuts in a bowl, and set aside. Wipe out your skillet and food processor with a dry paper towel to be reused.
Make the sugar syrup: In a small pot, combine sugar, water and lemon juice, and bring to a boil (1 to 2 minutes). Turn down the heat and simmer gently until the sugar has dissolved, then continue to cook for an additional 2 to 3 minutes, until you see large bubbles and the syrup is thickened. Do not stir, to prevent the sugar from crystalizing. Take off the heat, add the orange blossom or rose water, and set aside to cool.
In the microwave, melt 1 cup butter in a large measuring cup or in a medium-sized microwave safe bowl. Do so in 2 to 3, 30 second pulses. Add the food colorings and whisk until the butter turns orange. Resist the urge to add more food coloring. It takes a minute for the color to appear in the butter.
Make the cheese filling: In a medium-sized bowl mix together cottage cheese, shredded mozzarella and sugar. Set aside.
Break up the kadaif noodles with your hands, and place in the wiped-down food processor. Pulse to roughly chop. This may need to be done in two batches. (You can also chop by hand if you prefer). Transfer noodles to a large bowl.
Add the orange butter to the kadaif noodles and mix with your hands to coat evenly. Rub the noodles between your palms to get rid of any clumps.
Grease the cooled, wiped-down frying pan by smearing it with 1 tablespoon softened butter. Press half of the buttered noodles into a firm layer, leaving a 1/2-inch border between the noodles and the edges of the pan.
Using an offset spatula, spread the cheese layer evenly on top, then press down the second half of the buttered noodles on top to create a kind of sandwich.
Turn the heat on the lowest setting possible, on a burner meant for smaller pots if possible, and cook until the bottom layer of noodles is golden and set, about 10 minutes. If at any point you smell a burnt aroma, stop and skip ahead to the next step.
Flip the knafeh: Take the pan off the heat and place an inverted 12-inch plate over the top. Using baking mitts, pick up the pan together with the plate, and flip it upside down.
Place the pan back on the stove and melt the second tablespoon of butter in the bottom of the pan, then carefully slide the knafeh back into it with the uncooked side facing down.
Cook an additional 5 to 7 minutes, until set on the bottom, then invert back onto the same 12 inch plate. Pour 1 to 2 ladles of the cooled syrup on top. Top immediately with ground pistachios. Cool 10 to 20 minutes and serve warm.