Tahini-Glazed Carrots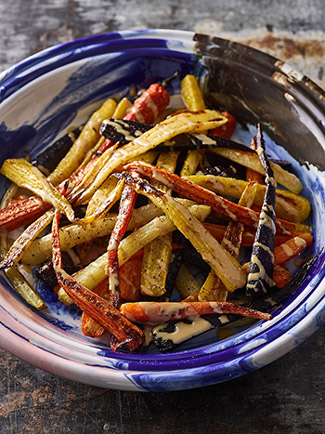 More than any other veggie dish in my repertoire, this is the one people request again and again. This recipe originally appeared in my mini-but-mighty Tahini
cookbook in 2016, but once I moved to Israel, I made a few changes, like eliminating butter and swapping in olive oil, that reflect the way I cook here. If you can find multicolored carrots, great, and if you can find thinner farmers' market–style ones, even better. If your carrots are on the larger side, cut them lengthwise so no piece is more than half an inch thick; this softens them up in preparation for their deliciously sweet, lemony tahini glaze. The recipe purposely makes a generous amount of dressing, because you'll want to put it on everything, from cold noodles to fish and any roasted veggie under the sun. I recommend doubling or even tripling this recipe; the carrots shrink, but people's appetite for them never does. If you do multiply, make sure to use more baking sheets so the carrots roast, not steam. The carrots are just as good, if not better, at room temperature, making them perfect sit-around buffet food.
Tahini-Glazed Carrots
Serves 4
CARROTS
14 to 16 (1 1/2 pounds total) thin carrots, peeled and trimmed
2 tablespoons extra-virgin olive oil
1/2 teaspoon kosher salt, plus more to taste
1/2 teaspoon ground cumin
TAHINI GLAZE (Makes 1 cup)
1/3 cup extra-virgin olive oil (look for the Sindyanna Israeli brand)
1/4 cup pure tahini paste*
1/4 cup freshly squeezed lemon juice
3 tablespoons silan**
2 tablespoons water, or more as needed
1/2 teaspoon fine sea salt
1/4 teaspoon cayenne pepper
Roast the carrots: Preheat the oven to 425°. Arrange the carrots on a large rimmed baking sheet and drizzle with the olive oil. Sprinkle with the salt and cumin, shake the pan to coat the carrots, and roast them, turning once midway through, until they have softened and their edges are golden, 25 to 27 minutes.
Make the tahini glaze: While the carrots are roasting, whisk the olive oil, tahini, lemon juice, silan, water, salt and cayenne in a medium-sized bowl until smooth and pourable, adding an additional tablespoon of water if necessary.
Remove the carrots from the oven, transfer them to a serving platter, and drizzle them with the tahini glaze. Using tongs, gently toss to coat.
*Adeena recommends Soom, Al Arz and Har Bracha brands of Tahini
**Adeena recommends Soom silan
TIPS
Baking Sheets: Adeena typically uses rimmed and non-rimmed baking sheets from Nordic Ware, Chicago Metallic and USA PAN.
Knives: In her kitchen, Adeena has, among other knives, ones from the Misen line, a Wüsthof 6-inch Santoku blade and a Lamson offset serrated wood-handled knife.