An Exceptional New Year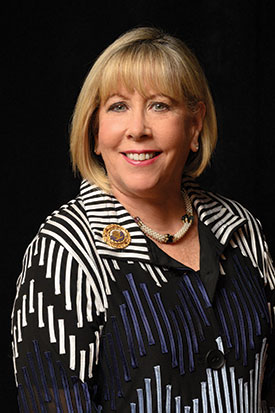 Renewal, reflection, family, hope—the High Holiday season is all of this. But this year is different.
Rosh Hashanah is supposed to be a clear boundary, allowing us to distinguish between the year that is ending and the one dawning. The calendar tells us that 5781 will begin the same way as other years, but our inner clocks still can't tell us when Emergency Time ends and Renewal Time begins.
For so many of us, the "new normal" has not meant simply isolation, but rather acceleration coupled with distance. Around the world, people have been stuck at home but also racing to keep up with educating and entertaining children, developing new skills, caring for one another and for themselves and—for those fortunate enough—working.
And while we have been coping, adapting and making strategic forays into the world, we have been surrounded by tragedy. Many among us have lost a family member or friend—some have lost more than one—to the coronavirus. We mourn for every life lost. Many more have suffered but recovered. And we all know people who have lost jobs or are suffering financially.
In New York, the Hadassah national office has been closed for an unprecedented six months; after a gradual reopening over the summer it is scheduled to be more fully operational around the time you read this. But even during the closure, we have been collectively part of defeating the virus and combatting the stress it causes. Not only have Hadassah's activities continued throughout, I am in awe of what we have accomplished during these most trying times.
In Jerusalem, the Hadassah Medical Organization has been at the forefront of Israel's effort to treat and contain Covid-19: becoming the leader in testing; conducting research on therapies; sharing expertise with physicians and hospitals around the world; having its protocols adopted by other institutions; developing telemedicine triage; maintaining hotlines for dealing with stress at home; and even sharing Hadasol, the in-house sanitizer, with other hospitals.
In America, we mobilized all the communication tools available to keep members connected and informed. You have attended Zoom webinars, many with our medical staff. Even with the national office closed, most essential functions—from member services to professional councils, from marketing to this magazine, from advocacy to fundraising—continued. Between January and May, our two-year effort on behalf of the Never Again Education Act, which funds Holocaust-awareness programs for middle school and high school students, came to fruition when it was passed by both houses of Congress and signed by the president.
Comparing what we couldn't do with what we have accomplished is dizzying. But the confluence of crises has also evoked memories and lessons from the arc of Jewish experience. At Rosh Hashanah, the shofar calling us to gather together reminds us of the new forms of assembly we have developed. At Yom Kippur, being inscribed in the Book of Life takes on new meaning, just as during Pesach our isolation echoed the order to stay at home in Egypt until the Angel of Death passed over. And at Sukkot the temporary booths recall not only 40 years in the desert but also our current passage through danger.
I am also reminded of yovel (jubilee), the one year in 50 when, in biblical times, debts were canceled, the land renewed and slaves freed. As much as anything else, this rare, terrifying and edifying period speaks to us about how to treat our planet (think of clear skies from dramatically reduced traffic), support the needy and fulfil America's promise to address the legacy of slavery and end racial injustice.
So as we enter a New Year drawn neatly on the calendar, our actual renewal is stretched over time as crisis overlaps with post-crisis. Perhaps this is normal—an example of what was meant by the Mishnah sage Rabbi Tarfon in Pirkei Avot: You are not obligated to complete the work, but neither are you free to desist from it.
Indeed, let us enrich and comfort the world through our efforts. A happy and healthy New Year to us all.