Michael Gardiner Serves Up 'Modern Kosher' in New Book
To San Diego-based food writer and restaurant reviewer Michael Aaron Gardiner, transforming demonstrably treif dishes into kosher versions is an ideal opportunity to hone one's creative culinary chops. Indeed, influenced enormously by the foodways surrounding him in Southern California, where he's lived for most of his life, Gardiner has fueled his gourmet-forward kosher cooking with the likes of creamy avocados and fiery Mexican chilis. Now, he is sharing his approach in the recently released cookbook, Modern Kosher: Global Flavors, New Traditions.
This recipe collection is a departure from other kosher books popular today that likewise celebrate global flavors, but in a more practical vein, focused as they are on crowd-pleasing dinnertime recipes. Gardiner instead consistently delivers interesting new flavors and culinary mashups in a "chefy" way that might intimidate the home cook at first glance. It's not every day that you'd think to make pickled garlic chives or "fenugreek salt" at home, as Gardiner so enthusiastically promotes in Modern Kosher.
Aside from flavors, it's essential to understand the two other factors that have long shaped Gardiner's relationship to cooking and food: The countless hours he's spent in professional kitchens observing local chefs and cheering on the local food scene; and having grown up surrounded by art in his mother's gallery.
Endless culinary possibility—like a blank canvas to one of his mother's artists—is what lights the fire inside Gardiner. And rather than enumerating the strictures and rules of kashrut, Gardiner lovingly describes the dishes in the book that embody breaking free from the codifications.
"One is holishkes—stuffed cabbage composed of Jerusalem mixed grill and jasmine rice," he told me recently. "To me, this is Israel on a plate. It draws from the flavors and forms of both the Ashkenazi and Sephardi traditions and yet with a flavor right out of modern Jerusalem. It's a fusion, yet a very organic one at that."
Then there is lamb kibbeh—a fried semolina dumpling stuffed with cumin-seasoned ground lamb meat that is made creamy with the traditional addition of yogurt. When Gardiner decided to rewrite a kosher-friendly recipe, he avowed that "limitations were only the spur to finding the possibilities." He thinks his yogurt replacement—which he settled on but is in no way "settling"—of avocado, fresh cucumber and dill elevates the kibbeh.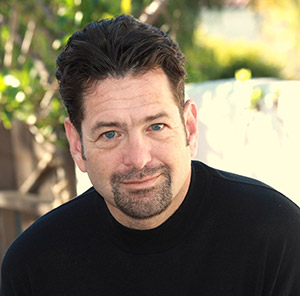 "Kosher cooks apply the laws of kashrut to the best available ingredients and flavors, whatever the style and wherever the place," he told me. "So, since I'm in San Diego, the best available ingredients are often and inevitably Mexican. How could I not use them?"
In Modern Kosher, Gardiner includes many dishes inspired by authentic Mexican cuisine: A hearty red chili-based soup called Duck Pozole Rojo, which usually stars slow-cooked pork; and a chili-lime spice called Tajin, which he sprinkles on an array of foods including his red and golden beet tzimmes.
Interestingly, Gardiner has his own take on how Jews and Mexican food mix. "Counterintuitive as it may seem, many Mexican dishes and ingredients have Jewish or Crypto-Jewish origins," he said. "Cabrito (roast suckling goat), machaca (dried beef) and even the buñuelos that are often the stars of Mexican bakeries. And there are a lot of dishes that are easily adaptable to the laws of kashrut."
To my dismay, the book doesn't feature desserts—Gardiner doesn't have a sweet tooth and prefers fresh fruit after a savory meal—but the chapters that are presented deliciously riff on traditional "Jewish" cuisine of Ashkenzi and Sephardi origins (often a combo of the two) as well as Israeli flavors.
So, what especially caught my attention? Sevilla-style Oxtail Soup; Latkes With Smoked Salmon, Pickled Blackberry and Wasabi Cream; Smoked White Fish Knish; tacos made from gribenes; and Coffee-Braised Lamb Shoulder in Pita Bread.
Although all of Gardiner's creations are artfully plated in the accompanying photos, he insists that elaborate presentation shouldn't intimidate anyone—and that he won't mind if your take on one of his recipes is "just slopped on the plate."
Don't feel like pickling your own herring, as it calls for in an Ashkenzi-Iraqi mashup dish of herring and amba sauce? Gardiner says you can forgo this step and simply buy the fish already prepared at a Jewish deli.
One last piece of advice from Gardiner: "Play with your food!" he advised, against the advice of most Jewish mothers, his own included.


Beet Tartare With Greek Yogurt, Capers, and Fenugreek Salt
Serves 4
At one level this dish is playing on the color and the "meatiness" of beets and using them in a dish inspired by the classic French beef tartare. This version of beet tartare is decidedly Mediterranean in tone—it's the type of thing you might see on the menu at a high-end Tel Aviv restaurant—featuring a bevy of complementary Mediterranean ingredients and flavors stepping forward. The capers of the original fit the theme, but Greek-style yogurt, fenugreek salt, and fresh rosemary flowers complete the picture. The sweet, nutty, and ever-so-slightly bitter flavor of the fenugreek married with the salt does some crucial heavy lifting. If you wanted to take it in a Mexican direction, use chopped olives instead of capers, swap out the Greek yogurt for Mexican crema, and dust the plate with oregano instead of the fenugreek salt. Would you rather go Scandinavian? Sour cream instead of yogurt together with ground dill (the capers work fine).
FOR THE BEET TARTARE
1 pound (about 4) medium beets, scrubbed
2 tablespoons extra-virgin olive oil (plus more to coat the beets)
1 medium shallot, minced
3 tablespoons capers in brine, rinsed
Salt and freshly ground black pepper
2 tablespoons balsamic vinegar reduction (homemade or store bought)
2 tablespoons lime zest
FOR THE FENUGREEK SALT
3 tablespoons dried fenugreek leaves (see Note)
1/2 teaspoon salt (plus more as needed)
FOR THE GARNISH
1 cup plain Greek-style yogurt
1/4 cup dried oregano
12 rosemary (or other herb) flowers (optional)
TO MAKE THE BEET TARTARE
Preheat the oven to 375°. Coat the beets lightly with oil, wrap them in aluminum foil, and place them on a baking sheet. Roast in the oven until they can be easily pierced through with a knife, 45 to 60 minutes. Remove the beets from the oven, unwrap them, allow to cool to room temperature, and then place them in the refrigerator to chill. When they are cold enough to handle, peel the beets with your hands. With a little effort, the skins should slip right off. Slice the beets into 1/8-inch segments and then into ⅛-inch dice. Add the olive oil, shallot, capers, salt and pepper to taste, the balsamic vinegar glaze, and lime zest and fold to combine thoroughly.
TO MAKE THE FENUGREEK SALT
Put the fenugreek leaves and salt in a spice grinder and grind to a powder. Taste the powder; add more salt and re-grind as necessary.
TO SERVE
Dust a plate with the fenugreek salt. Using a ring mold (or, failing that, a biscuit cutter, circle cookie cutter, or even a tuna can with both top and bottom removed), place the tartare on a plate in a neat cylinder and press with the base of a wine glass or wooden spoon to compact. Spoon a dollop of the yogurt on top. Carefully lift off the ring mold. Garnish the tartare with oregano and rosemary flowers and plate by sprinkling with the fenugreek salt using a shaker (or through a fine sieve). Repeat to make four plates.
NOTE
Dried fenugreek leaves are readily available at most Middle Eastern and Indian markets. They are not the same as the fenugreek seeds or the powder made from them, though both are delicious and have many uses in the kitchen.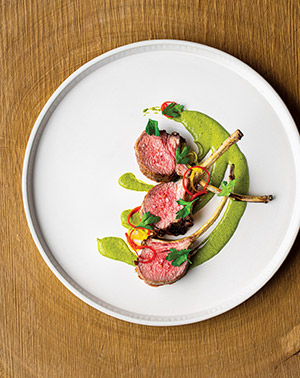 Pan-Roasted Lamb Chops With Italian Salsa Verde
Serves 4 to 6
The elegance of lamb, of course, invites fancy sauces. The problem is that the sauces often fight with or mask the very thing that attracts me most to lamb: the flavor of the meat. I prefer to go a different direction. Instead, I use the funky, earthy flavors of anchovy and capers, garlic, black pepper, and grassy parsley found in an Italian salsa verde—a sauce Joyce Goldstein observed in her terrific book on Italian Jewish cuisine, Cucina Ebraica, is of Jewish origin—to complement the meat's richness.
FOR THE LAMB CHOPS
1 rack of lamb (about 2 pounds), Frenched
Salt and freshly ground black pepper
2 tablespoons grapeseed, canola, or another neutral oil
FOR THE ITALIAN SALSA VERDE
1 1/2 cups packed roughly chopped fresh parsley
2/3 cup extra-virgin olive oil (plus more as needed)
1/4 cup capers in brine, drained
3 anchovy fillets, rinsed
1 tablespoon white wine vinegar
2 medium cloves garlic, minced (about 2 teaspoons)
1/2 teaspoon freshly grated lemon zest (from 1 lemon)
1 to 2 tablespoons fresh lemon juice
Salt and freshly ground black pepper
FOR THE GARNISH
Red Pepper Skin Curls
Finishing salt
TO SEASON THE LAMB
Season the lamb rack liberally with salt and pepper. Let rest for 30 minutes at room temperature. Preheat the oven to 350°.
TO MAKE THE SALSA VERDE
While the lamb is resting, combine the parsley, olive oil, capers, anchovies, vinegar, garlic, lemon zest, and 1 tablespoon of the lemon juice in the bowl of a high-speed blender or food processor. Start on low speed (or pulse until the parsley is well chopped), then gradually increase the speed. Scrape down the sides of the bowl several times, then increase the speed and blend until the ingredients achieve a smooth, silky consistency.
TO COOK THE LAMB
Heat a large, heavy ovenproof saute pan over high heat. When hot, add the grapeseed oil and sear the lamb until nicely browned, about 3 minutes per side (flip the racks using tongs). Place the rack in the oven and cook to an internal temperature of 145° (for medium-rare), about 10 minutes. Remove the rack of lamb from the oven and let stand.
TO FINISH THE DISH AND SERVE
While the lamb is resting, season the sauce with salt and pepper. Adjust the acidity by adding some extra lemon juice or oil as needed. Cut the rack into individual chops. Spoon 2 to 3 tablespoons of the sauce onto each plate. With a palette knife or the back of a spoon, swipe sauce across the plate in an arc. Plate 3 chops, with bones crossed, in the sauce, then sprinkle with red pepper curls and finishing salt.
RED PEPPER SKIN CURLS
Curls are a very easy way of adding both an attractive and flavorful garnish to any dish using just knife skills, a bell pepper, and water. If you want a bit more flavor, use distilled vinegar in place of the water. Try a different colored pepper for a more festive garnish—green, yellow, and orange bell peppers work fine, as do large chiles, such as poblanos or Anaheims. You can change the flavor profile totally by using the same technique with scallion greens. Just cut the scallion tops open and slice them lengthwise very thinly, then run the back of your knife along the inside of each of the slices.
1 large red bell pepper
Directions: Using a vegetable peeler or paring knife, cut long and thin slices of peel off the bell pepper. Reserve the flesh of the pepper for another purpose. Cut the slices of skin into long strings as narrow as you can make them and drop each into a bowl of cold water. Using your hand, fluff up the strings in the water. You will see them begin to curl up. Allow them to soak for 5 minutes. They will have a tendency to clump together—simply separate them and they are ready for use immediately (which they should be as they don't store well).