At YIVO Online, (Food) Class Is in Session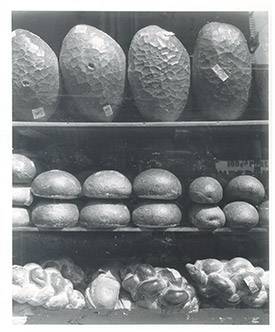 "Thomashevsky had the most beautiful pair of legs on the Yiddish stage," proclaimed Stefanie Halpern, director of the archives at YIVO Institute for Jewish Research, in the preview for the center's course on the history of Yiddish theater. Playfully titled, "Oh Mama, I'm in Love! The Story of the Yiddish Stage," the course is available free online with registration until the end of the year and is part of YIVO's four-course Shine Online Educational Series.
Halpern is talking, of course, about the 19th-century trailblazing performer Boris Thomashevsky, a Jewish immigrant from the Ukraine who reached the pinnacle of success on the Yiddish stage in New York City. Two other courses explore the evolution of folk tales, superstitions and music; and a 1,000-year survey of Jews in Eastern Europe.
But naturally, my interests run toward food, so it is YIVO's delectable course "A Seat at the Table: A Journey Into Jewish Food" that most whets my appetite. Wildly interesting, the seven-unit course, which took two years to plan and execute, according to YIVO educational director Ben Kaplan, delves into many unexplored avenues of the Jewish food experience while simultaneously digesting those we already know and love.
Lead by accomplished food scholar and James Beard Award-winning cookbook author Darra Goldstein, and co-produced by Liz Alpern and Jeffrey Moskowitz of The Gefilteria, they are joined by some 30 other Jewish food experts for round table discussions, videos and food demos. Among the luminaries are past and present Hadassah contributors Leah Koenig, Joan Nathan and Adeena Sussman. During her demo, Sussman, Hadassah Magazine's longtime food writer, walks participants through her interpretation of Yerushalmi kugel.
Lectures and behind-the-scenes tours take you into establishments like the Acme smoked fish plant and fusion restaurant Shalom Japan (both based in Brooklyn). Enticingly, the course also includes perspectives on the food of Jewish communities outside the United States, for instance the Ashkenazi Jewish communities of Mexico and Argentina.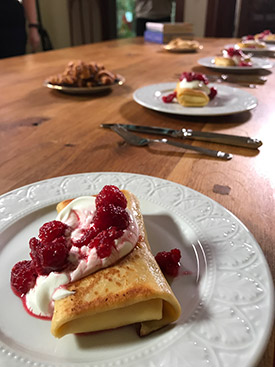 TED Talk-like monologues from experts such as author Andrew Coe, on why and how Jews came to love Chinese food so much, join discussions on why egg creams were a more suitable soda shop drink for Jews than a standard chocolate milkshake; why dairy restaurants in America are all but gone; the untold stories of the dining halls in Jewish Catskills' resorts; and, perhaps most controversially, are bagels really Jewish?
Contemporary Jewish business owners like Naftali Hanau of Grow & Behold explain their passion for a sustainable meat industry; and Jake Dell, fifth-generation owner of the famed Katz's Delicatessen in New York City, shows you how to build the perfect pastrami sandwich—as it's been done in his family since 1888.
Raw passion exudes from course organizer Liz Alpern as she describes her part in reviving classic Ashkenazi flavors in America.
"When Jeffrey and I launched The Gefilteria in 2012, we were motivated by the feeling that we were the only ones in our generation who seemed to care about the future of Ashkenazi cuisine," she told me. "As soon as we went public, however, we immediately started connecting with contemporaries who had been feeling the same way and launching businesses with similar missions, such as Mile End Deli, Shelsky's smoked fish, Peck's and Baz Bagels, among others. There were those who thought this Jewish Food Renaissance was a trend, but eight years later, most of us are still here and many more Jewish food businesses have since opened.
"It seems that the culinary world has opened up to the flavors and ingredients of Ashkenazi cooking," Alpern continued, "and it feels very fulfilling to be a part of reinvigorating this particular culinary tradition."