Mashed Potato-Stuffed Chicken à la Rachael Ray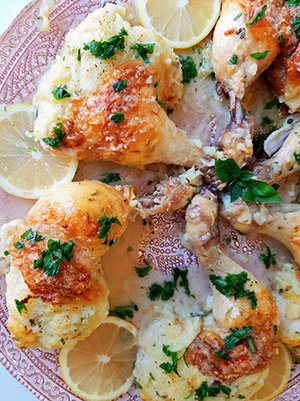 When I was in graduate school, I used to doodle in my notebook during certain classes, daydreaming about owning a catering company—or maybe a Jewish deli. I spent hours writing out lists of recipes I wanted to master and the equipment I'd need to make them work. It turned out my degree in teaching English, and the money put into it, would all but go to waste. Sorry, Mom and Dad! I had a different destiny in life, and that destiny revolved around food.
Back in those days, when I first became serious about cooking, there was one recipe that epitomized a "fancy" meal to me. It was Food Network star Rachael Ray's bone-in chicken breasts stuffed with lemony mashed potatoes and topped with fresh chopped parsley and drizzled with pan juices. It was what I came to rely on to pull off a successful dinner party, wowing my friends and leaving them hungry for the recipe on their way out the door.
Ray's dish has remained a fixture in my mental recipe-box collection, yet I don't recall making it in the last 10 years, at least. And not for any particular reason, I suppose it simply fell out of fashion with me as I explored more Israeli, Mediterranean flavors and perhaps less fussy preparations for my shabbat dinner table. (A table replete with tantrum-ing toddlers, bickering older children and, lying in wait underneath, snack-seeking cats.)
Plus, there was the issue of making the stuffed chicken breasts delicious and kosher; in the past, I'd used margarine, but today I eschew the stuff whenever possible. I've since learned that rich, full-bodied olive oil goes with everything, and so making my old standby was easily fixed.
Also, substituting chicken leg quarters for breast meat made for a more forgiving dinner entrée, since the dark meat of the leg quarters is almost impossible to overcook. This new version I've created is more tender and juicier than my original and gives the effect of eating a whole roasted chicken, but in personal-sized portions. Herbs, lemon, garlic, salt and pepper are as basic as the seasonings get, yet this dish still feels fancy schmancy. The kind of main to dig into when you're in the mood for a really good supper.
And those potatoes, that get stuffed just under the chicken's skin? They reap all the flavor benefits of the skin's drippings. If there is an underrated part of roast chicken, it would have to be the crisped, well-seasoned skin, that more times than not gets carefully peeled back and placed on the side of plates.
I know, I know, chicken skin is unhealthy! But, we're in a global pandemic, and our future has never been more uncertain: I'm telling you, go ahead and eat the skin, at least occasionally.
And hey, if you're like my great-grandmother, you can take it one step further and even suck the marrow right out of the bones when you're done. To each her own.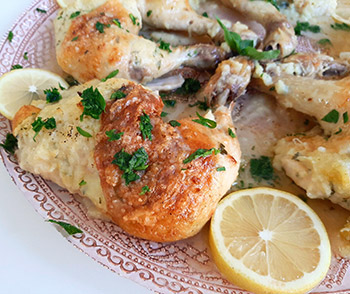 Chicken Leg Quarters Stuffed With Lemon, Garlic and Herb Mashed Potatoes
Serves 8
4 large potatoes
3 garlic cloves
1/2 cup potato cooking liquid
1/3 cup olive oil, plus more for drizzling over the chicken
5 leaves fresh basil
1/2 cup fresh parsley, divided
Zest and juice of 1/2 lemon
Salt and pepper to taste
8 chicken leg quarters
Make the mashed potatoes: Peel and quarter the potatoes and place in a large pot filled with cold water to cover the potatoes. Add a good pinch of coarse salt as well as the whole, unpeeled garlic cloves.
Bring up to a boil, then reduce to a simmer and cook for 30 to 40 minutes, until potatoes are completely tender.
Using a slotted spoon, remove the potatoes and place them in a medium-sized bowl. Remove the whole cloves of garlic and rinse under cold water until cool enough to handle. Squeeze the softened garlic out from their skins directly onto the potatoes. Mash the hot potatoes and garlic, then add about 1/2 cup of the cooking liquid and the olive oil. Mix to combine.
Using a Microplane or similar grater, grate the lemon zest directly into the potatoes. (Set the lemon aside to be juiced later.)
Finely chop the basil and parsley, adding all the basil and half the parsley to the potatoes. Season with salt and pepper to taste, then set aside to cool to room temperature.
Preheat oven to 400°. Using your finger, gently separate the chicken skin from the leg quarters, forming a pocket on both the thigh and the leg. Stuff this pocket with about 1/3 cup of mashed potatoes.
Place stuffed chicken in a roasting pan, drizzle lightly with olive oil, and sprinkle with salt and pepper. Roast for about 50 minutes, until the juices run clear and the skin is golden and crisp. Don't worry if the skin has shrunk back a little.
Transfer chicken legs to a serving dish. Strain out the pan juices into a small bowl and add the juice from 1/2 a fresh lemon. Add the remaining chopped parsley and an extra drizzle of olive oil. Whisk with a fork and pour over the plated chicken quarters. Serve hot.