Mastering Vegetarian and Vegan Thanksgiving Side Dishes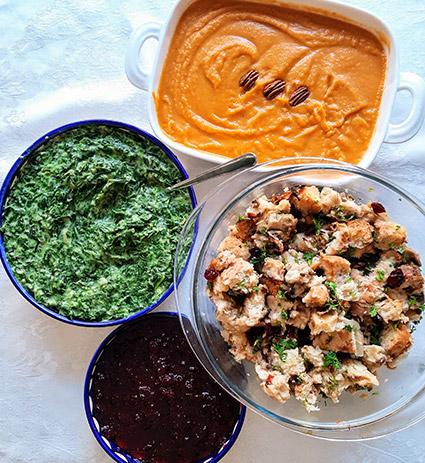 Kosher Americans experience a perennial Thanksgiving struggle: For a holiday that's all about turkey and, to many, scrumptious side dishes classically enriched with butter and cream, how can a kosher table be a delicious one, too?
Kosher food has evolved big time. Today, it's not hard to find recipes for kosher creamy chicken alfredo and beef bacon-wrapped dates, demonstrating that all a chef needs is creativity to recreate previously unknown flavors according to the laws of kashrut.
Now, back to Thanksgiving sides. Like many other Anglo-Israelis, I prepare a tableful of holiday sides every year, feeding them to my puzzled Israeli family members who call cranberry sauce "jam" and who still don't get the concept of stuffing.
Major challenges include finding dairy substitutes for creamed spinach; sweet butternut squash puree; and savory stuffing mixed. Instead of making these reimagined sides with any meat products, I decided to make them pareve—helpful if you have any vegetarians or vegans at your meal.
I approach my cranberry sauce, which is naturally pareve, as jam, using a 1:1 ration of sugar to the frozen fruit I procure in Israel. Cranberries are naturally high in pectin, which is why cranberry sauce jells up so nicely on its own. Adding the zest and juice of one whole orange and a splash of berry liqueur is all you need to give it some pizzazz. Best part, it takes all of 15 minutes to make.
Then it's onto the heftier sides. Butternut squash puree is nothing more than halved squashes roasted in the oven until tender, then pureed, sweetened and spiced to taste. But wow, what a heavenly side—perfect for an autumnal holiday.
Creamed spinach, which I never ate growing up, has become a favorite of mine as an adult. For this, I employ a quick vegan béchamel sauce and frozen spinach (frozen is the best way to get bang for your buck, volume-wise), white wine for deglazing and a pinch of nutmeg. I'm telling you, this could be a meal on its own.
And we can't forget the stuffing! My ultimate recipe starts with a good bread that's not too crusty. (I like a light challah or white sandwich bread.) Remember, you can never go wrong with the addition of all kinds of goodies sauteed together in the frying pan. This year, I went with mushrooms, cooked chestnuts, dried cranberries, onions and licorice-y fennel. Instead of water, I used vegetable stock. (If you don't mind making this side fleishig, you could of course use chicken stock.)
Happy Turkey and Side Dish Day!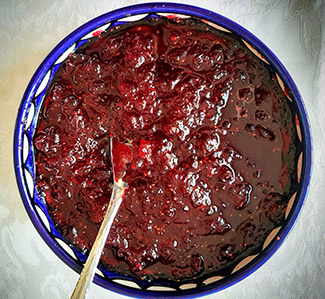 Orange-Berry Cranberry Sauce
Makes just over 1 1/2 cups
2 1/4 cups whole frozen cranberries
1 1/4 cup sugar
Zest and juice of 1 large orange
1 tablespoon Crème De Cassis, or other berry liqueur
Add all the ingredients to a small pot. Over medium-high heat, bring the mixture to a light boil, which should take about 3-5 minutes.
Turn down the heat to a simmer and cook until the berries begin to soften and burst, about 5 more minutes. Then, roughly mash with a potato masher and continue cooking for an additional 5 minutes, or until thickened but still pourable.
Pour into a serving dish or bowl. Let cool to room temperature, then store covered in the fridge until using.

Maple-Butternut Squash Puree
Serves 10 to 12
3 medium-sized butternut squashes (4 pounds in total)
1/4 cup coconut cream
1/4 cup olive oil
1/3 cup maple syrup
1/4 teaspoon nutmeg
1/4 teaspoon cinnamon
Pinch of salt
Preheat oven to 425°. Cut each butternut squash in half down the middle (cut up until the hard stem, then pull apart with your hands). Place flesh side down on a parchment paper-lined baking tray.
Roast as is, for 40 to 45 minutes, or until completely soft when pierced with a butter knife. Remove from the oven and let cool until they are cool enough to handle.
Scoop out the seeds with a spoon and discard. Scoop the remaining flesh out into the bowl of a food processor and blend until smooth. Add the remaining ingredients and adjust seasoning to taste.
Cream-less Creamed Spinach
Serves 10 to 12
2 shallots, finely chopped
2 cloves garlic, minced finely
1 cup vegetable stock
1 cup coconut cream
1/4 cup olive oil
1/4 cup flour
Salt and pepper to taste
Pinch of nutmeg
28 ounces frozen spinach, thawed and drained
Finely chop the shallots with a knife, then finely mince the garlic cloves using a Microplane. Measure out your stock and coconut cream, so it will be ready to use.
In a deep skillet (not non-stick), sautee the chopped shallots in the olive oil over medium-high heat. Add the flour and stir for about a minute while the mixture bubbles and darkens a bit.
Slowly pour in the vegetable stock and coconut cream, all the while whisking constantly.
Turn heat down to medium low and add the minced garlic, salt, pepper and nutmeg. Continue whisking until the mixture has thickened into a sauce consistency. If too thick, add slightly more stock.
Add the thawed spinach to the creamy sauce and stir to combine. Serve hot.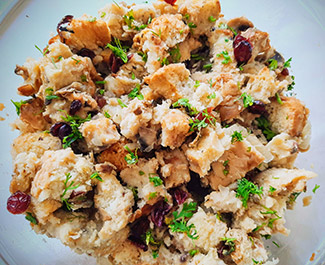 Chestnut, Mushroom and Fennel Stuffing
Serves 10 to 12
1, 26-ounce loaf of soft white bread
1/2 cup olive oil, divided
1 large onion, chopped
1/2 pound button mushrooms, sliced
1/2 cup cooked, deshelled chestnuts, roughly chopped (optional)
1 small fennel bulb, stalks removed, flesh finely sliced
1/4 cup dried cranberries
3 cloves garlic
1/4 cup white wine
2 to 3 sprigs fresh thyme
Salt and pepper to taste
2 cups vegetable stock, or more to taste
1 tablespoon fresh chopped parsley, for garnish
Preheat the oven to 350°. Cut the bread into 1-inch slices and then cut into bite sized cubes. Place on a parchment paper-lined baking tray, drizzle with 1/4 cup olive oil and sprinkle lightly with coarse salt.
Toast the bread cubes for about 12 minutes, until golden. Remove from the oven and set aside. Keep the oven on for baking your stuffing.
Add the remaining 1/4 cup oil to a large pan over medium heat. And all the vegetables and sautee together with the dried cranberries until the onions have turned translucent and the mushrooms have browned. Grate the garlic cloves directly over the mixture using a Microplane. Sautee an additional minute, then pour in the wine and let cook for another minute. Add the fresh thyme leaves and salt and pepper to taste. Take off the heat.
Pour the bread cubes into a large bowl and add the sauteed vegetable mixtures. Mix to combine, then add 1 1/2 cups vegetable stock, making sure to moisten all the bread cubes. Transfer the stuffing to a glass or ceramic dish, cover with foil and bake for 50 minutes.
Remove the stuffing from the oven and add an additional 1/2 cup stock (or more to taste) to moisten the top of the stuffing. Recover with the foil and place back in the oven for an additional 10 minutes. Garnish with finely chopped parsley just before serving.