'Flavor' Is Ottolenghi's Elevated Paean to Produce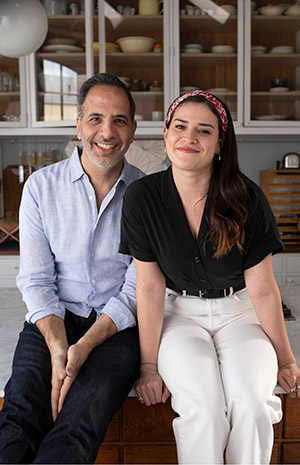 According to Yotam Ottolenghi, the much-celebrated Israeli-British chef based in London, an unforgettable vegetable dish has three elements that contribute to its success: The process that a vegetable endures (charring, searing, preserving); the pairing of elements (combos of sweet, salty, fatty, sour, spicy); and the ripeness of the produce itself. It's these elements coming together that, not surprisingly, also define key elements of modern Israeli cuisine.
Ottolenghi is a man who has mastered his craft, bringing Israeli flavors front-and-center in his efforts to promote "sexy," globally-influenced vegetarian cooking. We're talking vegetarian cooking way beyond the realm of granola and into a more futuristic, sleek place. The kind of cuisine that he explores in his recently released eighth recipe collection, Ottolenghi Flavor: A Cookbook
.
His previous titles as well as his many recipes published in The New York Times food section and The Guardian have followed his career from captain of a dominant London restaurant empire and into the realm of celebrity chefdom—even landing on television screens around the world. But, as is true with most things, such great feats are never accomplished solely by one person. (Indeed, Ottolenghi founded his restaurant chain with longtime collaborator and friend, Sami Tamimi.)
In Ottolenghi Flavor, he pairs up with co-author Ixta Belfrage, who started her culinary journey by selling tacos in London Market, before finding her way into Ottolenghi's test kitchen. Ottolenghi Flavor is generously filled with Belfrage's warm voice and joyful cooking style, enhanced by the touches that evoke her childhood spent largely in the countryside of Italy but also in in Brazil, Mexico and France—and more recently England and Australia. It's from her culinary experience that lime, chilies, oil infusions, pickles and family-style dishes—like Spicy Mushroom Lasagna—get added to the mix.
In his introduction, Ottolenghi asks himself "are there really more ways to fry an eggplant or cauliflower? New and interesting things that can still be discovered about basic vegetarian ingredients?" His answer is a definitive "yes." To this end, he argues that if there can be a million ways to prepare chicken, then the same must be true for the humble cauliflower.
Flavor is further special for divulging the some of the greatest discoveries of the Ottolenghi test kitchen, where vegetables and grains are played with; new flavors and techniques are applied; and flavor bombs and little pockets of umami are tirelessly sought out.
And while Ottolenghi's reputation is one of rock-star vegetarianism, he admits that in reality, he is more flexible (he uses the term flexitarianism). His mission, he says, is more about finding the hidden potential in fresh seasonal produce than pushing any kind of dietary dogma.
"What you can get out of a vegetable if you treat it well and look at it in the creative way, and spend time getting the right ingredients and cooking it properly, you really get a lot back," Ottolenghi shared on a recent episode of The Current radio show. "The transformation that a vegetable can go through is quite incredible."
And yes, dessert is included in Ottolenghi Flavor, as evidenced in boozy and fruity dishes like Crepes with Roasted Bananas and Barbados Cream (a combination of mascarpone and Greek yogurt), which includes rum and brown sugar; and Lemon Sorbet with Hibiscus Infusion and Nana, which features an attractive pink tint and is piped into hollowed-out lemons.
There's also a section on those flavor bombs that Ottolenghi holds so dear—sauces, oils, condiments, etc., from chamoy (a spicy and sour Mexican sauce made from pickled fruit) to nori and sesame salt.
While Ottolenghi and Belfrage present truly mouthwatering dishes in their cookbook, many of the recipes are written for accomplished, curious cooks with adventurous palates. Few recipes are "simple," as were the ones featured in his 2018 book of that title. Indeed, in Ottolenghi Flavor, recipes frequently come with a laundry list of ingredients, some of them obscure (which is somewhat of a signature for Ottolenghi). This book may be something you reach for if you're in the mood for a weekend cooking project, with a lovely meal as reward, or for a special salad for a shabbat meal, rather than a fast weeknight meal.
Some of the more manageable recipes I recommend are Rutabaga Gnocchi with Miso Butter, Potato Salad with Thai Basil Salsa, and Zaatar Cacio e Pepe. If you're up to a challenge, I would definitely try the Cheese Tamales with All (Or Some) of the Fixings, which has a series of photos to help you with the tamale-stuffing process; Saffron Tagliatelle; and Sticky Rice Balls in Tamarind Rasam Broth.
To start, why not try these terrifically flavorful options, which I promise are deliciously worth the effort you put in!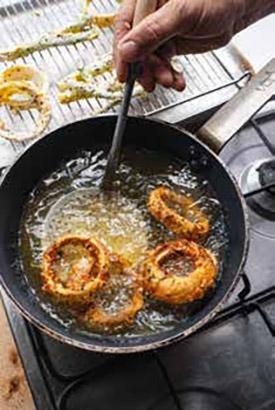 Fried Onion Rings With Buttermilk and Turmeric
Serves 4 as a snack
DIPPING SAUCE
1/4 garlic clove, peeled
1/4 ounce fresh turmeric, peeled and roughly chopped (optional)
1⁄8 teaspoon flaked sea salt
7 1/2 teaspoons mirin
1 tablespoon lime juice
1 red chile, finely chopped
FOR THE ONION RINGS
1 cup buttermilk
7 1/2 teaspoons white wine vinegar
1/2 teaspoons ground turmeric
2 1/2 cups plus 2 tablespoons all-purpose flour
7 1/2 teaspoons nigella seeds
4 1/2 teaspoons caraway seeds
1 lime: finely zest to get 2 teaspoons, then cut into wedges
1 teaspoon table salt
1 onion, cut into 3/4-inch-thick pinwheels, then separated into individual rings (1 cup)
10 green onions, trimmed
3 3/4 cups sunflower oil
Flaked sea salt
For the dipping sauce: Pound the garlic, chopped turmeric (if using) and flaked sea salt to a rough paste in a mortar and pestle. Transfer to a small serving bowl; stir in the mirin, lime juice and chile; and set aside.
In a medium bowl, stir together the buttermilk, vinegar and grated turmeric and set aside.
Mix together the flour, nigella seeds, caraway seeds, lime zest and table salt in a high-sided dish or wide container.
Set up two large racks on two baking sheets, lining one rack with plenty of paper towels.
Working in batches, coat the onion rings and green onions in the flour mixture, then in the buttermilk mixture. Lift them out, shaking off any excess, then coat once more in the flour and place, spaced apart, on the unlined rack.
Heat the sunflower oil in a large, high-sided sauté pan on medium-high heat. Once hot (355° if you have a thermometer), add the onion rings and green onions in three or four batches and fry for 2 to 3 minutes, turning them over halfway through, until crisp and golden. Use a slotted spoon to transfer to the lined rack. Sprinkle with plenty of flaked sea salt, then arrange on a platter and serve with the dipping sauce and the lime wedges alongside.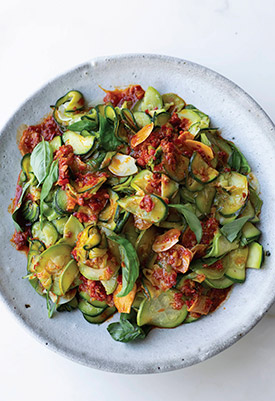 Super-Soft Zucchini with Harissa and Lemon
Serves 4, as a side or as part of a mezze spread
Zucchini, strictly speaking, aren't controversial, but they do tend to get a pretty lukewarm reaction from many, including, regrettably, two of our test-kitchen colleagues. The reason for this is probably zucchini's high water content, which tends to make them, well, watery. There are plenty of ways to combat this—frying and grilling are two examples—but we actually use it to our advantage here, cooking the zucchini slowly in their own juices, making them fantastically soft and enhancing their flavor by a long soak with fried garlic. (And in the process, we also managed to win over our two zucchini-iffy colleagues, we're happy to announce.)
The zucchini are very good hot, but are better after 15 minutes or so, or even at room temperature, once the flavors have had a chance to get to know each other. Make them a day in advance, if you want to get ahead; just hold off on adding the basil until you're ready to serve.
1⁄3 cup olive oil
6 garlic cloves, finely sliced
1 tablespoon rose harissa
1 red chile, finely chopped
1/2 preserved lemon, finely chopped, discarding any seeds (1 tablespoon)
4 1/2 teaspoons lemon juice
2 pounds plus 2 ounces zucchini, finely sliced
Table salt
1/2 cup basil leaves, roughly torn
Place a large, nonstick sauté pan on medium-high heat and add the olive oil and garlic. Fry gently for 4 minutes, stirring often, until soft, golden and aromatic. You don't want the garlic to become at all browned or crispy, so decrease the heat if necessary. Remove 3 tablespoons oil, along with half the garlic, and transfer to a small bowl. Add the harissa, chile, preserved lemon and lemon juice to the bowl; stir together and set aside.
Return the pan to high heat and add the zucchini and 1 1/4 teaspoon salt. Cook for about 18 minutes, stirring often, until the zucchini are very soft but still mostly holding their shape (you don't want the zucchini to brown, so decrease the heat if necessary). Stir in half the basil and transfer to a platter. Spoon the harissa mixture over the zucchini. Let sit for 15 minutes, then sprinkle with a pinch of salt and finish with the remaining basil before serving.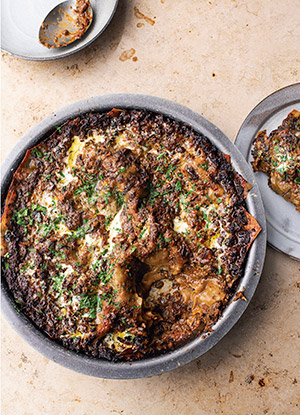 Spicy Mushroom Lasagna
Serves 6
This lasagna contains one of two epic ragù recipes in this book—the other is the ultimate roasting-pan ragù—that, we believe, give any meat ragù a terrifically good run for its money.
This particular ragù pays homage to penne all'Aconese, the first dish that Ixta fell madly in love with. It's served at Ristorante Pizzeria Acone, a community-run restaurant in the Tuscan village of Acone, perched at the top of the mountain on which she spent her formative childhood years. The recipe is a closely guarded secret, but the complex, earthy, and deeply umami flavor of dried porcini mushrooms is impossible to miss. This is our meatless take on that mythical sauce.
The ragù can easily be made vegan if you lose the cream. It can also be made ahead and refrigerated, ready to be served with pasta or polenta, saving yourself the trouble of constructing the lasagna if you're short on time.
Pull back on the black pepper and lose the chile for a child-friendly version. If you want to get ahead, the lasagna can be assembled, refrigerated and then baked the next day (once it has come back up to room temperature).
1 pound 10 ounces brown button mushrooms, halved
1 pound 2 ounces oyster mushrooms
9 tablespoons olive oil
Table salt
2 1/4 ounces dried porcini mushrooms
1 ounce dried wild mushrooms
2 dried red chiles, roughly chopped (seeded for less heat)
2 cups plus 2 tablespoons hot vegetable stock
1 onion, peeled and quartered
5 garlic cloves, roughly chopped
1 carrot, peeled and quartered (3 1/4 ounces)
2 to 3 plum tomatoes, quartered (7 ounces)
1⁄3 cup tomato paste
Black pepper
3 1⁄3 cups water
9 tablespoons heavy cream
2 1/4 ounces pecorino, finely grated
2 1/4 ounces Parmesan, finely grated
1/4 cup basil leaves, finely chopped
1/2 cup parsley leaves, finely chopped, plus 1 teaspoon
9 ounces dried lasagna sheets (about 14 sheets)
Preheat the oven to 450°. Line a large, rimmed baking sheet with parchment paper.
Put the button mushrooms and oyster mushrooms into the bowl of a food processor, in three or four batches, and pulse each batch until finely chopped (or finely chop everything by hand). Toss the chopped mushrooms in a large bowl with 3 tablespoons of the olive oil and 1 teaspoon salt and spread out on the prepared baking sheet. Roast for 30 minutes near the top of the oven, stirring three times throughout, until the mushrooms are golden brown; they will have reduced in volume significantly. Set aside. Decrease the oven temperature to 425°.
Meanwhile, combine all the dried mushrooms, the chiles, and hot stock in a large bowl and set aside to soak for 30 minutes. Strain the liquid into another bowl, squeezing as much liquid from the mushrooms as possible to get just under 1 1/2 cups—if you have any less, top up with water. Very roughly chop the rehydrated mushrooms (you want some chunks) and finely chop the chiles. Set the stock and mushrooms aside separately.
Put the onion, garlic and carrot into the food processor and pulse until finely chopped (or finely chop everything by hand). Heat 1/4 cup olive oil in a large sauté pan or pot on medium-high heat. Once hot, add the onion mixture and fry for 8 minutes, stirring occasionally, until soft and golden. Pulse the tomatoes in the food processor until finely chopped (or finely chop by hand), then add to the pan along with the tomato paste, 1 1/2 teaspoons salt and 1 3/4 teaspoons pepper. Cook for 7 minutes, stirring occasionally. Add the rehydrated mushrooms and chiles and the roasted mushrooms and cook for 9 minutes. Resist the urge to stir; you want the mushrooms to be slightly crisp and browned on the bottom. Stir in the water and reserved stock and, once simmering, decrease the heat to medium and cook for about 25 minutes, stirring occasionally, until you get the consistency of a ragù. Stir in 7 tablespoons of the cream and simmer for another 2 minutes, then remove from the heat.
Combine both cheeses, the basil, and 1/2 cup parsley in a small bowl. Spread one-fifth of the sauce in the bottom of a round 12-inch baking dish (or a 9 x 13-inch rectangular dish), then top with a fifth of the cheese mixture, followed by a layer of lasagna sheets, broken to fit where necessary. Repeat these layers three more times in that order, and finish with a final layer of sauce and cheese; that's five layers of sauce, five layers of cheese and four layers of pasta.
Drizzle with 1 tablespoon cream and 1 tablespoon olive oil, then cover with aluminum foil and bake for 15 minutes. Remove the foil, increase the temperature to 450° and bake for another 12 minutes, rotating the dish halfway through. Turn the oven to the broil setting and broil for a final 2 minutes, until the edges are brown and crisp. Set aside to cool for 5 minutes or so, then drizzle with the remaining 1 tablespoon cream and 1 tablespoon olive oil. Sprinkle with the 1 teaspoon parsley and finish with a good grind of pepper. Serve at once.
Reprinted from Ottolenghi's Flavor. Copyright © 2020 by Yotam Ottolenghi and Ixta Belfrage. Published by Ten Speed Press, an imprint of Penguin Random House LLC.