Amy Zitelman Wants to Elevate Tahini Beyond Cult Status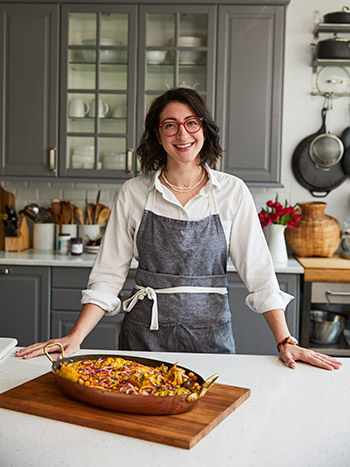 Tahini producer Amy Zitelman wants to change the way we view that most quintessential, and creamy, Middle Eastern condiment. Operating under the philosophy that tahini is for more than just hummus—what a quick survey of customers in American grocery stores taught her was the common perception—Zitelman instead encourages us, in her new cookbook, The Tahini Table: Go Beyond Hummus with 100 Recipes for Every Meal
, to put the ground sesame product in the most unlikely of recipes. Use it as frequently and as versatilely as you would mayonnaise or soy sauce. Indeed, Zitelman believes that tahini is a "natural replacement for mayo" that offers the bonus of rich flavor, protein and iron.
Her devotion to tahini is not only because she's a co-founder of Soom, the artisanal family-run, American-based tahini company lauded by home cooks and chefs such as Michael Solomonov, proprietor of Zahav Restaurant and Dizengoff hummusia in Philadelphia. Instead, Zitelman insists that you should use whatever high-quality tahini you like best in her recipes, adding, "My hope is that The Tahini Table will increase sales for all companies contributing to the growing appreciation of tahini. A rising tide lifts all boats."
Though some might consider tahini an acquired taste, that hasn't limited its rise over the last several years into official trending status, whether used in baked goods like cakes and brownies or drizzled on the haute Israeli dishes of Yotam Ottolenghi. Indeed, in 2016, tahini was named "cult condiment" by The Kitchn. Stateside, Soom has played a central role in creating buzz and spreading knowledge about tahini. At Soom, only high-quality Humera sesame seeds from Ethiopia are used, as is also true for other artisanal tahini companies such as Seed and Mill, who grind their sesame seeds onsite and sell tahini ice cream and Israeli-style halva candy in New York's Chelsea Market.
No, this book is not for the tahini hesitant. Here, the condiment replaces most fat and protein sources in its sweet and savory recipes, whether the recipe seems to invite the substition or not. Am I on board for a Chocolate Halva Latte or Roasted Garlic Tahini Sauce? Most definitely! But am I all in for Tahini Barbeque Sauce or Tahini Stir-Fry Sauce? That might take a bit more convincing.
Still, if you are open to some unconventional culinary ideas, The Tahini Table makes for some interesting taste experiments with both Israeli and other global flavor profiles. Some unusual preparations to try include Tahini (compound) Butter, Tahini Mole Sauce and Tahini Pesto. Others that seem like no-brainers, at least to me, are Sesame Salted Caramel Sauce, Zahav Hummus and Tahini Doughnuts with Tahini Glaze. There's also an Asian-inspired Sesame Slaw with Napa Cabbage and Avocado, Tahini Fig Toast (the Israeli answer to PB & J, but all grown up) and Salt-Baked Beets with Tahini and Mint, all of which sound especially delicious to me.
Citing how "tahini and citrus are flavor mates," Zitelman makes a strong case for the condiment, and I think I agree with her. Israelis do put lemony tahini on everything (though probably never in stir-fry sauce), not only because they like the taste, but because it's literally the quickest and most nutritious thing you can whip up at a moment's notice to top a salad, sandwich or tray of roasted veggies. At the same time, Zitelman resists focusing exclusively on Israeli flavors, freeing the ingredient from a strict Middle Eastern narrative. With the much larger goal of incorporating tahini into a range of dishes of different origin, Zitelman talent shines in recipes for Cold Spicy Soba Noodles, Vegan Mac N' Cheese, and Kale and Cannellini Salad.
Here, I'm sharing picnic lunch sandwich courtesy of Zitelman and The Tahini Table as well as a carrot cake. The cakes comes from her sister's mother-in-law and is at least partly responsible for Zitelman's formidable appreciation today of all things tahini.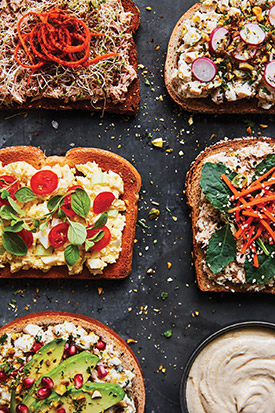 Tahini-Dressed Tuna, Chicken, Egg, or Whatever Salad
Serves 2
Tahini is a natural replacement for mayonnaise. So whatever your reason—health, change of pace, or you just don't dig mayo—this recipe is for you. Whipping up a quick tahini sauce ups the nutrition of your everyday tuna, chicken, or egg salad—a small change with a great effect.
1 small garlic clove, minced with coarse sea salt
1 tablespoon freshly squeezed lemon juice
1/4 cup Tahini Mayo (below)
1/2 teaspoon brown mustard
1/2 teaspoon ground cumin
1 (5-ounce) can tuna, drained and flaked apart, or 1 cup chopped cooked chicken, or 4 hard-boiled eggs, chopped
1/2 cup finely chopped celery
1 scallion, finely chopped (green and white parts)
Mix the garlic and lemon juice in a medium bowl and let it sit for 10 minutes or so.
Stir in the tahini mayo, mustard, and cumin. Add the tuna (or chicken or eggs), celery, and scallion and mix until just combined. Serve.

Tahini Mayo
Makes 1 1/4 cups
I love mayo. Probably because it's tangy and creamy, but also because it has so many purposes. I like mixing it with ketchup for burgers or mustard for eggs (think deviled). One of the great things about tahini is that it serves the same purpose as mayo (tangy and creamy), with a helluva lot more nutrition.
1/2 cup premium tahini paste
1/4 cup freshly squeezed lemon juice
1/4 cup ice-cold water
1/4 cup extra-virgin olive oil
1/2 teaspoon fine sea salt
1/4 teaspoon freshly ground black pepper
Whisk the tahini, lemon juice, water, olive oil, salt, and pepper in a medium bowl until well combined.
Store in a closed container in the refrigerator for up to 1 week.
Rachella's Tahini Carrot Cake
Serves 8
This recipe from Omri's mom, Rachella, is the one that woke me and my sisters to the power of tahini. The cake is super moist and rich. The tahini gives it a nutty aftertaste, and because the tahini reduces the amount of oil in the recipe, this cake never gets greasy the way many carrot cakes do.
FOR THE BATTER
Cooking spray, for greasing
4 large eggs
1 1/2 cups lightly packed light brown sugar
3/4 cup mild vegetable oil, such as grapeseed
3/4 cup premium tahini paste
1 1/4 cups whole-wheat pastry flour
1 tablespoon ground cinnamon
1 teaspoon ground allspice
1 teaspoon baking soda
1/2 teaspoon baking powder
1/2 teaspoon fine sea salt
7 medium carrots, peeled and shredded (about 2 1/2 cups)
1 1/2 cups chopped walnuts (optional)
FOR THE FROSTING
1/2 cup (1 stick) unsalted butter, at room temperature, cut into small pieces
1 (8-ounce) package cream cheese, at room temperature
1/2 cup premium tahini paste
2 cups confectioners' sugar
1/2 cup black and white sesame seeds
Turn the oven to 350°F. Grease two (8-inch) round cake pans with cooking spray.
To make the batter: In a large bowl or in a stand mixer, beat the eggs and brown sugar until completely combined and thick. Beat in the oil, a bit at a time, then beat in the tahini.
Mix the flour, cinnamon, allspice, baking soda, baking powder, and salt in a separate bowl until combined. Add a third of the flour mixture to the tahini mixture, stirring to combine. Add half of the carrots and mix well. Add half of the remaining flour mixture, then the remaining carrots, and then the remaining flour mixture, stirring between each addition to combine. Stir in the walnuts (if using).
Divide the batter evenly between the prepared cake pans and bake on the middle rack of the oven until a skewer inserted in the center comes out clean, about 35 minutes. Cool in the pans for 15 minutes. Remove the cakes from the pans, then transfer them to wire racks to cool completely.
To make the frosting: While the cakes are baking, beat the butter, cream cheese, and tahini in a stand mixer (or large bowl) until smooth. Add the confectioners' sugar and mix until just smooth. If the frosting is too soft to spread, chill in the refrigerator for about 10 minutes.
Set one cake layer on a serving plate. Top with a third of the frosting and 2 tablespoons of the mixed sesame seeds. Add the next layer and frost the sides and top with the remaining frosting. Top with the remaining sesame seeds (it's fine if some fall down the sides). If the cake seems at all wobbly, refrigerate until the icing firms and the cake feels sturdy. Cut into wedges and serve.
Recipes reprinted with permission from 'The Tahini Table: Go Beyond Hummus with 100 Recipes for Every Meal
' by Amy Zitelman (Agate Publishing, November 2020)