New Year, New Baking Project to Tackle: Bagels!
I have a confession. I've been to New York City only once in my entire life. I was 14 at the time, on a Hebrew school trip where we mostly toured synagogues, although I remember also exploring Chinatown and seeing the original Matrix film in the theater. Unfortunately, the New York of my Jewish culinary dreams—pastrami on rye at Katz's deli, babka at Zabar's and a stop at Yonah Schimmel's Knish bakery—were not on the itinerary. Perhaps most tragic of all, that trip ended before I had the opportunity to try a real New York bagel.
I did, however, grow up eating bagels and lox like any good Jewish girl, but they were New England bagels. (Or, at least, bagels that were baked in New England but likely bore a strong resemblance to ones made in New York).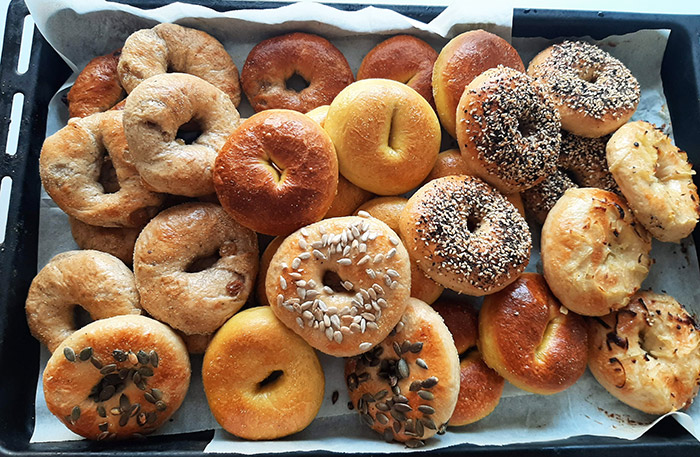 Now that you know all that, I'd like to share a recipe for the absolute best bagels I've ever made. Bagels that impress everyone I've ever given them to, that have done me proud for more than a decade, and that are the result of a seemingly endless tweaking process.
Boiled then baked, there are some intricacies involved in pulling amazing bagels out of your oven. I'm talking about bagels that have that shiny, slightly crackled crust, with just the right amount of bite to them, that are the perfect shape for sandwiches. But have no fear! All my tips for achieving this result are worked into the recipe's instructions, and the process will feel much more natural on the second or third time go-around.
---
Click here to see a video of Jessica shaping dough into bagels.
---
And while I have been known to make my own cream cheeses from scratch, I'm also a big fan of adding mix-ins to store-bought spreads. Here, I'm providing recipes for two savory versions and one sweet, to accommodate most cravings. After all, everyone has their own special bagel order that says something about their taste and personality. (Chive cream cheese on a cinnamon-raisin bagel? Yup, it's a thing.) I'm particularly fond of lox cream cheese, which concentrates smoked salmon flavor into a spreadable delicacy that, incidentally, is a good way to make a little lox go a long way.
What was once a Hanukkah treat in my house, alongside classic deli salads, has become a daily indulgence. Open my freezer, and you'll always find a bag or two of bagels ready be defrosted individually or by the dozen. Master this recipe, and the same can be true in your house, too.
Happy New Year, and happy bagel baking!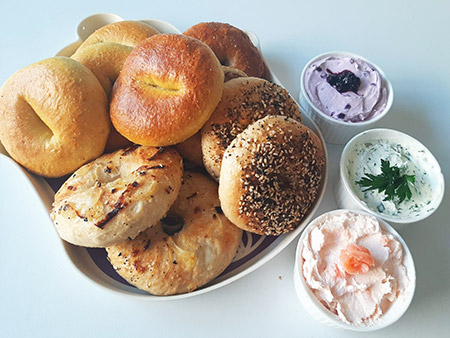 Bagels
Makes 10 to 12 bagels. This recipe doubles and triples well.

DOUGH
5 cups all-purpose flour
Scant tablespoon instant or active-dry yeast
1 tablespoon sugar
2 teaspoons salt
1 tablespoon vegetable oil
1 tablespoon honey
1 3/4 cups water
1 1/2 tablespoons coarse cornmeal for sprinkling
Egg wash: 1 large egg plus 1 tablespoon water
WATER BATH
6 quarts water
2 tablespoons honey
1 teaspoon salt
Make the dough: Mix the first 4 ingredients together in a large bowl, mixing after each addition.
Add the oil and honey and mix to combine, then add most of the water and mix until a shaggy dough forms. Add the rest of the water little by little as needed, and mix until a very soft (yet not sticky) dough forms.
Transfer dough to a lightly floured work surface and knead until smooth and elastic, 5 to 10 minutes. Place the dough back in the bowl, cover with plastic wrap and let rise for at least 3 hours or more, until the dough reaches the top of the bowl.
Shape the bagels: Divide risen dough into 10 to 12 equal parts. Distribute any leftover dough evenly among the portioned-out dough. Roll each section into balls and turn over to pinch closed the bottom seam.
Working with one ball of dough at a time, dip your finger in flour and poke a hole all the way through the center. Insert the pointer and middler fingers of both hands into the hole and roll the dough around like a wheel, to create a bagel shape. Place on a parchment paper-lined baking tray. (You may need a few trays for all the bagels.) Continue this step until all the balls have been shaped into bagels.
Let bagels rise for 20 to 30 minutes, until slightly puffed in appearance. Place the trays with the bagels in the refrigerator, uncovered, for 2 to 3 hours. This step will prevent the bagels from losing their shape when transferred to the water bath, and will create an extra bite to the crust.
Make the water bath: Meanwhile, bring water, honey and salt to a boil in a large pot, and prepare the following: A dish towel-covered oven or cooling rack; two parchment paper-lined baking trays sprinkled with the coarse cornmeal; egg wash; and any toppings you plan to use.
Boil the bagels: Place 4 bagels at a time in the hot water bath and simmer for 50 seconds to one minute on each side. Using a spatula or spider skimmer utensil, transfer the bagels to the dish towel-covered rack to cool while you boil another batch.
Once bagels are cool to the touch and completely dry on the underside, transfer them to the cornmeal-sprinkled trays. The bagels will not expand much more in the oven, so they can be placed fairly close together.
Top and bake the bagels: Brush the bagels with egg wash and wait a few minutes for the egg wash to dry, then brush again and sprinkle with desired toppings (see below for suggestions). This will make for a deep golden finish without an extended baking time.
Bake at 425° for 20 minutes, until deeply golden brown.
FLAVOR VARIATIONS
For egg bagels, add to the dough 3 large egg yolks, 1/2 teaspoon turmeric and an additional 1/2 cup flour
For cinnamon-raisin bagels, add to the dough 1 1/2 teaspoons ground cinnamon and 1/4 cup golden raisins
For onion bagels, finely slice 1/2 a white onion and sauté in 1 tablespoon olive oil until translucent, then place sautéd onions on top of bagels after brushing with egg wash (makes enough to top four bagels).
For Israeli Everything Bagel Spice bagels, create a topping with 3 tablespoons sesame seeds, 1 tablespoon poppy seeds, 1 teaspoon nigella seeds, 1/4 teaspoon powdered garlic, 1/4 teaspoon dried za'atar, 1/4 teaspoon sumac and 1 teaspoon coarse salt
Other topping possibilities include sesame seeds, poppy seeds, sunflower seeds and  pumpkin seeds
CREAM CHEESE
For blueberry cream cheese, mix 2 tablespoons blueberry jam into 1/2 cup store-bought cream cheese
For garden-herb cream cheese, mix 1 heaping tablespoon of fresh, finely chopped herbs (combination of dill, basil, parsley and/or mint) and salt and pepper to taste into 1/2 cup cream cheese
For smoked-salmon cream cheese, mix 2 tablespoons finely chopped lox into 1/2 cup cream cheese.