Date Strudel Cookies for a Sweet Tu B'Shevat Treat
Living a stone's throw from the glorious northern Jordan Valley means that I am never far from the kind of sprawling date orchards that I once dreamt I would find if I worked on a kibbutz. Never mind that I did in fact work on a kibbutz for a hot minute, ironically not far from where I now live in Afula, but I spent my days folding laundry and kibitzing with women, not frolicking through date fields.
Meanwhile, in Israel's south, dates act as a kind of social currency. The concept having not changed much since the times of Abraham, to desert dwellers all over the Middle East, dates are a symbol of hospitality. And while there are as many as nine varieties grown in Israel, each with unique qualities, there's nothing like the prized Medjool date, of which Israel provides much of the world's supply. These are the extra-large and soft, fudgy dates that are my sticky and sweet go-to for baked goods, especially around Tu B'Shevat, when we consume dried fruits to celebrate the new year of the trees and which begins this year on January 27.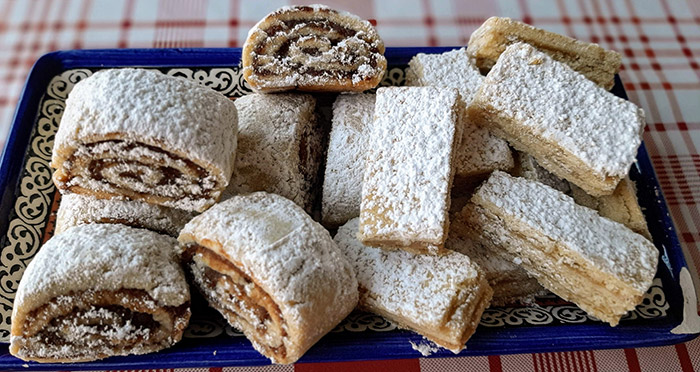 Here in Israel, date spread, made from pulverizing and straining these soft dates, is a staple in the baking aisle of most grocery stores. Israeli bakers use it as a filling and flavoring for cakes, cookies and many other treats. Personally, I'm fond of using it as a filling for babka and this Date Strudel Cookie recipe. Since date spread might not be as readily available overseas, I'm also sharing a recipe for it so that you can make your own from scratch.
Like many Israeli cookies, this one starts with a buttery shortbread dough. Then, by adding chopped walnuts—which help to offset the dates' natural sweetness—the cookies gain a nice crunch. So beloved it this type of cookie that you're bound to find homemade versions in many Israeli households. Indeed, Date Strudel Cookies make for an especially appealing care package.
Today, we appreciate dates for their natural sweetness and the long list of healthy vitamins and minerals they possess. But let's not forget that dates are so integral to this region that they account for one of the seven biblical species that have always thrived in the Land of Israel.
Make this winter a little sweeter and brighter with these delicious cookies.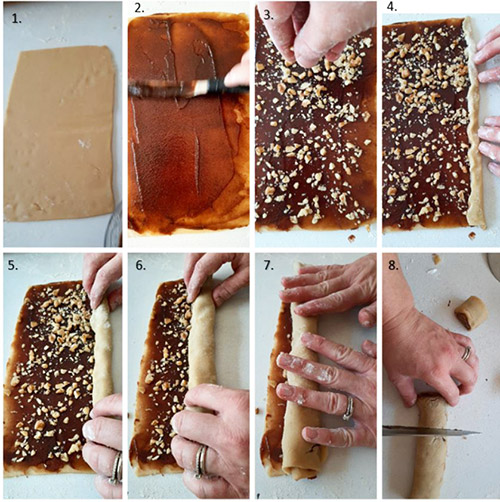 Date Strudel Cookies
Makes approximately 38 cookies
2 3/4 cups flour
Pinch of salt
1 cup butter
1/2 cup sugar
1 large egg
1 tablespoon vanilla extract
1 cup date spread (store bought or homemade)
1 cup shelled walnuts, chopped
1/2 cup confectioners' sugar, for dusting
Make the cookie dough: Place the flour and salt in a medium bowl and whisk to combine. Set aside.
In a bowl of a stand mixer or using electric beaters, cream together the butter and sugar. Scrape down the sides of the bowl with a silicon spatula as needed.
Add the egg and vanilla and mix until it resembles scrambled eggs, about 30 seconds.
Add the flour mixture all at once to the wet ingredients and mix on low until a dough forms and starts to pull away from the sides of the bowl. Gather up the dough and transfer to a lightly floured work surface.
Preheat oven to 350°.
Divide and roll out the dough: Divide the dough into four parts. Working with one section of dough at a time, roll out into an 8 x 11.5-inch rectangle, 1/16th of an inch in thickness. Trim the edges to make a perfect rectangle, then spread with a thin layer of date spread, about 1/4 cup. Sprinkle 1/4 cup of the chopped walnuts over the date spread.
With the wide length of the rectangle facing you, fold up a small 1/2-inch seam and secure it down. Next, start rolling the rectangle into a jelly roll shape and then cut into 1-inch slices.
Continue with the remaining three sections of dough.
Bake the cookies: Place the cookies crease-side down on a parchment paper-lined baking tray, spaced about one inch apart. Bake for 10 to 12 minutes, until the edges and underside are golden.
Let the cookies cool completely on the tray, then push them together and dust with a light layer of confectioners' sugar. Store in an airtight container in single layers separated by parchment paper.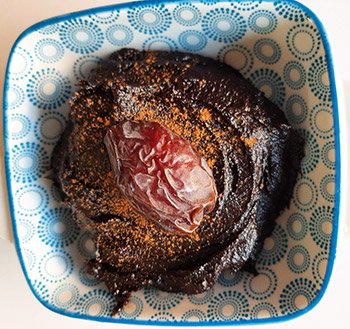 Date Spread
This recipe makes more date spread than needed to make the Date Strudel Cookies, but can be kept in the refrigerator for up to three months.
2 pounds Medjool dates, about 25 dates
2 black tea bags
1/4 teaspoon ground nutmeg
1/2 teaspoon cinnamon
1 teaspoon vanilla extract
Pinch of ground clove
Pinch of salt
1/8 teaspoon lemon zest
Remove pits and stems (if any) from the dates and place in a medium-sized bowl. Cover with hot water and nestle the two tea bags into the water. Let steep for 15 minutes.
After 15 minutes, drain the water, discard the tea bags and transfer the soaked dates to a food processor. Blend the dates into a thick paste.
Using a silicon spatula, push the blended dates through a fine-mesh sieve or strainer over a large bowl.
Discard the skins left in the sieve. Fold the spices, salt and lemon zest into the date purée. Set aside to cool if necessary.