Granola Bars as the Ultimate Tu B'Shevat DIY Snack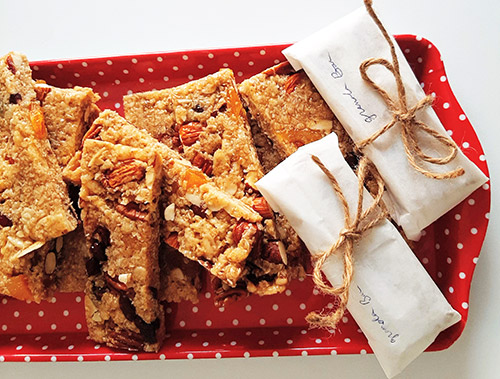 Being a baker by trade means that dessert staples like cookies and brownies are almost always homemade in my house. That DIY inclination has even inspired me to learn to make my own Greek yogurt and pasta as well as countless varieties and flavors of breads. Taken to its extreme, you really can learn to make most foods at home. Including, as we look ahead to Tu B' Shevat beginning the evening of January 27, granola bars loaded with oats, nuts and dried fruits.
That isn't to say that it's easy to get granola bars just right, in terms of a chewy/chunky/toothsome texture. Many recipes instruct the baker to press a no-bake mixture down into a pan as firmly as possible, so that the bars won't later fall apart. But the best way that I have found to ensure that your bars don't fall apart is to maximize the utility of the "glue" you are using.
I've come to learn, after countless batches of granola bars, that there is no getting around the fact that the liquid mixture you will be using as binder for your oats, nuts and dried fruits must reach the soft-ball stage of candy-making (235-245°) in order to sufficiently bind and cement the mixture together. But don't get scared off! Achieving the soft-ball stage only boils down to (pun intended) a 5-minute stove-top detour in the process of making your granola bars. And an inexpensive, readily procurable candy thermometer (Amazon sells many versions.)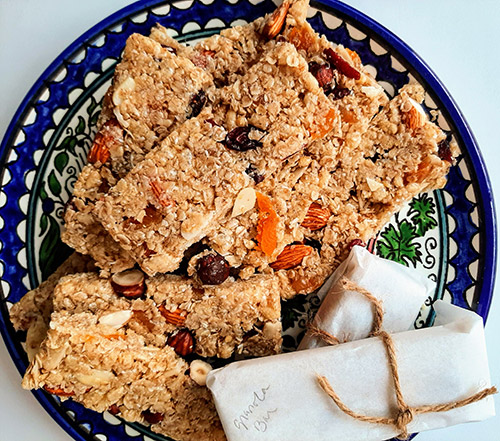 Who would have thought that in order to make the perfect chewy granola bar—similar to the individually-wrapped versions available in grocery stores—you'd have to apply a candy-making method? What's more, the hot liquid mixture does double duty by "cooking" the oats as well, which is a definite plus for those of us who don't enjoy eating oats completely raw.
I'm thrilled that I made this granola bar breakthrough during a recent lockdown in Israel because, let's be real, I've never needed these bars more than I do now. (If you have small children or grandchildren in the house—like, all the time thanks to Covid—you will understand that they ALWAYS want a snack.)
My recipe combines a variety of nuts and dried fruits that can be tailored to your own taste or holiday. Indeed, for Tu B'Shevat you might want to swap the cranberries for dates, figs or apricots. As is, my recipe tastes similar to what you'd buy from the store, only you get more per batch than you would per the typical box, and you know exactly what's gone into them.
Another bonus? Granola bars are made mostly from pantry items, so there's often no need to venture out to the store.
Happy holiday to you, and a happy birthday to our trees!
Chewy Fruit and Nut Granola Bars
Makes 16 bars
DRY MIXTURE
2 cups quick oats
1 cup puffed rice cereal
1/4 cup desiccated coconut
1/4 cup blanched sliced almonds
1/4 cup whole, skin-on almonds or pecan halves
1/4 cup hazelnuts
1/4 cup dried cranberries
1/4 cup dried apricots, cut into small pieces
GLUE MIXTURE
1/2 cup butter
1/2 cup honey
1/3 cup brown sugar
1/2 teaspoon salt
1/2 teaspoon vanilla extract
1.Line a 13- x 9-inch pan with parchment paper.
2. Place the oats, rice cereal, coconut, nuts and dried fruit in a large, heat-resistant bowl. Set aside.
3. Make the glue: Place the butter, honey, brown sugar, salt and vanilla in a small pot over medium-low heat. Once the butter has melted, monitor the temperature using a candy thermometer. The mixture will need to reach 235° (soft-ball stage), which should take 4 to 5 minutes.
4. Using caution and oven mitts, pour the hot glue mixture over the dry mixture, and stir with a silicon spatula to evenly coat.
5. Scoop the incorporated mixture into the parchment paper-lined pan and, first using the silicon spatula and then the bottom of a dry measuring cup, press the mixture with some force.
6. Let set the pan site in the refrigerator for 1 hour to firm up, then cut into 16 bars.