Salmon in Coconut Sauce, Inspired by Uri Buri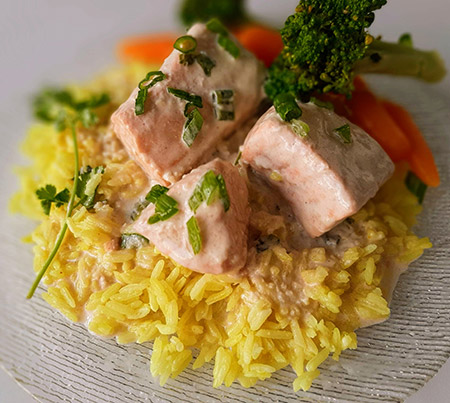 Once upon a time, before anybody thought of "corona" as anything other than a beer, I celebrated my birthday at chef Uri Jeremias's internationally renowned restaurant Uri Buri, located in Akko. Buri is a type of meaty white fish common in Mediterranean waters, and Jeremias's award-winning eatery, only steps from this Northern Israeli city's famed port, is not surprisingly a fish and seafood joint that offers a simple yet highly refined tasting menu.
Beyond his restaurant kitchen, Jeremias is known as a kind of father figure on the Israeli food scene and an ambassador of all things Akko. I had reached out to him at the start of Israel's first lockdown as part of a series of articles I wrote exploring the toll that the virus crisis was taking on the nation's restaurants. Like most spots, Uri Buri was trying to adjust to the new restrictions, pivoting toward an elaborate home delivery service that was offering dishes that were cooked three-quarters of the way, designed to be reheated to perfection in the customer's home oven.
Flash-back to the night my husband and I sat by a large picture window at Uri Buri, listening to waves lapping up against the stone wall barrier below. We enjoyed a few small dishes, including a fish in creamy coconut sauce that inspired the recipe I'm sharing here. At Uri Buri, this fish dish is served tableside and plated over fragrant yellow rice. With each delicious bite of that dish, I burned the flavor memory into my brain like a blueprint, knowing that I would want to recreate it in my home kitchen.
As luck would have it, I have a cookbook called Israel Eats sitting on a shelf at home. That collection of stunning Middle Eastern recipes from Steven Rothfeld includes a strikingly similar fish dish that he credits to Uri Buri and that retains the restaurant's flavor enhancements of pickled jalapeños, whole apple and amba (a pickled mango sauce). As I took to my home kitchen to tackle this presentation, however, I knew that those particular elements did not belong in my version—which is fine! Cooking should be all about experimenting and personalizing.
My take on the Uri Buri dish evolved into a light, Asian-style creamy fish with more subtle flavor notes—and sans the heat of jalapeños. And whereas chef Jeremias uses pink trout—or did on the evening I dined at his spot—I chose to use meatier salmon, a catch that is more readily available as well as a bit more filling. Despite what you might assume of salmon, here it does not impart an overly "fishy" flavor.
For economical reasons, I plated my salmon over rice infused with turmeric rather than the more traditional—and pricey—saffron rice. Whichever spice you use, you will end up with an appealing rich-yellow color. And to achieve that hue, you start by making a "tea" that dissolves the spice in hot water, before it is added to the rice. This method of preparing rice is similar to what is found in Persian cuisine. As for the type of rice, I am partial to medium-grained jasmine rice, which is fragrant on its own, has a pleasant, almost chewy mouth feel, and soaks up the coconut sauce beautifully.
Another plus to this already delectable fish entree? This dish comes together very quickly, making it a good candidate for a last-minute Shabbat meal, the kind you throw together when the evening is fast approaching and you've yet to make anything. Shabbat shalom, indeed!
Salmon in Coconut Sauce
Serves 4 to 6
2 tablespoons vegetable oil
2 tablespoons brown sugar
1 tablespoon fresh ginger, finely minced
3 cloves garlic, finely minced
2 tablespoons white wine
2 cups coconut cream
2 cups coconut milk
2 tablespoons soy sauce
1 tablespoon mirin
Juice of 1/2 a lime
2-pound salmon filet, skinned
1 tablespoon finely chopped cilantro
1 stalk green onion, finely chopped
Heat a deep skillet over medium high heat. Add the oil, then the brown sugar, freshly grated ginger and garlic. Sauté for one minute until fragrant, then add the wine and let cook for an additional minute, or until the liquid has reduced by half.
Turn down the heat to medium low and add the coconut cream and coconut milk. Add the soy sauce, mirin and fresh lime juice. Let cook for a few minutes until the sauce has thickened to the point where it can coat the back of a spoon.
Cut the salmon into large chunks, and gently nestle in the sauce. Cover and simmer for 5 to 7 minutes.
Remove from heat, uncover and sprinkle with fresh cilantro and chopped green onion just before serving. Serve hot over Turmeric Rice with a side of steamed vegetables.
Turmeric Rice
Serves 4 to 6
2 cups raw jasmine rice
2 1/2 cups hot water
1/4 teaspoon ground turmeric
3 tablespoons olive oil
Salt to taste
Rinse the rice in a fine mesh strainer until the water runs clear. Shake off any excess water.
Boil water using an electric tea kettle or in the microwave. Mix the ground turmeric into the hot water until dissolved.
In a large pot, heat the olive oil over medium-high heat, then add the rice. Sauté for 1 minute, adding a couple of pinches of salt.
Add the hot "turmeric tea" to the rice. Stir, making sure that no grains of rice are left on the dry sides of the pot. Bring to a light boil, then immediately cover, reduce to a simmer and cook for 12 to 14 minutes.
Take off the heat and keep covered an additional 10 to 30 minutes to continue steaming. Open the lid and fluff rice with a fork before serving.