Blueberry-Lemon Turnovers, a Triangular Treat for Purim
There's no doubt that hamantaschen are the stars of the Purim dessert table—whether in their traditional guise of prune, apricot or poppy seed cookies or some edgy, modern interpretation like s'mores. They are a treat that reminds us so viscerally that it's Purim time that simply looking at one in February serves as a visual Jewish calendar cue.
Last year at this time, we were innocently shopping for children's superhero costumes and weeding through a sea of Whatsapp school group messages about parades and classroom celebrations, not knowing what hardships lurked around the corner. And although this year is starkly different, the ubiquity of hamantaschen will be a welcome dose of the familiar.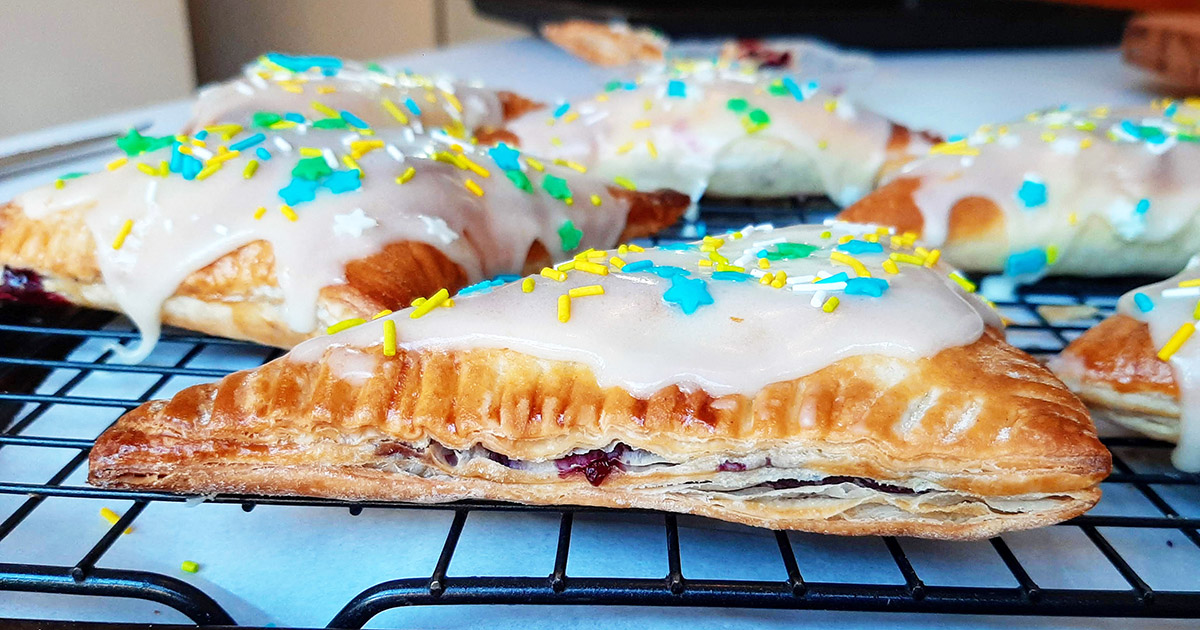 However, if you've spent the last 11 months baking like crazy in your quarantine kitchen, maybe you're ready to flex your holiday dessert muscles beyond that specific triangle treat. Indeed, in the run-up to Purim, my social media feeds are filled with all sorts of triangular sweets that represent the reprehensible Haman's signature hat—some more bizarre than others. But a baker doesn't have to reinvent the wheel and force a dish to take on a shape it doesn't naturally fit. I don't know about you, but I'm fine with my sushi and/or burritos remaining in their original shape and form—no need to triangularize them for Purim.
Let's consider foods that naturally take on the shape of a triangle: A slice of pizza or watermelon come to mind, but also something as simple as a good flaky turnover pastry. Pair them with widely available frozen blueberries, and you have the makings for a classic and delicious turnover.
In making these Blueberry-Lemon Turnovers, I like a slightly tart filling that pairs well with a sweet lemony glaze, gilded even more so with holiday-inspired sprinkles.
And while many of you have become challah-baking warriors and banana bread champions, making your own puff pastry is a master class that some of the baking world's most esteemed practitioners eschew. In short, it's a pain and a patshke, don't bother. Store-bought puff pastry is perfectly fine here.
Since you may not want to have this batch of 10 turnovers staring at you from your counter, waiting to be devoured, you can assemble them and freeze a portion to be baked individually when you crave something sweet. You can even freeze them alongside little makeshift packets of the glaze as well.
Here's hoping these turnovers will bring some light to this year's Purim celebration in your household.
Blueberry-Lemon Turnovers
Makes 10 turnovers
1, 21-ounce package of frozen all-butter puff pastry
BLUEBERRY FILLING
1 heaping cup (a little more than 5 ounces) frozen blueberries (preferably small wild blueberries)
1/2 cup water
3 tablespoons sugar
Zest of half a lemon
Juice of 1 lemon
Cornstarch slurry: 1/4 cup water plus 2 tablespoons cornstarch
Egg wash: 1 egg plus 1 tablespoon water
LEMON GLAZE
1 1/2 cups confectioner's sugar
1 tablespoon honey
1/4 teaspoon lemon zest
2 tablespoons milk
1 tablespoon fresh lemon juice
1/2 teaspoon vanilla extract
Few drops almond extract
Pinch of salt, to taste
Colored sprinkles, for decorating
Defrost puff pastry overnight in the fridge, or according to the package instructions.
Make the blueberry filling: In a small saucepan add the frozen blueberries, water, sugar, lemon zest and juice, and bring to a boil (2 to 3 minutes). Meanwhile, make the cornstarch slurry by combining the water and cornstarch in a small bowl. Make sure to run your finger around the edge of the bowl to ensure there are no clumps.
Once the mixture is at a light boil, quickly remix your cornstarch slurry and pour into the blueberry mixture in a thin stream. Stir constantly for about 1 minute until the mixture thickens and turns into a saucy consistency. Take off the heat and let cool completely.
Place the defrosted pastry on a lightly floured surface and cut into 10 even squares of approximately 4 1/2 x 4 1/2 inches.
Beat egg and water together to make an egg wash. Brush a light coating of egg wash all along the edges of each pastry square. Place about 2 tablespoons of the cooled blueberry filling in the bottom right corner of the square, leaving a 1/2-inch border between the filling and the edge of the dough.
Fold the top left corner of the pastry down diagonally over the filling to create a triangular shape. Seal all three edges firmly, first with your fingers, then with the tines of a fork. Repeat with the remaining squares.
Place these turnovers on a small parchment paper-lined baking tray and either flash freeze for 1 to 2 hours or place in the fridge until firm to the touch (about 40 minutes).
When ready to bake, preheat oven to 400°. Remove pastries from the freezer or fridge just before baking. Brush evenly with leftover egg wash (or make another egg wash) and bake for 20 to 25 minutes, until golden brown.
Meanwhile, make the lemon glaze by combining all the ingredients and whisking to get a fairly thick consistency.
Drizzle or brush the glaze over the still warm pastries and decorate with your favorite sprinkles. Let the glaze set at room temperature (about 20 minutes), then serve the turnovers warm.