More Than 'Jewish' Penicillin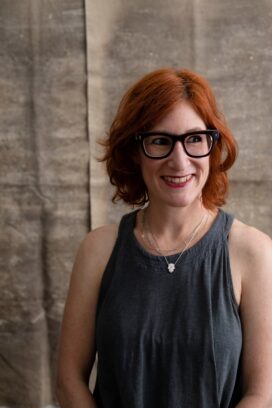 The year was 2017, and after a peripatetic week traveling to culinary events, Jenn Louis felt like she was coming down with something. The well-known chef, cookbook author and Top Chef Masters competitor was returning from a festival in San Diego when she started to feel sick. "Chills, headache, the whole works," Louis, 49, told me by phone from her home in Portland, Ore.
After texting with her sister and telling her she wasn't feeling well, Louis hopped a short flight home and arrived at her doorstep to find a still warm pot of chicken soup on the porch complete with a get-well note from her sister, who also lives in Portland.
"It was just what I needed," said Louis. "I ate three bowls really fast, and it gave me enough energy to get something done before I got into bed. I thought, 'Wow! This chicken soup thing, it's got power.' "
And so the idea was planted for Louis's latest book, The Chicken Soup Manifesto, a readable prescription for the closest thing to a slurpable, drug-free mood stabilizer at a time when we all could use something to take the edge off. Filled with 130 recipes from around the globe, all based on bird and broth, every page of the cookbook is a reminder that though we may think of chicken soup as Jewish penicillin, it is a cure with global, everlasting appeal.
After the success of her two previous cookbooks, Pasta by Hand and The Book of Greens, Louis felt a strong pull to a subject that has been close to her heart since she devoured bowls of matzah ball soup that her mother, Isabel, cooked for her as a kid growing up in Southern California. "Her matzah balls were never as tender as she liked, until one day she left them in the soup longer than intended and they were perfect," said Louis. "I include that tip in her recipe."
The book is filled with many cooking tips and anecdotes, like the recipe for Palestinian chicken soup (below) she elicited from a seatmate on a long-haul flight from Israel. Or the spices she collected on a chefs' trip to Ethiopia to make that country's national seasoning blend, berbere, for the thick chicken-based stew known as doro wat.
---
Chicken Soup Tips From Jenn Louis
Cook with homemade chicken stock. This so-called liquid gold provides depth and clarity of flavor. Of course, canned or boxed broth are fine alternatives.
Always skim. The scum on top of a pot of soup can add murky flavor, so get rid of it!
Use quality chicken. Fresh, organic or free-range birds yield clean chicken flavor.
Use brined chicken. Pre-salted chicken results in juicy meat to add to your soup. If you're using a kosher bird, you're in luck, since the salting that makes a chicken kosher essentially amounts to brining.
---
"The more I searched, the more soups I found," said Louis, who arranged The Chicken Soup Manifesto in chapters according to geography. "I realized that what they all had in common more than any other one thing was comfort." Comfort could mean sweet apples and parsnips in a bowl of Norwegian hunsekjuttsuppe; a fragrant mixture of pumpkin seeds, cinnamon and poblano chiles in a pot of Guatemalan pépian soup; or a handful of fresh herbs and hot peppers in a bowl of Vietnamese phô. And for Germans, it might mean a plate of Hühnersuppe mit Knödeln, chicken and dumplings, thought to have its origins in Jewish chicken soup. (Because few of these recipes contain dairy, shellfish or pork products, the majority of them are kosher friendly.)
Louis's path to culinary explorer began after graduating from Pitzer College, when she was an instructor for Outward Bound and took part in the wilderness cooking that is an essential ingredient in the organization's outdoor-experiential learning.
In 1998, she enrolled in culinary school in Portland, and in 2000, she began catering. She opened Lincoln, the first of her three restaurants, in 2008. Though she enjoyed life as a restaurant owner, a divorce plus her desire for less day-to-day oversight and the usual economic and logistical challenges of running eateries led her to close or sell her properties in the last few years.
These days, she is an in-demand guest chef at culinary events, consults for the pediatric cancer foundation Alex's Lemonade Stand and is on the board of Lift UP (Urban Portland), a food pantry that also delivers food to clients in low-income housing. A passion for solving poverty and homelessness has also drawn her to a local synagogue, Havurah Shalom, where she serves on the tikkun olam committee and helps organize community seders and other Jewish life-cycle events.
With winter upon us, now is the time to reach for the warm embrace that a bowl of chicken soup can provide. "Right now, we need love wherever we can get it," said Louis. "A brothy bowl of soup is an easy, immediate delivery system for that."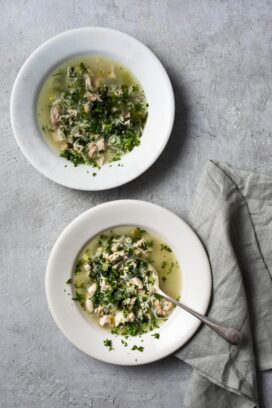 Hanan's Mom's Palestinian Chicken Soup
Serves 4 to 6
I met Hanan on an airplane coming home from Israel. She introduced herself as Christian Palestinian, 'the peaceful kind.' In turn, I introduced myself as 'Jewish American, the peaceful kind.' We chatted about all sorts of things. She now lives in San Jose and still loves to cook the food she grew up with. Not knowing my interest in chicken soup, she shared her mother's recipe. Her advice is that the soup should only have a small handful of rice because the broth is most important, especially when someone is sick.
1/4 cup chicken fat or olive oil
1 yellow onion, cut into 1/2-cubes
2 celery ribs (stalks), cut into 1/2-inch cubes
4 1/2 ounces curly parsley, leaves and stems roughly chopped
2 3/4 ounces cilantro, leaves and stems roughly chopped
8 cups water or chicken stock
1 1/2 pounds boneless, skinless chicken thighs, cut into 1-inch pieces
1/2 cup basmati rice
Heat the chicken fat or oil in a pot over a medium-high heat. Add the onion and celery and cook, stirring frequently, for 3 to 4 minutes, until the onion is translucent and slightly golden. Add 2 3/4 ounces of the parsley and all the cilantro and stir to combine, then add the water or stock and bring to a simmer. Reduce the heat to a gentle simmer, add the chicken, stir and cook for 15 minutes. Add the rice, stir and cook for a further 10 minutes, or until the chicken and rice are tender. Season with salt and garnish with the remaining parsley.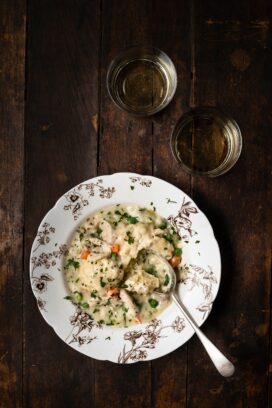 Hühnersuppe mit Knödeln
Serves 4 to 6
DUMPLINGS
3 large eggs
1 teaspoon salt
1 cup all-purpose flour
SOUP
2 tablespoons rendered chicken fat or vegetable oil
2 large yellow onions,  cut into 1/2-inch cubes
2 tablespoons all-purpose flour
1 tablespoon paprika
8 cups water or chicken stock
1 chicken, quartered  (3 pounds)
1 tablespoon salt, plus more to taste
Freshly ground black pepper, to taste
1.   For the dumplings, mix the eggs, salt and flour together in a bowl to make a sticky dough. Set aside at room temperature.1.   For the dumplings, mix the eggs, salt and flour together in a bowl to make a sticky dough. Set aside at room temperature.
2.   Heat the chicken fat or oil in a large pot over a medium heat. Add the onions and cook for 3 to 4 minutes, until the onions become translucent. Add the flour and paprika and stir to combine. Stir in the water or stock, the chicken pieces and salt and bring to a boil. Immediately reduce the heat to a very gentle simmer and simmer, uncovered, until the chicken is cooked through. A thermometer should read 165° when inserted into the thickest part of the meat and the juices run clear. The chicken breasts will take 10 to 15 minutes while the legs and thighs will take 20 to 30 minutes.
3.   When the chicken breasts are cooked, remove from the soup and continue cooking the thighs and legs until the meat separates from the end of the leg bone. Just after removing the breasts, add the dumplings to the soup. Using two tablespoons, scoop tablespoon-sized portions of the dough with one spoon and scrape them into the soup with the other spoon. Repeat until all the dough is used. Partially cover the pot with a lid and cook at a gentle simmer for 15 minutes, or until the thighs and legs are cooked and the dumplings are tender.
4.   When the chicken thighs are cooked, remove them from the soup and leave all the chicken until cool enough to handle, then remove the chicken skin and discard. Using your hands, shred all the meat, discarding the bones, and add the meat back to the soup.
5.   Season the soup with salt and freshly ground black pepper and serve in a bowl with the dumplings.
---
Adeena Sussman is the author of Sababa: Fresh, Sunny Flavors from My Israeli Kitchen. She lives in Tel Aviv.