A Year of Purim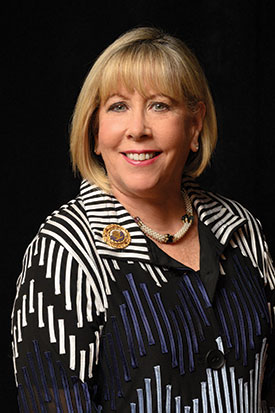 One day we will be not only beyond the pandemic but also far enough removed to assess its overall cost and the benefit of what we learned. Question: When that time comes, will there be an annual holiday on which people the world over gather to celebrate their shared humanity and wear masks?
We can't know because the future is as concealed as our faces are today. But there already is a Jewish holiday of masks that helps us distinguish superficial appearance from deeper meaning. This year, a few weeks in advance of the holiday, social media is full of posts about Jewish space lasers—a flood of Purim-worthy memes that thinly covers our deep concern over the resurgence of hate.
This is the season of Hadassah's birth, inspired by a Jewish heroine—metaphorically masked with a Persian name to conceal her Jewish soul—who rescued her people from annihilation. We openly wear Esther's original Hebrew name in service to Jewish welfare and for the benefit of humanity.
The question is whether the world is making progress, whether, to paraphrase Martin Luther King Jr., the long arc of history still bends toward justice. Looking at Purim's dual narrative of women's agency and fighting antisemitism, the picture is mixed.
When Hadassah began in 1912, American women didn't have the right to vote. And though equality is still incomplete, we see a landscape that would have amazed and delighted our founders. More than 25 countries are currently led by women. The United States has just inaugurated its first female vice president and the new administration has a record number of women in cabinet-level positions. The percentage of women in both the United States Congress and Israel's Knesset is 25 percent—not high enough but still a record for both nations.
Surveying the arc of a century, Jewish liberty has advanced dramatically. A sovereign Israel has flourished, despite its enemies, for more than 70 years. The vast majority of world Jewry lives in democratic nations that allow them to live freely and, if they choose, to leave.
And yet, we know that this is not the full picture—and that by some measures the situation is getting worse.
Looking only at the United States, the past few years have brought the deadliest attacks on synagogues in our history; neo-Nazis and white supremacists parading openly in Charlottesville and participating in the assault on the Capitol. According to FBI figures, Jewish Americans are more than three times as likely to be targets of a hate crime as members of any other religious group. We see the vein of antisemitism in QAnon, other conspiracy-based groups and—the latest example—in the California Ethnic Studies Curriculum.
Promoting gender equality and fighting antisemitism are always high on Hadassah's agenda. We advocate not only for equality in women's civic participation but also in health treatment—from the work of our medical staff in Jerusalem to our leadership in the campaign for women's health equity in America.
In Washington, we played a critical role in the passage of the Never Again Education Act (NAEA), making Holocaust education a tenet of American education policy. Central to our agenda now is the widest possible adoption of the International Holocaust Remembrance Alliance (IHRA) definition of antisemitism.
I don't know if our founders thought of what the world would look like 100 years in the future, let alone if Queen Esther contemplated a time as distant as the one we occupy. I do know that we are enriched and empowered by the examples they set. Measured in masks that signify great challenge and our ability to rise to the occasion, we have now had a year of Purim. More than ever, it's worth celebrating.
Chag Purim Sameach!