Jachnun, the Beloved Yemenite Brunch Bread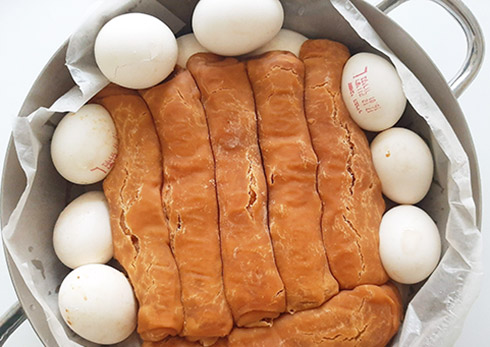 Most Saturday mornings in Israel, travel along any highway and you will encounter homemade signs using Sharpie-pen calligraphy to entice you to turn off the road for a jachnun pit stop. Indeed, the beloved slow-cooked Yemenite breakfast pastry is usually handmade by savtas and sold at family-owned booths along the road. And while this type of Middle Eastern cuisine is delicious and complex, the joke in Israel is that Yemenite Jewish food means carbs, carbs and more carbs. That jachnun now has been adopted by all Israelis as the basis for a leisurely shabbat brunch kind of upholds the punchline.
Jachnun's dough is nearly identical to its pan-fried sister, malawach, which is baked into a round flaky pastry usually served with a savory meal. Where the two breads differ is in how the dough is manipulated and cooked: Jachnun—laminated with butter or, traditionally, ghee—is rolled up tight and packed into a pot for a low-heat, slow-cooking process.
Nestled into the pot alongside the slightly sweet, buttery dough, is a truly enchanting element: Uncooked eggs, shells and all, which will achieve a light brown color and accumulate toasty, caramel notes. The dough itself undergoes its own process of caramelization, entering the pot a pale tan and leaving the oven a deep golden brown. Eaten while warm, jachnun is dense and filling and has a soft middle, with sometimes crunchy bits and edges from exposure to the pot. Everyone has their own preference regarding which section they prefer, soft or crunchy.
The bread, soft of crunchy, is then enjoyed with those flavorful eggs, freshly grated tomato and an herbaceous Yemenite hot sauce called schug. (Omit the hot sauce if you dislike heat, I won't judge!)
While most Israelis agree that jachnun is a real treat, it's not the sort of bread that most below the age of 70 know how to bake from scratch. If the craving strikes, younger Israelis will probably set out on an early Saturday morning drive to find a roadside booth; or, they might pick up frozen, pre-made jachnun at the grocery store, which gets its buttery flavor and flakiness from margarine so that it will be pareve. Frozen jachnun is still baked in the oven overnight, but the only prep it entails is opening a package.

Since my recipe for jachnun makes an enormous batch, it's a good candidate for packing up and dropping off with family and friends. It also freezes well: To do so, follow the recipe all the way up until the cooking step, then instead of layering all the rolled-up jachnun into the pot, keep a handful of rolls outside to flash freeze, then keep frozen in an airtight container for when you are ready to bake.
Who knows, maybe jachnun is the next challah-, sourdough-, bagel-pandemic craze for home-bound bakers? In fact, over the last few months, jachnun has gained buzz in the Netherlands thanks to the arrival of newly unemployed Israeli chefs looking for a way to make some quick cash.
Now it's your turn to try your hand at jachnun—and don't forget to take a photo and share it on social media!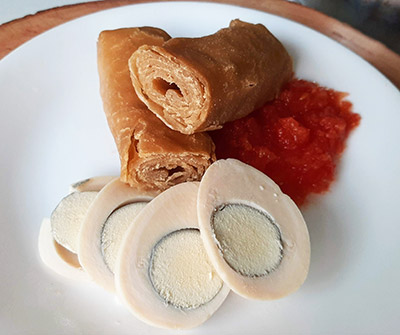 Jachnun
Makes 13 rolls
8 cups all-purpose flour
1/3 cup sugar
2 tablespoons honey
1 tablespoon salt
1 teaspoon baking powder
1 cup vegetable oil
1 3/4 cups water plus more as needed (up to 2 cups)
1 cup softened butter
10 eggs
Combine the flour, sugar, honey, salt, baking powder, oil and water in a large bowl to a form a rough dough. Turn the dough out onto a clean work surface and lightly knead it until you have a very soft but not sticky ball, 2-3 minutes. Put the dough back in the bowl, cover with plastic wrap or a damp towel, and let rest for 10 minutes to relax the gluten.
Meanwhile, prepare an oven-safe pot by lining the bottom and sides with parchment paper. Cut out an additional circle of parchment paper with which you will later create a second layer in the pot.
Divide the rested dough into 13 equal parts. Working with one part at a time, roll each section into a very thin 14 1/2-inch circle, then smear with a thin layer of the softened butter using your fingertips.
Fold in the outer edges of the circle and roll up tightly from the bottom edge like a burrito.
Lie each section of rolled dough in the parchment-lined pot, and continue with the remaining sections of dough, placing them down into the pot snuggly with no separation between pieces. When room runs out, place the additional piece of parchment down over the jachnun to create a second layer in the pot.
Tuck the whole, uncooked eggs in the pot around the jachnun. Pack extra parchment paper in around any gaps. This will prevent the dough from expanding as it cooks.
Bake at 200° for at least 12 hours (or overnight) until golden brown. Serve with a side of freshly grated tomatoes—cut the top off the tomato and grate the internal flesh, then sprinkle with some salt—and schug.